Student leads workshop on special effects, Halloween makeup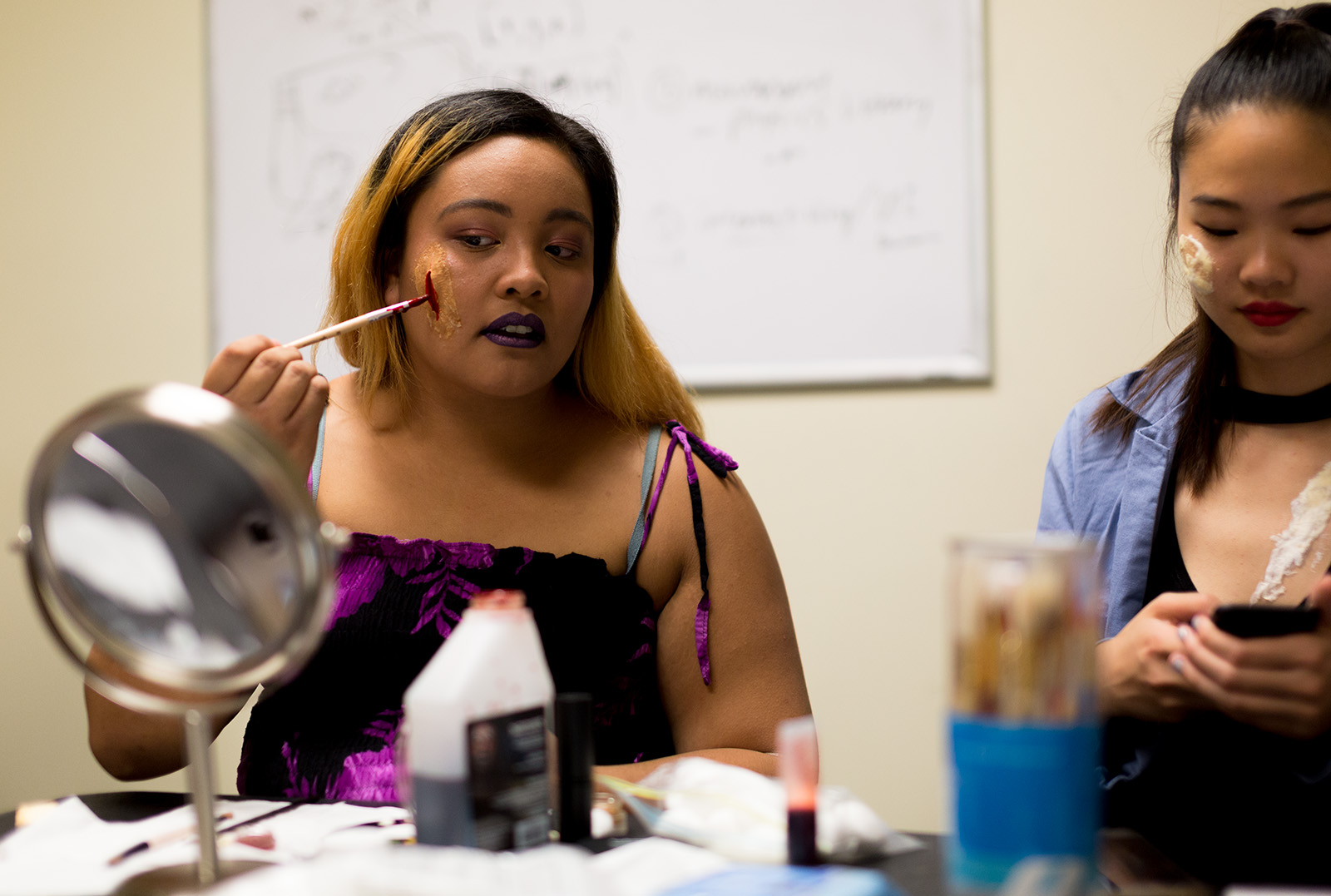 Third-year psychology student Ava Corales demonstrated how to create a bloody gash on her cheek and how to paint a scab on her model, third-year cognitive science student Rachel Ho. (Amy Dixon/Assistant Photo editor)
Ava Corales sported chromatic purple lipstick, a floral dress and a gaping flesh wound on her right cheek at Saturday's special effects makeup workshop.
The third-year psychology student instructed a group of around 10 students gathered in a De Neve Plaza meeting room on how to create special effects makeup, including prosthetic wounds and fake bruises. The event, organized by Corales, was part of media-production group Studio 22's workshop series, which centers on aspects of video and audio production such as directing and screenwriting.
Corales began experimenting with special effects makeup during her sophomore year of high school, using reference pictures she found online to recreate bloody cuts for a film project. She continued painting cuts and wounds in college, painting bruises for a film made in 2016 that dealt with themes of domestic abuse.
"I know a lot of workshops revolve around the more technical side of film, like screenwriting and light and editing," she said. "But we didn't really have any workshops planned that had to do with art, which is my specialty."
Corales said she wanted to demonstrate how to create fake injuries not only to prepare students for Halloween, but also to educate students who may have an interest in makeup and special effects for plays and films.
Wielding wedge-shaped sponges, Corales began the workshop by demonstrating how to create open wounds on the skin – tapping a thin layer of liquid latex and then sheets of tissue onto her cheek, repeating the process five times and working quickly as the latex dried. She then took heavy-duty scissors to her face and began cutting the layers down the middle, opening a wide gash that she blended into the color of her skin with concealer.
Using an eyeshadow applicator for precision, she stained the inside of the wound with bright red greasepaint and finally used a brush to apply fake blood in the center.
The store-bought blood was a little too vibrant, so Corales explained to the group that they could customize their fake blood with corn syrup and food coloring to achieve their desired shades. To make it darker, Corales also recommended adding some blue to the mixture.
With Corales' guidance, Jun Wang, a fourth-year molecular, cell and developmental biology student, constructed a gash that extended the entire length of her forearm, with fake blood dripping down her elbow. She said she attended the workshop to learn more about creating special effects makeup for theater. In 2016, a makeup artist turned her into a zombie for an LCC Theater Company production – a process which took 30 minutes – and Jung was curious about the techniques her makeup artist used to transform her into her character.
"I feel its a very useful skill and it just gives you more opportunities to be on set," she said.
Second-year biology student Helena Vervaet decided to add a touch of gore to her Little Red Riding Hood costume with some fake cuts and scabs at the workshop. She first experimented with special effects makeup in 2015, testing her skills on her brother using toilet paper and a tiny bottle of liquid latex. She said she saw the workshop as a fun opportunity to play with some more professional tools such as a $50 paint palette from Corales' kit.
"It's fun to learn it now with someone who's kind of guiding you on what to do, so in the future if I want to do something fun and spooky I'll actually kind of have an idea of what I'm doing," she said.

Corales wrapped up the workshop by teaching students how to paint fake bruises onto their skin. Adorned in their gory makeup, they had a Halloween-themed photoshoot complete with orange-tinted lights and fake spiders.
Xu is a senior staff reporter for the Arts and Entertainment section. She was previously the assistant editor for the Lifestyle beat of Arts.
Xu is a senior staff reporter for the Arts and Entertainment section. She was previously the assistant editor for the Lifestyle beat of Arts.