Daily Bruin A&E reviews some recently released horror films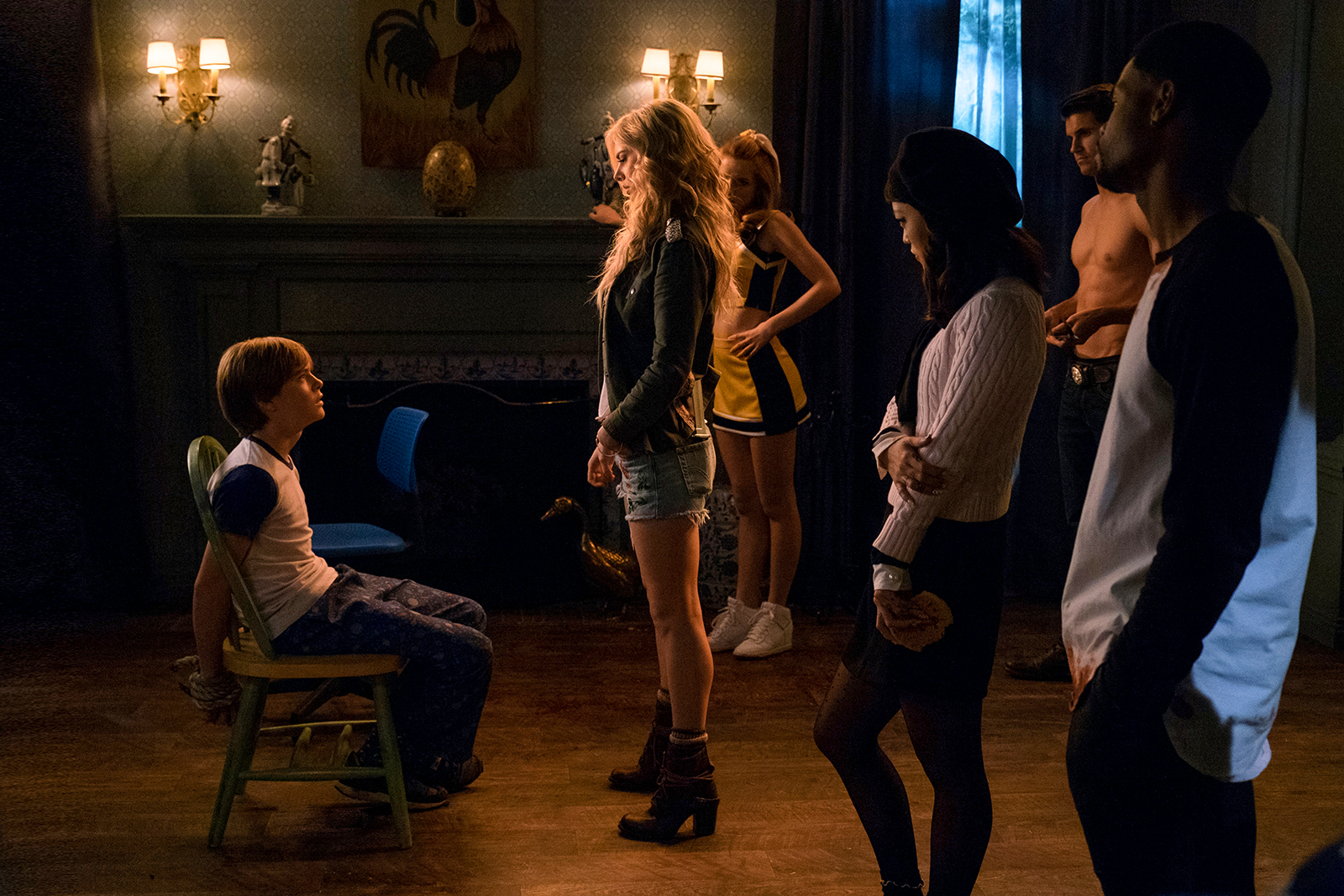 (Courtesy of Tony Rivetti Jr./Netflix)
"Happy Death Day"
Raunak Devjani, Theater | film | television editor
Watching "Happy Death Day" is like listening to a scratched record playing a good album.
"Happy Death Day" tells the story of Tree Gelbman (Jessica Rothe), a popular and entitled sorority sister who gets stabbed to death on the night of her birthday by a man in a grotesque baby mask. However, she wakes up the next morning only to discover that she will keep reliving her death day, experiencing her brutal murder over and over, until she can identify her killer.
While the film is entertaining enough to sit through, it doesn't really fit into the horror genre. Tree's first few deaths are preceded by eerie buildups and jump scares, but some of her later ones appear in a montage with an upbeat soundtrack background. The film's premise of her character dying repeatedly becomes overkill and detracts from the film's scare factor.
From its gross exaggeration of college life to Tree's unrealistically bold decisions – such as walking out of her dorm room stark naked for no particular reason – the plot features a string of events that make it evident the film doesn't take itself too seriously, and is to be treated more as a comedy or chick flick than a horror movie.
The plot takes a better turn when Tree attempts to atone for her mistakes and become a kinder person instead of running from her past, thus creating a character arc that is not complex but is coherent and complete.
Other characters, such as Tree's admirer Carter Davis (Israel Broussard) and her sorority sister Danielle Bouseman (Rachel Matthews), are consistent in their portrayals and add comedic touches with personalities that contrast with Tree's. However, the enjoyable character dynamics fall flat with poor dialogue from the unimaginative script.
The film also lacks any explanation as to why Tree relives the same day repeatedly – whether it is karmic retribution for her unpleasantness or a plain coincidence of the occult, the reason for Tree's suffering in a world in which no other supernatural phenomena occur is unclear.
"Happy Death Day" is a fiction to be enjoyed not for intellectual or thrill-seeking purposes, but rather as a mere guilty pleasure.
"It"
Faizan Malik, Daily Bruin contributor
"It" starts with the arm amputation of a young child and only continues to delve into darker territory from there.
The film centers around the Loser's Club, a group of adolescents battling an ancient evil power that preys on the children of Derry, Maine. The malevolent entity, dubbed "It" by the children, lives in the town's sewers and regularly takes the form of the infamous clown Pennywise (Bill Skarsgård).
Skarsgård immaculately portrays the cunning and disturbing character. The actor's twisted smile is haunting, but his voice work is undoubtedly the best part of the character. Skarsgård succeeds in giving Pennywise a high-pitched and seemingly friendly voice that lures innocent children toward him.
While Skarsgård steals the show, the ensemble cast of children certainly holds their own. The group's comedian Richie Tozier (Finn Wolfhard) impresses with his well-timed one-liners, and the hypochondriac Eddie Kaspbrak (Jack Dylan Grazer) stands out with his ability to elicit sympathy from the audience. Eddie arguably has the best character arc, and his change of demeanor throughout the film highlights his arc – while Eddie originally shakes and tiptoes through the sewers, he soldiers on to face Pennywise without hesitation by the end of the film.
In addition to excellent performances, the adaptation stays faithful to Stephen King's novel from which the movie was adapted. The film contains subtle references to multiple elements from the book such as Silver, the bicycle that belongs to the group's leader Bill Denbrough (Jaeden Lieberher) and Maturin, a magical turtle that aids the group in the novel. The literary references flesh out the characters and allow them to more accurately reflect their novel counterparts.
The film also captures the book's terrifying tone. Director Andy Muschietti showcases It as an almost inescapable figure such as when Pennywise slowly crawls out of a projector screen, while the kids frantically tried cutting the projector's power to escape the clown.
However, viewers shouldn't be expecting a basic horror film. While the film is downright terrifying at times, especially for those afraid of clowns, it's nuanced with moments of comedy and emotion. The film focuses on a group of children confronting their fears and thus also functions as a coming-of-age story.
Full of great performances, fan service and effective scares, "It" is a must-see movie for anyone seeking a good fright this Halloween.
"The Babystitter"
Matt Fernandez, Daily Bruin staff
Many children dream of having a hot babysitter.
But what if the babysitter happens to be part of a satanic cult that decides to sacrifice someone in your living room?
For 12-year-old Cole (Judah Lewis), a routine weekend with his babysitter Bee (Samara Weaving) turns into a fight for his life when he discovers that Bee has killed someone in his home and stolen his own "innocent" blood in order to perform a satanic ritual.
"The Babysitter" is more bloody, shocking and funny than truly scary, although there are a few good jump scares and a pervading sense of eeriness throughout. The film doesn't take itself too seriously, but fully commits to its campiness, dropping self-aware jokes about horror tropes, such as the hero having a secret knife hidden away to cut their bonds or the hero and their bully banding together to defeat the villains. However, film will be hard to sit through for anyone uncomfortable with gore and blood as it releases fountains of blood at every chance.
While many teen slasher films feel very derivative, "The Babysitter's" death scenes help establish its campy charm; think Christopher Nolan's oppressively dark and self-serious Batman trilogy compared to the goofy older series featuring Adam West. Each death is far more creative than a simple stabbing. Some involve seemingly mundane and childish objects like a toy car, a firecracker and a trophy.
Each high school stereotype of a cult member also has a distinct personality that pokes fun at conventional slasher movie tropes, like the cheerleader and the jock.
And the film's art direction features just as quirky visuals, like the over-the-top on-screen titles, which also make the film even more fun to watch. The bright, colorful world from the beginning of the film becomes increasingly bleak and washed out as the night goes on and the danger increases.
"The Babysitter" is a quirky, murderous romp that comes just in time for Halloween. Although not inherently scary, the film is unsettling enough to give a rush to those who don't like horror and is a great addition to a Halloween movie list.
Devjani is the top editor of the Arts and Entertainment section. She was previously the assistant editor for the Theater Film and Television beat.
Devjani is the top editor of the Arts and Entertainment section. She was previously the assistant editor for the Theater Film and Television beat.