Students personalize dorm rooms with photos, decorations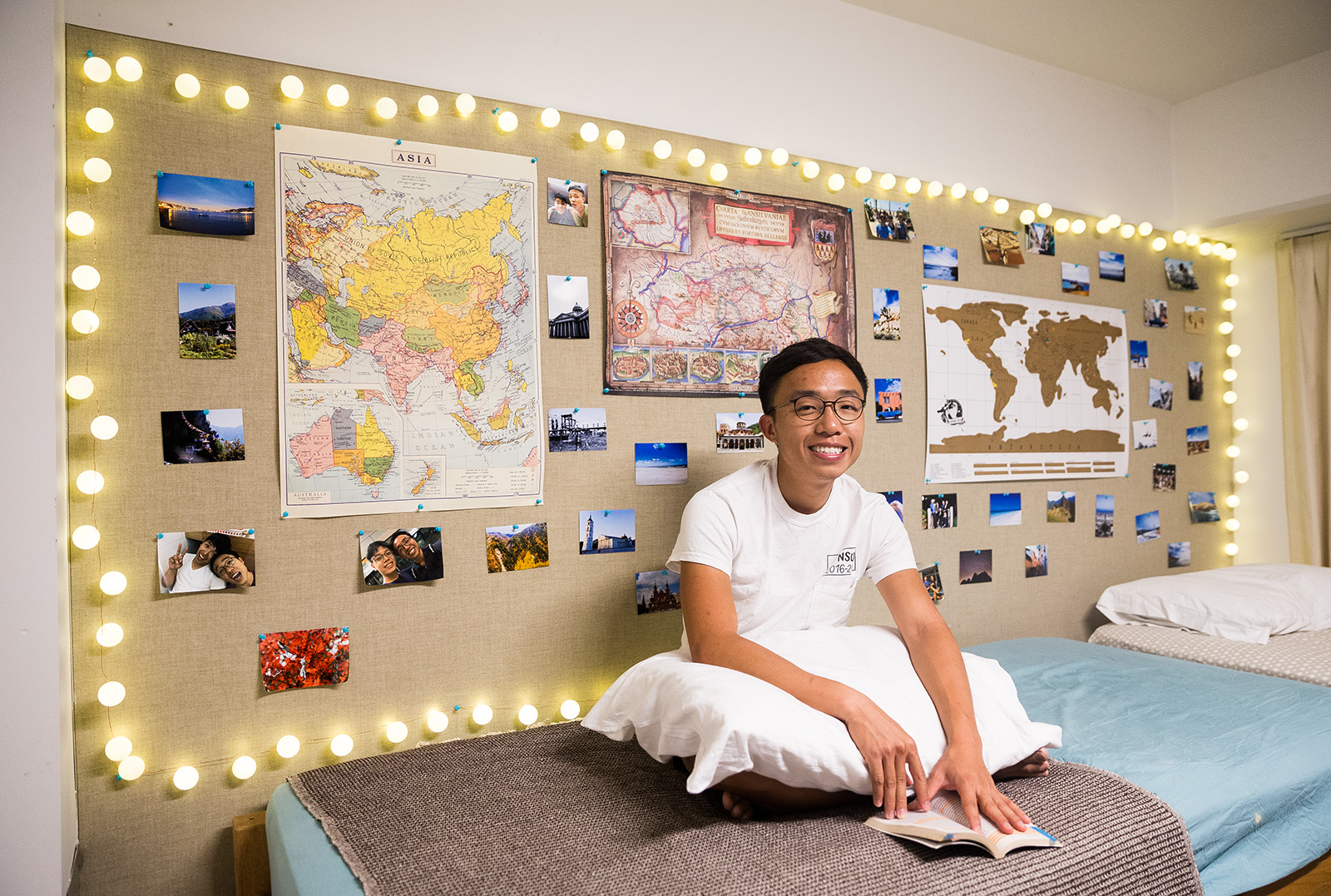 Second-year geography student Wesley Chioh customized his dorm room by fitting Ping-Pong balls over fairy lights. He also hung up photographs and maps of Transylvania and the world. (Aubrey Yeo/Daily Bruin)
Wesley Chioh has photographs of Soviet architecture and Galapagos beaches tacked to his dorm room wall.
The pictures represent all the places the second-year geography student travelled during his breaks from the Singaporean military and serve as reminders of each destination. The New Student Advisor likes to display his photographs for incoming students to see his experiences, he said. Like Chioh, many UCLA students have personalized their dorm rooms with mementos of their background and DIY decorations.
In addition to picturesque photographs, Chioh also has a collection of maps hanging on his walls, including a detailed map of Transylvania, which he's visited, and a scratch-off map of the world that marks the countries he's travelled to – Russia, Bhutan and Cuba, to name a few.
"Everything really revolves around traveling – my experiences and my own major, which is geography – which you can tell by just walking straight into my room," he said.
Chioh has also personalized his decorations by altering a string of fairy lights – a typical college dorm accessory – which hang from push pins on the wall above his bed. He bought the lights from Amazon as well as 150 Ping-Pong balls in bulk. With a Swiss army knife, he cut holes into the Ping-Pong balls and fitted one over each light, which he said creates a warmer glow in place of the usual harsh, glaring light.
Ivy Kwok, a second-year molecular, cell and developmental biology student, has also adorned her blue-and-purple themed dorm room with DIY decorations. She made a tasseled garland out of blue yarn, which hangs above a photo collage of her high school friends.
She folded shorter strands of yarn into halves and snipped the bottoms, creating individual fringed bunches she then tied to a longer strand.
"I kind of get inspiration spontaneously," she said. "So whenever I think of something, I just make it and hang it up."
Situated near her bed, Kwok crafted a paper street-sign decoration to commemorate her extended family members. Each sign, labelled with names such as "Pine" and "Bayview," represents the street where each family lives and reminds Kwok of her relatives, she said.
"We visit each other a lot, but just this (summer) we just really connected … and I just realized how lucky I am to have them," she said.
Other students also keep mementos of their families in their dorm rooms. Justin Park, a fourth-year psychobiology student, said he was inspired by the interior of ramen shops to hang red lanterns, which he bought in Japan, from the ceiling of his room.
"I'm a quarter Japanese, so I do like to keep a little bit of my home culture in my room," he said.
Park mounted strobe lights, which are also commonly found in college dorm rooms, to the top of his wall, but the ones he bought can be personalized to his music tastes. The lights flash different colors that Park chooses, synchronized to any genre, from indie rock to pop to EDM, depending on the mood of his guests, he said.
"I think it really adds to the ambience of the room," he said. "My room is basically the room where people kind of just chill out."
For some students, personalizing their dorm room is as simple as tacking photographs of loved ones onto their walls. When deciding how to decorate his room, Ali Redha Damji, a second-year financial actuarial mathematics student, decided to print out memories from high school in Dubai and his first year at UCLA in lieu of posters or other decorations.
As a people person, Damji said he places a lot of value on his friendships and family. A photo of him and his family at his high school graduation hangs the closest to his bed, which is first thing he looks at when he wakes up, he said.
"I feel like just because I'm living in that space, I want to get as much of home as possible," he said.
Xu is a senior staff reporter for the Arts and Entertainment section. She was previously the assistant editor for the Lifestyle beat of Arts.
Xu is a senior staff reporter for the Arts and Entertainment section. She was previously the assistant editor for the Lifestyle beat of Arts.