Alumna uses screenwriting experience to write comic book series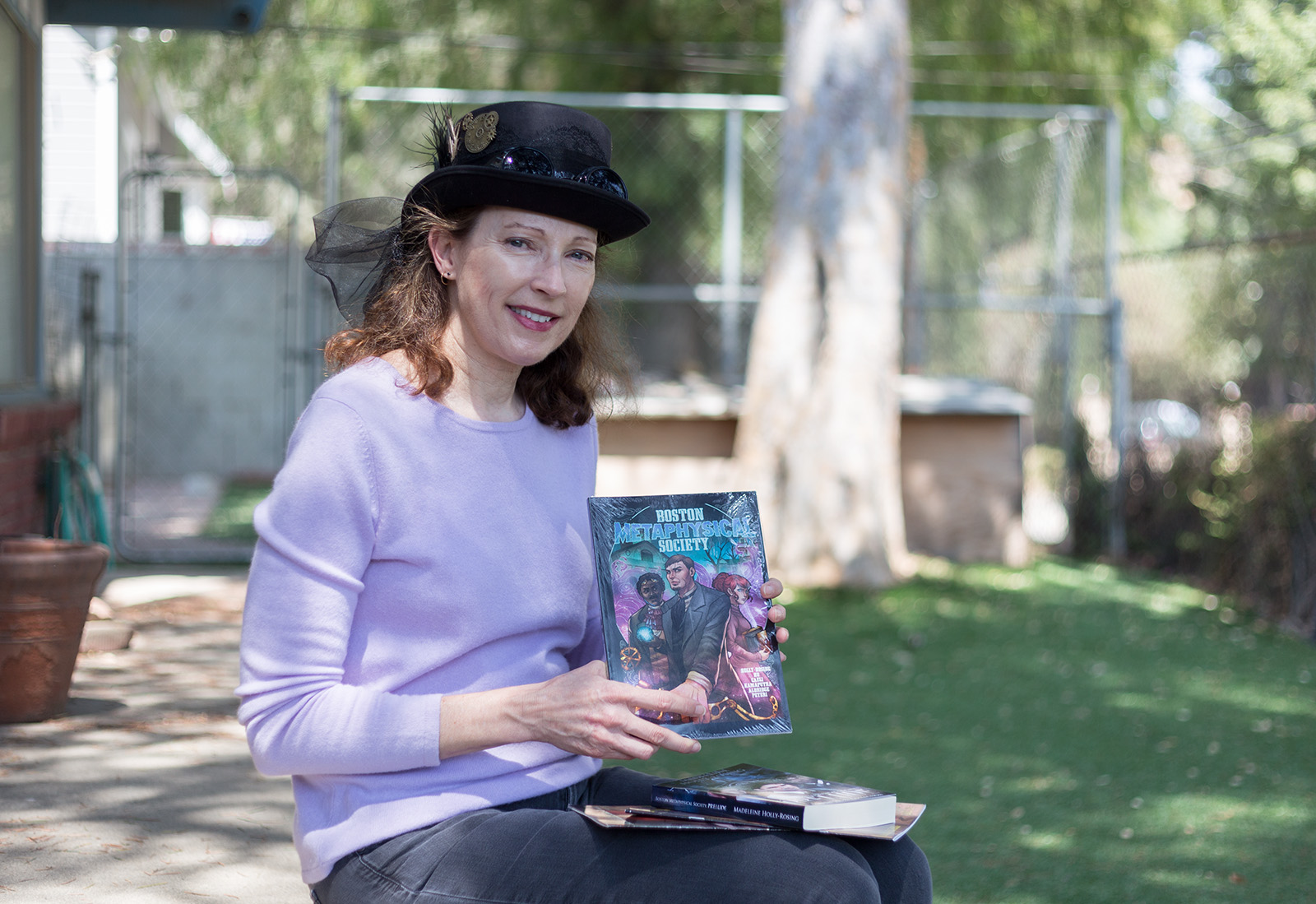 UCLA screenwriting alumna Madeleine Holly-Rosing created her own steampunk comic script "Boston Metaphysical Society" about a detective, a spirit photographer and a genius scientist. She is currently working on a four-part series, "Kasai: The Homecoming," which is set to publish in 2018. (Alyssa Dorn/Daily Bruin staff)
Madeleine Holly-Rosing wanted to create a steampunk television show, but when financial backing fell through, she decided to make a comic book instead.
The 2009 screenwriting alumna and professional writer uses her experience in screenwriting to write stories in another type of visual medium – comic scripts. Her most renowned work, the 2012 "Boston Metaphysical Society," is an independent six-issue steampunk genre comic series that follows an detective, a spirit photographer and a genius scientist who battle supernatural foes in late 1800s Boston.
Now, she is working on a four-part series, "Kasai: The Homecoming," which is set to publish by Evoluzione Publishing in 2018.
Science fiction and fantasy first enchanted Holly-Rosing when her mother read Madeleine L'Engle's "A Wrinkle in Time" to her when she was 6 years old.
"I've always particularly loved science fiction and fantasy," Holly-Rosing said. "That was my world, and I always want to write in it."
While pursuing her master of fine arts in screenwriting, Holly-Rosing wrote "Stargazer," a biopic about Wiliamina 'Mina' Fleming, a female Scottish-American astrophysicist from the late 19th century. The project catalyzed Holly-Rosing's research on late 1800s Boston and later influenced the setting of her steampunk comic, which eventually turned her from screenwriting to comic book writing, Holly-Rosing said.
"Boston Metaphysical Society" initially started as a television pilot written for one of her screenwriting classes at UCLA, Holly-Rosing said. But after unsuccessful attempts at producing her pilot, she followed her colleagues' suggestions and launched a Kickstarter to adapt the script into a graphic novel in 2011. In 2012, she launched the webcomic on its own website, and its first issue printed the following year.
Paul Chitlik, a clinical screenwriting professor now at Loyola Marymount University, taught Holly-Rosing in her introductory screenwriting class at UCLA. He said before writing scripts, screenwriters create a brief outline of the plot and a list of characters with one-line descriptions, followed by a prose description of the movie.
"What we learn in screenwriting is the structure that applies to stories that usually you see in movies, but you also see in plays, and if you use that same structure, it works very well in novels," Chitlik said.
Holly-Rosing said she applies the screenwriting process to her comic writing. She writes the same character biographies, outlines and story descriptions before starting the comic script.
Holly-Rosing added both screenwriting and comic writing are collaborative mediums.
"Like in filmmaking, you got a director, you got a producer, you got sound – its an army," Holly-Rosing said. "It's the same thing with comics; I have an artist, a colorist, a letterer, I have a pre-production guy."
Just as directors would oversee cinematographers in movie scenes, Holly-Rosing said she directs her artists in each panel to ensure they tell certain elements of the story.
Emily Hu, the storyboard visionary and artist for "Boston Metaphysical Society," said after she finishes a few pages a week, she sends them back to Holly-Rosing for revisions. Holly-Rosing then gives her references, such as pictures of tanks, or asks Hu to embellish clothing styles by adding frills for a more steampunk flavor.
While working for Holly-Rosing, Hu, who currently draws for Marvel Comics, noticed Holly-Rosing's scripts differed from other comic industry scripts because of her previous screenwriting experience. Hu said Holly-Rosing's scripts had more clearly defined directions for the artists than other comic industry scripts.
"Industry strips do vary a lot, because sometimes they don't even give the dialogue and they just let the artists do whatever they want," Hu said.
While Holly-Rosing draws from her screenwriting experience when creating her comic scripts, she said the two mediums differ in some ways.
One distinction between screenwriting and comic writing is the latter's page limit – the average American comic is only 22 pages, Holly-Rosing said. Given the limited amount of space, she said she has to be sure her plot points and character arcs fall exactly where they should in the pages of a comic book.
Comic scripts also tend to have more flexibility than film scripts, she added. Film scripts have formatting standards, but comic scripts can have subtle changes such as details about each panel so long as all the information is presented on the page.
In addition, while strict film budgets can limit screenwriting, comic writing isn't restricted by monetary constraints that may hinder creativity.
"You can put as many spaceships and however many explosions you want, and you don't have to worry about the cost of actually having to do that on the screen or the AFX, or the post, or whatever thing you need to be blowing up," she said. "You have an artist drawing it on the page."