Art student mixes politics, identity, fashion in clothing designs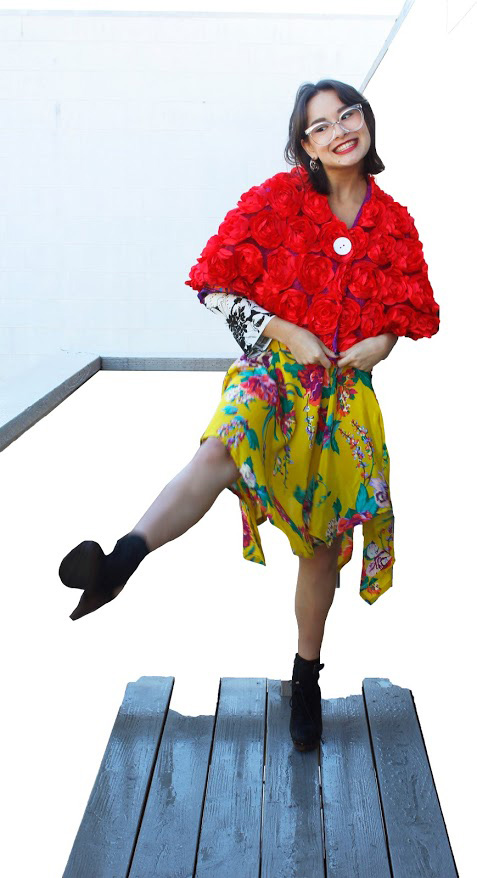 Kendall McCready, a second-year art student, designed a coat made together from slices of Wonder Bread. She puts together her artwork and fashion with inspiration from historical research. (Courtesy Photo)
Sept. 17, 2017 11:20 p.m.
Kendall McCready found the supplies for her next fashion project in the bread aisle of Costco Wholesale.
While studying abroad in England, the second-year art student said she noticed stark differences between American and English culture. So, she decided to present her reflections in a video by dressing models in fashion inspired by American culture.
But rather than using traditional textiles, McCready wanted to make a statement using slices of Wonder Bread. She ended up sewing the slices together into a coat.
"When we are immersed in another culture, it's clear that what we're taking in is different than what we're used to," McCready said. "I was thinking strongly about how we take in American culture, and what's more American than Wonder Bread?"
McCready explores fashion through a social and political lens in semiannual clothing collections, such as the collection that included her Wonder Bread coat. She is working on a clothing collection about being biracial and plans to have multiracial models talk about their experiences in a video featured on her website portfolio.
McCready has designed clothes since elementary school and said she views fashion as an expression of her race, femininity and class. She added she grounds much of her fashion and artwork in historical academic research to provide context for her social and political statements.
While working on her "Individuation" project, McCready found inspiration in philosopher Carl Jung's belief that mandalas are an artistic perception of a person's body and mind. She then designed her outfits around aspects of the mandala – the ego and the unconsciousness – by integrating geometric patterns into her designs.
Another one of her collections, "Take Up Space," recognizes typically underrepresented individuals and encourages them to express themselves in a society that might make them feel voiceless, McCready said. The models for the collection – a mixture of friends and creative people she is inspired by – chose their own combinations of vibrant clothing pieces for the photoshoot.
Rino Kodama, a second-year art student and a model for the collection, combined a hot pink fur coat with a screen printed shirt saying, "If he can be president, you can do anything," along with a bright floral knee-length skirt.
"A lot of designers have a previous vision in mind, but she let us have freedom over what we wanted to wear," Kodama said. "The purpose of this collection is to take up space in a way where you are being your authentic self."
McCready posted the photos on her website along with each model's answer to the question, "Is taking up space activism?"
In addition to her semiannual collections, McCready also makes everyday garments she wears herself. She took her first sewing lessons with her childhood friend Abby Lim-Kimberg at age 8.
Lim-Kimberg said she often borrows McCready's clothing because she loves her unapologetic style.
"There's nothing subtle," Lim-Kimberg said. "Kendall isn't the type of person to walk into the room and demand attention, but she wears things that are eye catching to invite people into her space."
McCready often mixes bold colors and textiles, such as a pink velvet cropped sweatshirt over an asymmetrical, bright red tulle dress.
"I don't know what the people on my dorm floor thought of me because the only times I'd ever be out of my room were to be outside cutting up fur or folding six yards of pink sparkly velvet into a suitcase," McCready said.
However, despite her outlandish style, McCready said people always ask where she gets her clothing, so she ventured into taking custom orders and selling her clothes.
McCready said she prefers custom orders because they allow for more creative autonomy than orders with set sizes, which assume the average body shape of a person. The products modeled on her website indicate they are made to order so people feel welcomed to wear her clothing no matter their body type, she said.
And size is just one issue that McCready tries to confront in her work. She said she is also trying to address the industry's lack of diverse representation and unwillingness to have messy conversations when discussing identity – incorporating themes of representation and identity into her pieces.
"What I'm doing is creating spaces for everyone to be able to radically imagine," McCready said. "If I have to tell someone that they're not educated enough to understand what I'm making, then I haven't done my job."