Concert review: Kendrick Lamar at the Staples Center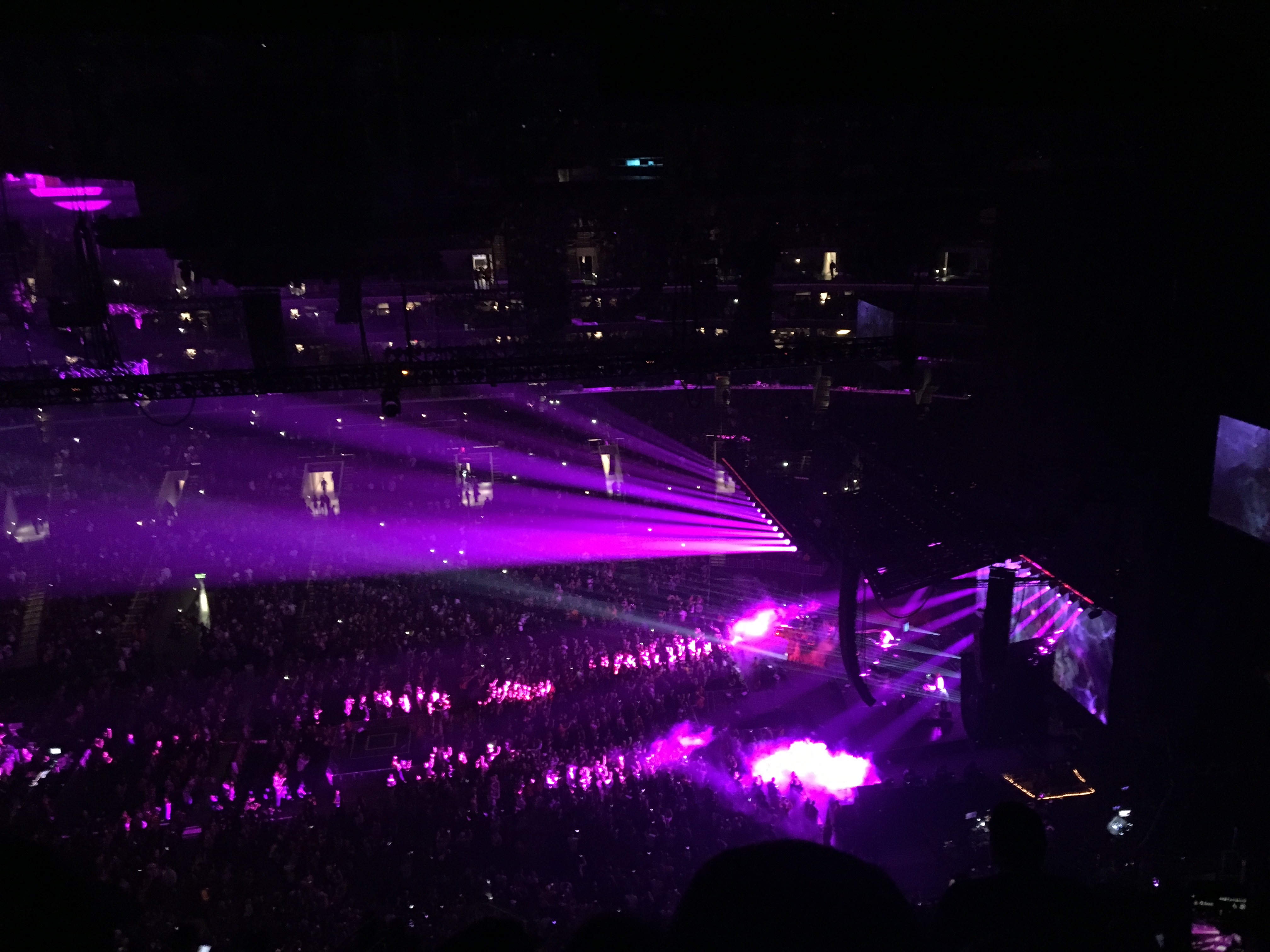 Kendrick Lamar gave a high-energy performance of hits from his latest album "DAMN." at the sold-out Staples Center show. (Crystal Nguyen/Daily Bruin)
Two hours after his set's showtime, Kendrick Lamar finally made a discreet entrance, rising from beneath the stage on one knee.
But the seven-time Grammy-winning hip-hop star's first appearance of the night was on the stage screens as his alter ego Kung Fu Kenny. Classic martial arts movie-inspired clips showcased Kung Fu Kenny's legend before being suddenly interrupted.
Firecracker explosions accompanied Lamar's first verse in "DNA.," abruptly kicking off the first of his three Staples Center performances for "The DAMN. Tour" on Sunday. The audience's collective euphoria made it clear that this was the moment everyone was waiting for.
"Feels good to be back home," Lamar said of his return to Los Angeles.
[Related: Concert review: Portugal. The Man at the Hollywood Palladium]
The audience wasn't gratified by the headliner's long-awaited appearance until two openers finished their own sets. Concert-goers rushed to their seats once the opening rapper D.R.A.M.'s soulful vocals echoed throughout the venue. He faced the audience with his signature smile and pineapple-shaped sunglasses, emanating a contagiously charismatic wave of energy with his Billboard chart-topping hit "Broccoli" before naming Lamar "G.O.A.T." – greatest of all time.
Following D.R.A.M.'s performance, hip-hop artist Travis Scott stole the stage with a raging energy, aggressively pacing before mounting a gigantic suspended eagle that hovered over the stage. Combined with his heavily auto-tuned vocals, the dense fog and glowing blacklight created an enigmatic scene that allowed Scott to dominate the stage for the hour leading up to Lamar's arrival.
Accompanied by spurts of fire on stage and sporadic spotlights flashing to the beat of his verses, Lamar's passionate lyrics and fluid articulation left a profound impact. He performed tracks from his critically acclaimed fourth studio album, "DAMN.," including "LOYALTY.," "ELEMENT." and "LOVE."
"I think I got the most dedicated fans in this building – right here, right now," Lamar said before performing "LOYALTY."
But Lamar didn't neglect to perform his featured verses in other artists' tracks such as ScHoolboy Q's "Collard Greens" and Future's "Mask Off" remix. To the audience's elation, Lamar also included fan favorites from his past albums such as "Bitch, Don't Kill My Vibe," "Alright" and "Swimming Pools (Drank)".
The martial arts theme that inspired Lamar's alter ego maintained a constant presence during the night. Psychedelic Mortal Kombat-esque clips of Kung Fu Kenny made recurrences between songs, which transitioned into onstage martial arts choreography, giving the concert a theatrical edge.
Lamar took control of the stage with calculative steps, keeping a steady flow of substantial lyrics that triggered a wild response from the crowd. Dressed in two eye-catching outfits – matching shirt and pant sets in yellow and red, respectively – Lamar kept the spotlight even when unexpectedly relocating to a miniature podium stage in the center of the stadium floor.
However, regardless of where he was in the arena, Lamar made sure the action was happening both onstage and offstage. Splitting the arena with an imaginary line, he had each side vying to cheer louder than the other in anticipation for his next song.
Screens also served as an accessory to Lamar's stage-ready performance, displaying artistically pixelated and static edits of live footage from different angles – sometimes a unique bird-eye view – and symbolically relevant videos such as a Fox News clip addressing police brutality. Fans toward the back of the steep Staples Center arena could still get a close look at the front of the stage, where Lamar tended to squat as if speaking personally to the audience.
Toward the end of the night, the audience sang all the lyrics of "HUMBLE." a cappella as Lamar mouthed the words in unison, holding out the mic and soaking in the moment. Appropriately, the track was followed by "GOD." as an encore.
All eyes followed Lamar as he stepped offstage, ending on the lyrics, "this what God feel like."