Theater alumnus lands role in Hollywood Bowl's 'Mamma Mia!' production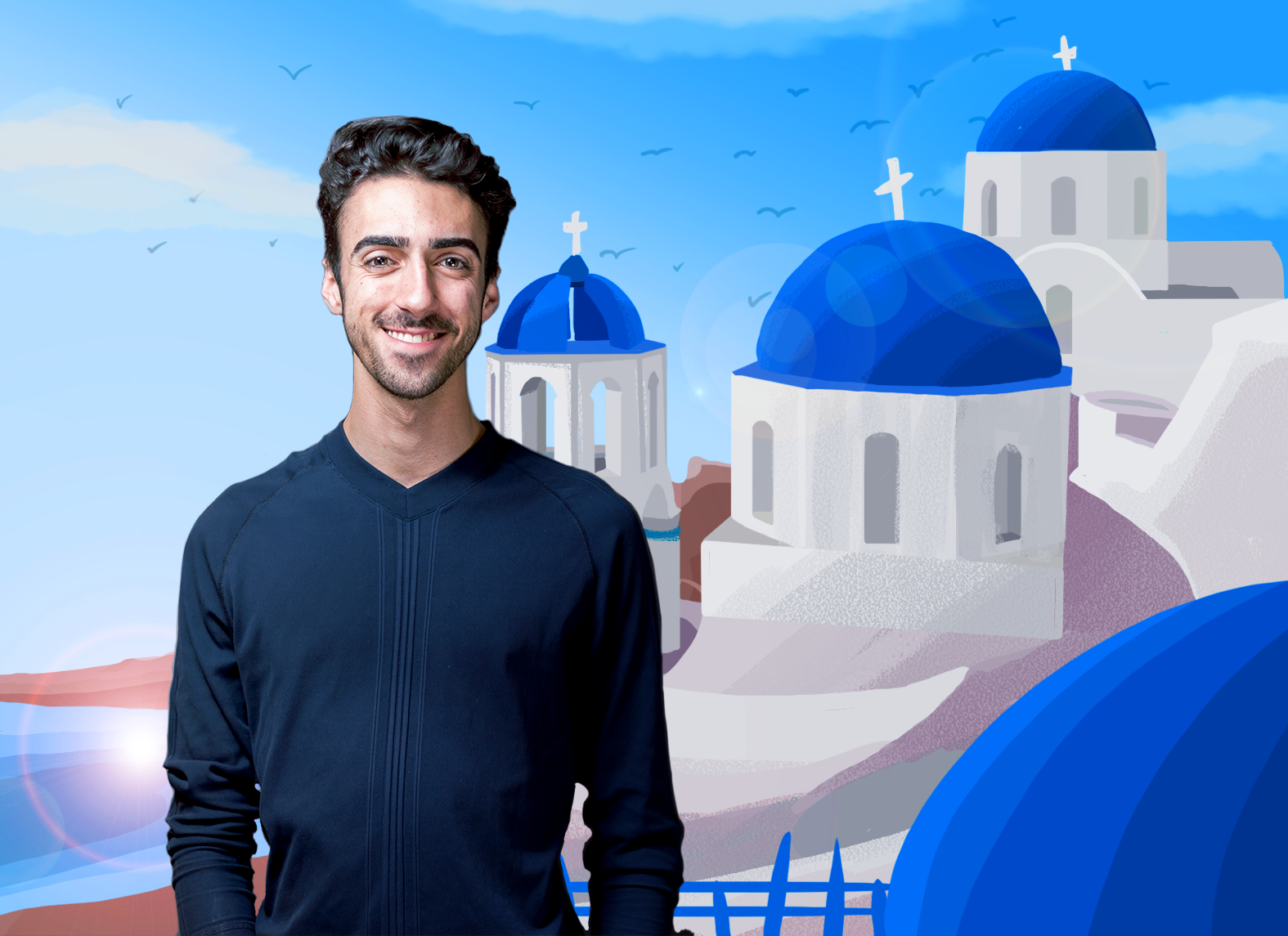 Theater alumnus Rodd Farhadi will play the character Eddie in the Hollywood Bowl's production of "Mamma Mia!" Farhadi will star alongside actor Corbin Bleu in the musical, which will run July 28 to July 30. (Hannah Burnett/Assistant Photo editor, Kaley Powers/Daily Bruin)
Rodd Farhadi plans on playing it cool when meeting one of his idols for the first time.
The 2017 theater alumnus will perform as Eddie, the best friend of Corbin Bleu's character Sky, in the Hollywood Bowl's production of "Mamma Mia!" that will run July 28 to July 30.
Farhadi said he saw the opportunity to star in "Mamma Mia!" as a full-circle moment, and used his experience in performance to land a role and perform alongside Bleu, someone he looked up to on the big screen as a child. The audition process also gave him a chance to showcase both his talent and personality before industry professionals.
Farhadi spent most of his childhood in musical theater rehearsals instead of daycare.
"I remember when I was a kid just being like, 'Sit there,' to my parents and I'd put a costume on and dance or sing or something," Farhadi said. "They were forced to like it, I think."
[Related: Hollywood Bowl the next stage for graduate performing in 'A Chorus Line']
Farhadi's parents raised him around the music in "Mamma Mia!," which is based on records by the disco and pop-rock group ABBA. He said the rise of disco in the 1970s captivated his parents, who moved to the United States from Iran around the same time.
"In the dance audition (for 'Mamma Mia!') they were like, 'Just groove with it,' and in my head I remember being like, 'Pretend I'm my dad straight off the airplane in America for the first time listening to disco music and living it up,'" Farhadi said.
Oftentimes, people who show up at an audition for a specific role all look like each other, but the "Mamma Mia!" audition welcomed actors who varied in appearance and ethnicity, Farhadi said.
He said he appreciates how the Hollywood Bowl cast actors from many ethnicities instead of sticking to the backgrounds of the characters portrayed in the film and in other musical adaptations.
"I want to be a multifaceted actor who does film, TV as well as Broadway theater," Farhadi said. "I want to be well-known enough so I can be a vessel for Middle Eastern people in media right now."
Farhadi heard about the opportunity to star in "Mamma Mia!" during winter quarter in his Theater 128A: "Acting, Voice and Movement Workshop II" class at UCLA taught by lecturer Michael Donovan. Donovan, who is also a casting director for the Hollywood Bowl, said Farhadi started screaming over the phone when he called him to tell him he booked a role in the show.
"Rodd is very high-energy, slightly neurotic, sassy and extremely likeable," Donovan said. "There aren't a lot of Rodds. It was a no-brainer; he was the guy."
The "Mamma Mia!" audition involved singing, dancing and reading a set of lines from the script. For the first part of the audition, Farhadi sang his rendition of "Shut Up and Dance" by Walk the Moon, earning a callback for the dance portion, in which he competed against 80 aspiring candidates all auditioning for only four roles.
"You're singing and trying to act and then they're talking and whispering about something they see on your resume," Farhadi said. "That's how it works. But I feel like the four years at UCLA have given me the practice to stay grounded and focused."
Donovan said the casting panel saw more than 500 people for auditions.
Despite spilling a smoothie that left a purple stain on his crotch right before the audition, Farhadi said he felt good about his performance after getting the panel to laugh.
"A lot of times we've seen people read the material over and over and already know where the funny parts are," Donovan said. "If you can get a creative team to laugh while you're auditioning, it's a genuine response and that's huge."
Jeremy Mann, director of singing for the Ray Bolger Musical Theater Program at UCLA and Farhadi's private voice teacher, said Farhadi has an ability to lightheartedly acknowledge his mistakes while fixing them and moving on.
"He takes his work seriously, but has a great, whacky and dry sense of humor," Mann said. "In rehearsal when he makes a mistake, he does something self-deprecating but in a humorous way to lighten the room."
Musical theater alumna Catriona Fray landed a role in the production as part of the ensemble. She said her shared experiences with Farhadi in previously staged campus productions taught them auditions are not just about being the best singer or dancer, but also about being able to immerse themselves in the show and tell a story.
"You can mold him to be whatever you want him to be," Fray said. "He can be the friendly, fun guy at the party or the evil boyfriend and go in and out of that effortlessly."