TFT film festival to celebrate students' animation work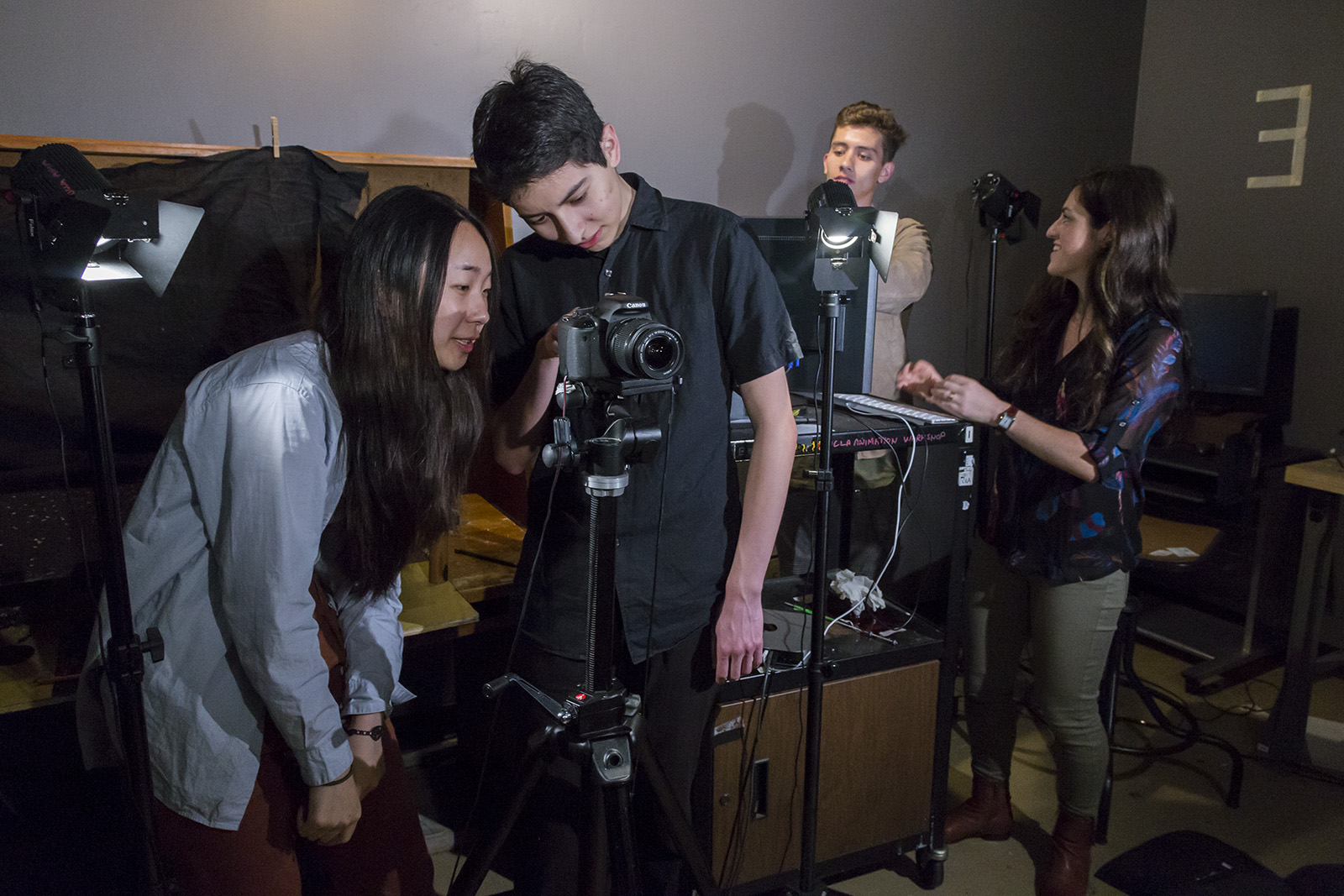 "Prom: Festival of Animation" is a showcase of original short films made by UCLA students, both within and outside of the animation program. The event will take place Saturday and feature around 40 student-made films. (Alyssa Dorn/Daily Bruin staff)
UCLA's animation festival was a first-time prom experience for some students featured in the event.
"Prom: Festival of Animation" is a featured event of UCLA's TFT Film Festival that will showcase student-created animated films Saturday. The annual event was dubbed "Prom" in the 1980s because many of the people featured in the program had not attended their own high school proms, said animation graduate student Heather Langley. The animation showcase was their replacement, serving as an end-of-the-year celebration of their work.
This year, for the first time in its history, "Prom" will be divided into two programs – "Over the Moon," which presents projects created by students in the animation M.F.A. program, and "Into the Stars," a showcase of short films by students who are not in the animation program.
One reason the program is expanding is to increase its inclusivity, said animation graduate student and festival co-organizer William Rowe. "Prom" accepts all submissions from students and incorporates them into the program, necessitating more programming time to include the work of both animation and non-animation students.
[Related: International film festival explores themes of cultural identity, individuality]
The division of programs was also necessary because of an increased student interest in animation classes, said Celia Mercer, head of the animation program. Mercer said the heightened interest in animation, particularly stop motion, is a result of the increased presence of animation in the media, as well as more accessibility to animation tools and techniques through the internet.
"There's a major renaissance in stop motion in feature films, and then television and commercials and everywhere," Mercer said. "I think that a lot of people really love the handmade feeling of stop motion films – you feel the human being in it."
Tina Wen, a first-year design and media arts student, dabbled in hand-drawn animation in high school before taking a stop motion class offered at UCLA. She created her short film "Unthaw" in the class and will screen the film at the festival.
Wen found that her previous experience with hand-drawn animation differed greatly from the stop motion animation she learned in the class.
"(With stop motion), you have to work with really physical and intentional things and sometimes you have to fight reality as well," Wen said. "You have to fight gravity when you're trying to make your puppet stand and do some kind of pose, so it was challenging and really interesting as well for me."
In the class, Wen learned how to sculpt her own figures, how to sync audio with the animation and how to film walking cycles with stop motion.
The stop motion classes also offer students interested in animation a multitude of resources to craft their films, such as cameras and dedicated workspaces to film in, said second-year chemistry student Fernando Vasquez.
Vasquez took two animation classes over the academic year. He used the resources provided by the class to create two short films, both of which are screening in the festival – "Bear," about a dancing bear in the woods, and "Planet Scouters," about a robot sent to survey a planet.
For many of the M.F.A. students, the filmmaking process spanned more than just one quarter. Langley's four-minute film, "Ferus," took a year and a half to complete. The title is Latin for feral and reflects its main character's struggle to repress her innate desires in the midst of nature. Although the film was created on the computer, Langley painted the film, adding texture and brushstrokes to every frame of animation.
"I wanted to do an experimental film in that style, and the style was kind of what was driving the film for me this time around," Langley said. "I came up with it because I really just wanted to see how far I could push the medium."
The lengthy process for M.F.A. students helped them reflect on their own progress. Each student worked alone on their film, making the films more individual and personal, said animation graduate student Connor Bland.
"I can kind of look back on the scenes I did starting off, and I feel like I really improved as an artist," Bland said. "What I'm most proud of is how the vision just looks almost exactly what I wanted it to look like from the beginning."
Mercer believes the variety of films being screened in the two showcases will fascinate the audiences.
"Their individual voices – some of them are really funny, some of them are dark, some of them are poetic, … some of them are really challenging," Mercer said. "I want people to be entertained, but I think there's so many levels of nuance in how they might be entertained."
Vasquez said he also hopes that the showcase of around 40 films will entertain audience members and encourage them to support student artists and appreciate the extent of their hard work.
"Sometimes, you work for five hours and you made seven seconds of something moving," Vasquez said. "But at the same time, those seven seconds are amazing to you because you made something move."