Film students explore benefits of interschool collaborations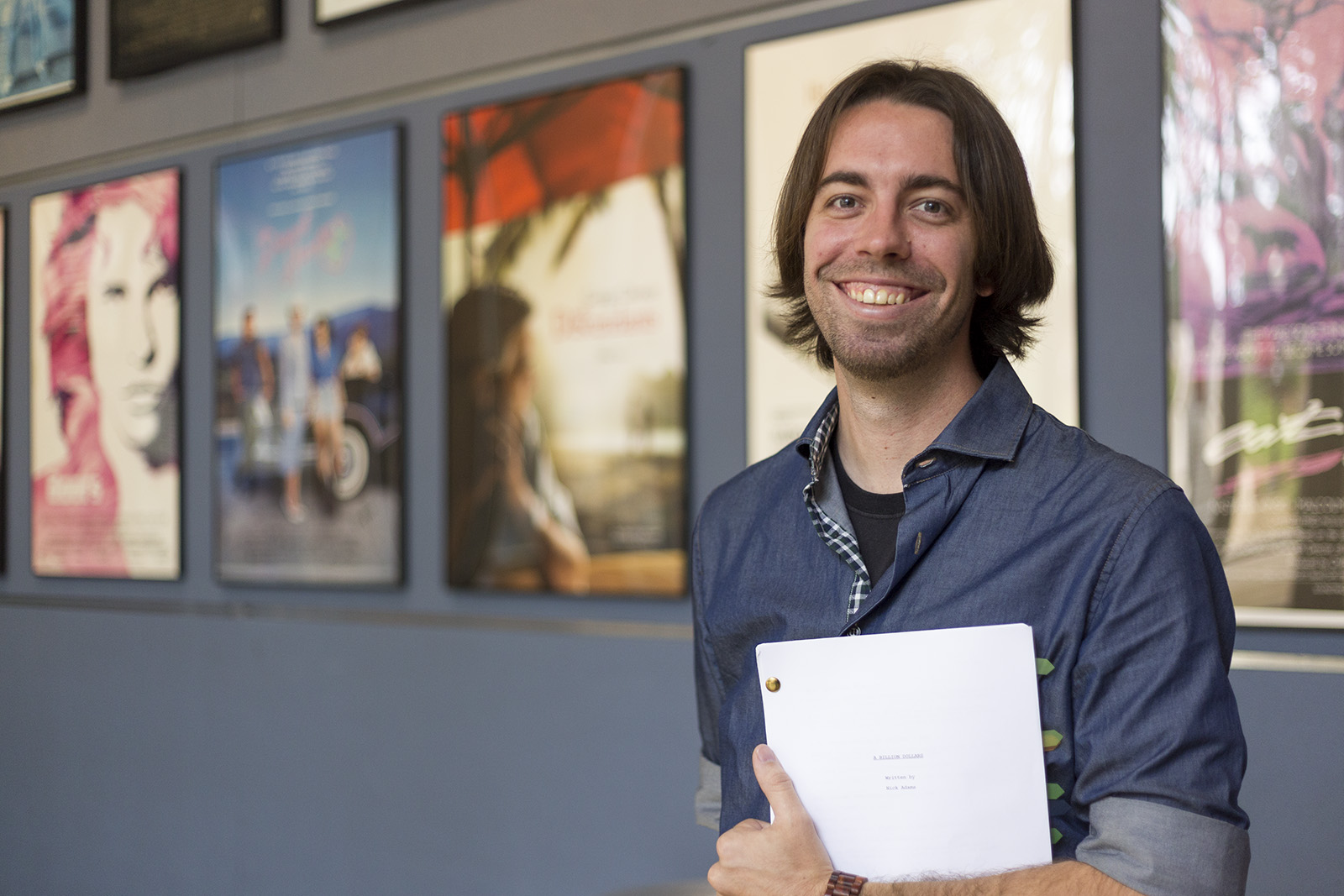 Graduate student Nick Adams wrote the original screenplay "A Billion Dollars,"
which he worked on with Chapman University producing student Xia Huang. (Alyssa Dorn/Daily Bruin staff)
Los Angeles is a goldmine of prestigious film schools.
Colleges located in the homeland of cinematic showbiz have distinct teaching styles. However, some students choose to collaborate with those from other schools to make movies that combine the differing educational foundations of UCLA, USC and Chapman University.
Students from film schools across LA connect with other student filmmakers and expand their creative arsenals through word of mouth, previously established relationships and Facebook pages such as "UCLA Theatre Film Connection" and "FILM Network – TRIFECTA."
One such intercollegiate team consists of Ritvik Dhavale and Abdel Eleish, whose working relationship has endured even after they decided to transfer to rival film schools from De Anza College in the Bay Area.
Dhavale is a fourth-year film, television and digital media student at UCLA and Eleish is a third-year film and television production student at USC. Dhavale and Eleish teamed up together to work on a three-minute dramatic film while attending De Anza and have continued to collaborate on film projects despite their post-transfer separation.
Eleish and Dhavale alternate positions depending on projects; if one of them is the creative lead on a film, the other will take on a more logistical production role, while still contributing creatively as well, Eleish said.
Cross-school partnerships provide students with a broader network of contacts, resources and knowledge, Dhavale said. Each film school has its own approach to film education, and interschool collaborations can help bridge the gap between differing classes and curricula. At the same time, differences between directors vary more on a personal basis than an academic one, as every person has a different directorial approach regardless of school background, Dhavale said.
"It literally comes down to sharing lecture notes or a cool handout a professor sent or maybe an inspirational lecture," Eleish said. "We just call each other up and share this information … because we get excited about the same things."
Eleish's dream school was USC because of its high-status film program and beautiful campus. Dhavale said one draw for him in choosing UCLA was the smaller amount of people it admits into its film program. He said he thinks the lower student-to-professor ratio and resulting increase in individualized time benefit creative growth.
UCLA's undergraduate directing program accepts around 30 students per academic year, while the graduate directing program accepts approximately 20 students each year.
The UCLA School of Theater, Film and Television's small class sizes and emphasis on character-driven storytelling are what define its film program, said Becky Smith, vice chair of production at UCLA.
UCLA's film program supports students who want to pursue Hollywood-geared blockbusters and genre films such as horror, thriller, sci-fi or fantasy, but chiefly focuses on teaching students how to create dynamic, fully realized characters that propel stories forward, Smith said.
UCLA's screenwriting program similarly places emphasis on honing a story – and requires that students write plenty of scripts to do so, said graduate screenwriting student Nick Adams.
Graduate students are expected to write a minimum of four feature-length scripts, according to the UCLA TFT website. Adams added students typically write at least one script per quarter, adding up to six screenplays of 100-plus pages by the end of the two-year program, and often more.
"Having the wide range of experiences from class to class, and having those tight deadlines every 10 weeks is really helpful," Adams said. "I think you get a variety of instruction and a variety of personalities in the different (class)rooms, and it feels like you're constantly moving."
Through word of mouth and mutual friends, Adams connected with Xia Huang, a graduate producing student at Chapman University, and helped her with her senior thesis film in August. The thesis required that she purchase the rights to a screenplay in the hopes of producing and selling it, so Huang bought Adams' screenplay and the two workshopped it together, Adams said.
The film, called "A Billion Dollars," is a crime thriller about a recovering alcoholic who wins the lottery but has his winning ticket stolen by bounty hunters, whom he must then track down to retrieve his fortune. Adams wrote the original script, but continued to collaborate with Huang to refine it into the final product.
Collaborating gave Adams and Huang a taste of the pragmatic business side of the screenwriting world. Huang gave Adams notes on his script during their 12-month optioning contract, and the two revised it in person and via email to prepare for a professional pitch session at Sony Pictures Entertainment Inc., Adams said.
LA's wide geographical layout played a somewhat inconvenient role in the editing of Adams' script. The drive from LA to Orange County and back is lengthy – one hour without traffic – but Adams said the effort was worth it in the long run because of how it benefited him as a writer.
In November, Adams visited Chapman University to speak at Huang's thesis development class about his script. He received feedback on it from Huang, the seven other students in the room and the professor. Adams said he found the feedback helpful; for example, Huang suggested Adams change one getaway scene from one where the character is in a car to a situation in which the character is furiously packing so that the scene would be more active and less physically constrained.
"It gets you out of your comfort zone when you get new perspectives," Adams said. "It's really easy to keep going to the same rivers and waterfalls that you know – your same circle of friends – but being forced to intermingle with the different schools, you're forced to make new connections."
Chapman University's graduate film program employs the conservatory model of film education, which centers around specialization and collaboration, said Michael Kowalski, associate dean, chief academic officer and professor at Chapman University's Dodge College of Film and Media Arts.
At Chapman, students focus on a specific field, such as sound design or cinematography, and team up with students in other specializations to produce a complete film with all the necessary elements, Kowalski said.
This conservatory approach contrasts with how UCLA's School of Theater, Film and Television allows students to take on multiple roles, such as writer and director of their own film, Smith said.
USC School of Cinematic Arts is more rigidly structured in how it regulates who can be involved in student projects, Eleish said. As a UCLA student, Dhavale said he had to meet with USC professor Susan Arnold and lecturer Miles Watkins to gain approval to collaborate on Eleish's film about a man who unknowingly interns for a mob boss during a high-stakes drug deal.
USC's film program is geared toward film that will realistically succeed commercially, Eleish said. Because of this focus, Eleish has gained many organizational production skills, such as filing in Google Docs, which have benefited Dhavale's projects when the two work together.
Adams, Eleish and Dhavale said they feel they can't quite attribute the working styles of a colleague from another school to the school itself. They added they have found that filmmaking style varies more from person to person than from school to school. However, all students found collaboration across schools to be a positive opportunity for learning and growth.
Dallas King, a UCLA directing alumnus, UCLA Extension instructor and president of the alumni-run Bruin Entertainment Network, heads the entertainment company Red Rabbit Pictures and has experience working with both UCLA and USC alumni professionally.
King has worked on sets with 50 to 100 crew members, many of whom are alumni of UCLA, USC, Chapman University, American Film Institute, New York Film Academy, Loyola Marymount University, LA Film School and California Institute of the Arts, he said.
King said he thinks USC alumni were more concerned than other schools with efficiently completing the short-term project than maintaining long-term work relationships. Though King values a more camaraderie-oriented work environment, King said he wouldn't refuse working with someone from USC because, above all, he values uniting visionaries from diverse backgrounds.
"Making a movie is war, and we're all in this together," King said. "We all share a commonality, and that is being creative."
Interschool collaboration allows filmmakers to share resources like equipment and colleagues, Dhavale said. A student who needs more crew members, for example, may struggle to get help from their own school because all other film students are competing for the same pool of resources. Students who expand their network to film students at other schools can get the supplementary help needed to make a film.
"I wish (LA) film schools that are all pretty close by … had one big collaboration where the deans of the schools met up and decided to create a project," Eleish said. "Then you're really using all the resources you have possible to make the best possible project between the film schools."
Film students who build alliances with film students at other schools gain exposure to different curricula and further prosper as filmmakers, Dhavale said. Consolidating information and sharing passion bolsters the potential for a successful filmmaking experience, Eleish said.
"Basically everything I learn I can pass onto (Dhavale), and everything (Dhavale) learns, he can pass onto me," Eleish said. "At the end of the day, that just helps make a better film."