WestWoodstock music festival to spotlight UCLA's student musicians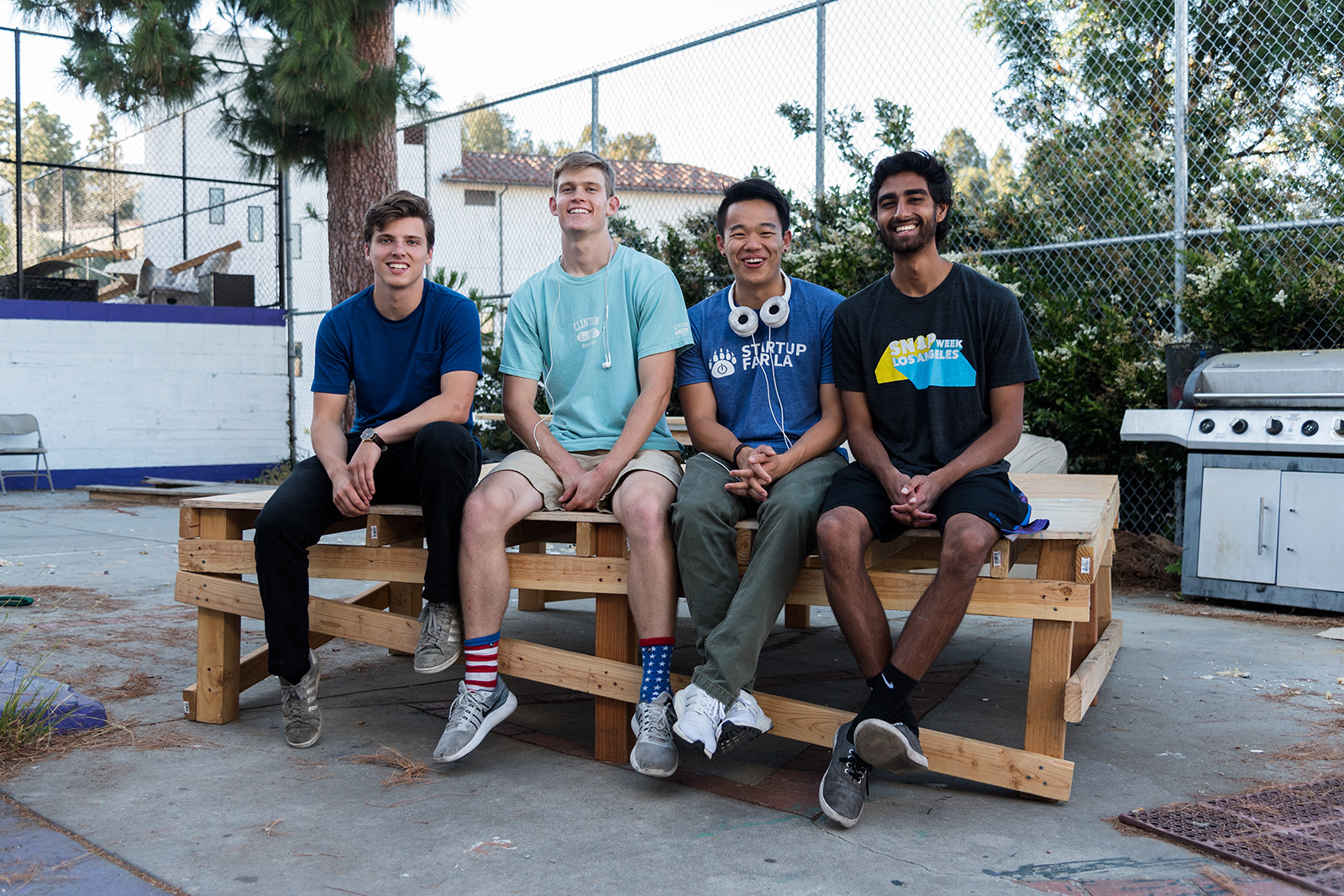 The UCLA-based event-planning organization House of Balloons created WestWoodstock, a two-day music festival featuring 35 student musical acts including both up-and-coming and more established bands and musicians. (Daniel Leibowitz/Daily Bruin)
WestWoodstock Student Music Festival
Presented by House of Balloons
Friday at 8 p.m., Saturday at 6 p.m.
Sigma Alpha Mu House
$10 in advance, $15 at the door
How many students does it take to squeeze one wooden stage through the screen door of a fraternity house?
The answer is four.
I watched John Colarusso, Tim Connors, Sriram Ramakrishnan and Jonathan Liu succeed in strategically pivoting the timber framework for the stage through the small entryway inside. The four students were setting up for WestWoodstock, a two-day music festival featuring student bands and musicians taking place at the Sigma Alpha Mu house. Performances start at 8 p.m. Friday and 6 p.m. Saturday, and tickets cost $10 in advance and $15 at the door.
Members of the event-planning organization, collectively named House of Balloons, hope the festival will add a homegrown and communal feel to UCLA's music scene by featuring up-and-coming musicians in a more relaxed environment as opposed to high-profile music competitions.
The idea for the event was sparked while the group was vacationing on Catalina Island for spring break in March. They wanted to host a student-run music festival that would showcase exclusively UCLA talent as well as brand their own organization, said Ramakrishnan, a fourth-year economics student.
"We want House of Balloons to be associated with a good time," he said.
The name draws influence from the original Woodstock Music and Art Fair, which took place in 1969 and spanned four days, leaving behind a legacy of collective peace and music.
"Woodstock was a very communal music experience for a lot of people and that's what we want to do for the UCLA student population," said Liu, a third-year global studies student.
Although Woodstock inspired the name and collaborative feel of WestWoodstock, the college-centered festival will include more modern decor such as glow sticks.
WestWoodstock will feature a lineup of 35 UCLA artists, encompassing genres ranging from hip-hop to EDM to rock. The group reached out to artists around campus, who will be performing unpaid, and accepted applications online.
Unlike house concerts that typically feature one type of music such as jazz or acoustic, WestWoodstock brings together many musical influences into one cohesive festival, said Colarusso, a third-year psychobiology student.
"It's like a Westwood music-scene sampler," said Connors, a third-year cognitive science student.
Although many of the performers are unknown among the UCLA community, the range of musical genres will cater to everyone, Liu said.
"You don't know what you're going get, but you know that out of the 30 bands, there's probably going to be a couple artists that you like and that you really dig," Liu said.
In addition to creating a musical experience for UCLA students, the group hopes to construct a platform for lesser-known UCLA musicians, Ramakrishnan said.
"One day if they do end up successful and big, people were able to see them when they were young at WestWoodstock," he said.
Jinwoo Kwak, a third-year linguistics and computer science student, will be performing at WestWoodstock under his stage name, kendirck.
Kwak began teaching himself how to DJ this summer and has played for house parties this year for student clubs around UCLA. He is both excited and nervous for his biggest performance yet, remixing his set four times in order to put on his best show, he said.
"I'm humbled to even be included in this group because I've only been making music for so long," Kwak said.
Newer artists will be given the same opportunity as well-known UCLA musicians.
The featured artists are listed in alphabetical order in the same font size on the WestWoodstock lineup posters so as not to prioritize any performers over the other, avoiding a corporate influence on the organic, homegrown feel of the festival, Connors said. Each artist will be given a set time of 25 minutes.
"If at the heart of this we truly believe it's a communal grassroots thing, then we would treat everyone the same," Liu said.
The group plans on keeping the lineup strictly centered on UCLA musicians, as opposed to other on-campus music events such as JazzReggae Festival, which features outside performers in addition to UCLA artists, Colarusso said.
Some performers playing in the festival also participated in Spring Sing on Friday. However, the smaller space of the house will foster a more intimate environment without the pressure of competition and a large arena venue, Liu said.
Kyle Frankhuizen, who performed at Spring Sing with Stefan Dismond and the Love Supreme, will play bass guitar at WestWoodstock in four bands including his own, called Nightswimmers.
The third-year political science student said smaller shows allow for more improvisation and audience engagement compared to large events such as Spring Sing, in which the group performed a prepared product.
"It's fun because you can interact really well with the crowd," Frankhuizen said. "It's easier to feed off their energy when they're literally right in front of you."
Although this year marks WestWoodstock's premiere, the group hopes it will become an annual tradition that inspires similar music opportunities throughout the year, Connors said.
"It would be really exciting for us to see other people doing the same thing, hosting other bands and just getting excited about the musicians on campus," Connors said.
Xu is a senior staff reporter for the Arts and Entertainment section. She was previously the assistant editor for the Lifestyle beat of Arts.
Xu is a senior staff reporter for the Arts and Entertainment section. She was previously the assistant editor for the Lifestyle beat of Arts.