Five productions take home awards at 2017 Shorttakes film festival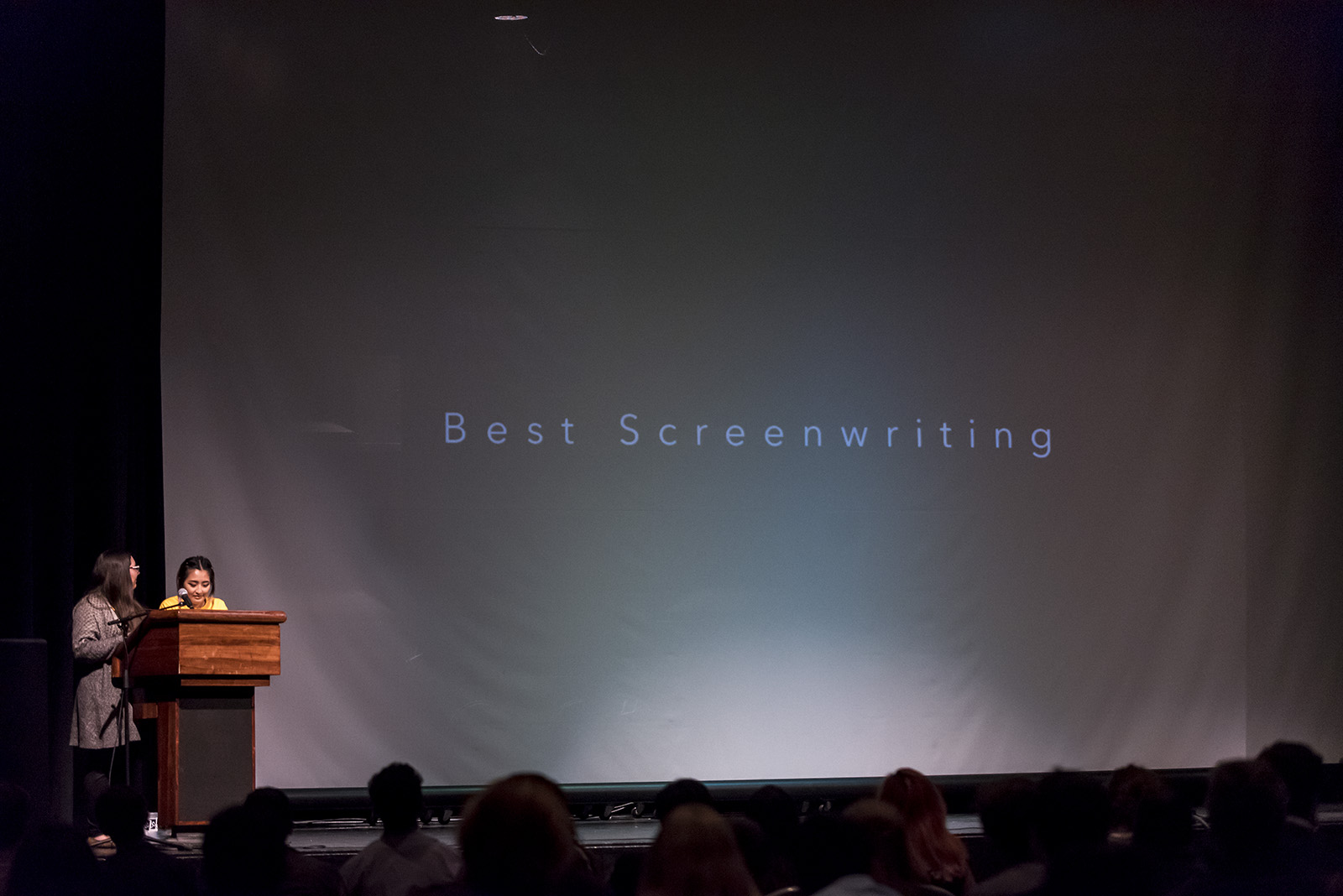 (Habeba Mostafa/Daily Bruin)
The audience was suspended in stunned silence moments before bursting into applause at the culmination of the 23rd Annual Shorttakes Student Film Festival's last film.
The Audience Choice Award-winning film, "Ruby Locus," directed by fourth-year political science student Alvaro Wong, tells the narrative of a young girl kidnapped while on a date with a man she met online who later takes part in sexually assaulting and murdering her.
UCLA's Campus Events Commission hosted the film festival in Ackerman Grand Ballroom on Tuesday night, showcasing short films of under 10 minutes made by students that span any genre, from animation to digital media and live action.
Five films took home awards in seven categories "The Spaceman" won best screenwriting, "J.P." won best editing and best live action, "Tag" won best cinematography, Cameron Kelly from "Swipe Right" won best performance, "Ruby Locus" won audience choice and "Invisible" won best animation.
"Through film, you can create certain aspects of the world that you don't necessarily see every day," Wong said. "My film is pretty explicit in nature, but relays the message to just try to be a good person because you never know how it might come back and bite you."
Sarah Al-Qatou, a second-year English student, felt that "Ruby Locus" left the evening on a negative note despite receiving the popular vote. Al-Qatou said she was shaken when the lights turned back on following the credits.
"I think that the presence of sexual violence in film is crucial because artists imitate reality and if we're censoring our art then that's not a clear depiction," Al-Qatou said. "I respect that, but at the same time I think the way it was depicted was not productive."
Messages behind the short films addressed a broad range of topics through both live actors and varying animation techniques such as 3-D and traditional hand-drawn. "Ovation" and "Swipe Right" light-heartedly poked fun at dating in a technological age, while "Miss Rivers," "The Monkey King Is In Town" and "Tag" explore more serious themes like struggling with one's sexual identity, racial representation in media and reconnecting with family.
Al-Qatou said she voted for "Groomed" for the Audience Choice Award, which was an animation about a dog with a sentimental attachment to his beard going for a haircut.
"I was impressed with how well-developed the animation was," she said. "I could have easily seen that as an opening short for a Disney or Pixar movie."
UCLA Film and Photography Society photo director Emanuel Flores said that anyone can submit scripts to FPS, and the executive board chooses which they would like to produce. The fourth-year psychology student said when the executive board first read the "J.P." script, they envisioned it as a Pixar-inspired live-action short. Michael Evangelista, the FPS director of external affairs, said FPS had fun working with a child as the lead actor and playing with sound effects to establish this tone in the film.
Evangelista accepted the two awards for "J.P." The second-year linguistics student received the awards in place of the director, Nicolas Gschwendtner. The short film follows a boy's first day moving into a new empty house, where he is left alone to explore his creativity.
The festival accepts entries from all undergraduate and graduate students around the world, but submissions from this year came from UCLA, Chapman University and UC Santa Barbara students. The festival staff selected 11 finalists from more than 65 submissions to be screened this year.
The staff considers a combination of both meaningful storytelling and intricately detailed cinematography when narrowing down the finalists, said director of festivals program Viviene Nguyen.
"We look for films that really show the director's true talent," said Nguyen, a third-year chemistry student. "We can tell when it stems from a personal place – it's like a visual representation of their passion."
"The Office" actress Kelen Coleman and faculty from UCLA School of Theater, Film and Television selected the winners from the pool of finalists.
Irene Jeong, a third-year theater student and Shorttakes staff member, said that several submissions had too many different plot points crammed into five to six minutes.
"Since there's a variance in the level of professionalism as anyone can apply, we focus on content – if they're concise and know what they want," Jeong said.
Aside from the prizes and title, Shorttakes gives students a platform to gain exposure and recognition in the film industry. Producer Tim Burton noticed UCLA alumnus Shane Acker's short film titled "9," which was showcased in 2005 Shorttakes festival. The Academy Award-nominated short film went on to become a full-length adaptation four years later, produced by Burton and directed by Acker.
"If we don't have events like these, how else would you be able to see the hidden talent that's on a campus of over 40,000 students?" Nguyen said. "It's a way for them to show their vision to the world."