A Taste for Adventure: Caviar's overwhelming taste does not live up to its price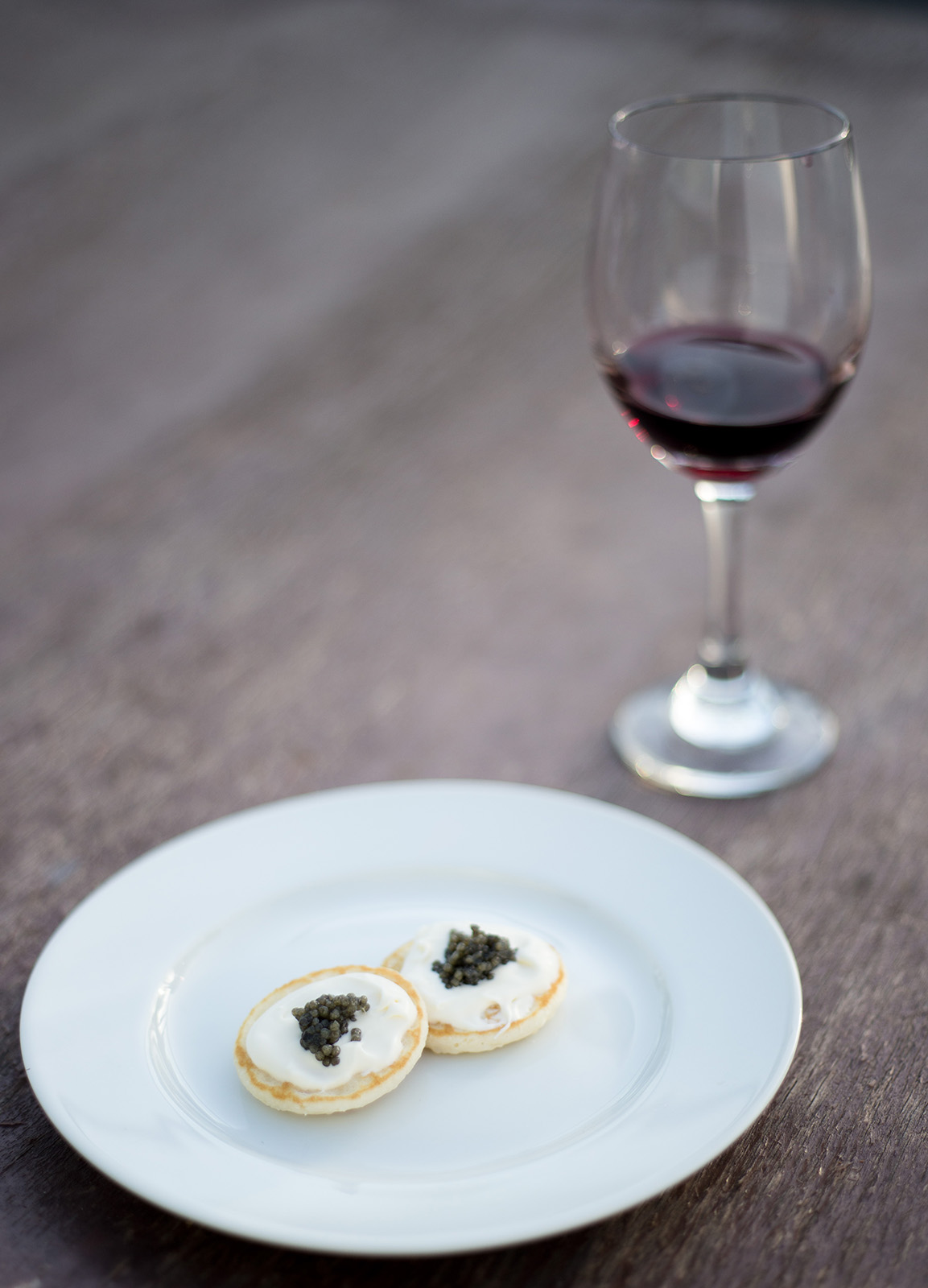 A 1-ounce jar of paddlefish caviar costs $35 at Santa Monica Seafood. The fish roe's saltiness complimented the buckwheat pancakes and crème fraîche. (Jennifer Hu/Daily Bruin Staff)
Los Angeles brings together cultures and cuisine from all around the world. The city's markets and restaurants offer menus that may be a little different from the typical dining hall menu. Each week, columnist Matthew Fernandez will plunge into LA's culinary scene and try food he's never eaten before.
The food I ate as a youngster was generally inexpensive.
For most nights' dinners, my dad whipped up whatever he could before going to work, but on the rare occasions we went out for food, it was usually Chinese food, steak or burgers. I never thought I'd eat something as mythically expensive as caviar.
But, as the trend for this column has been, I was wrong.
Caviar is salted fish roe. Although traditional caviar is made with sturgeon eggs, the dish can be made with relatives of the sturgeon, including the American paddlefish. Sturgeon caviar prices start at around $50 due to the fish's endangered status and the dish's luxurious reputation. Although paddlefish eggs and other varieties are cheaper, some caviar connoisseurs do not consider them to be true caviar.
But since I'm too poor to care, I settled on trying the paddlefish.
I had heard about the delicacy as a child, but I thought it was just expensive fish eggs, and I couldn't understand why people wouldn't just eat the fish instead.
Last week, my roommates and I drove down Wilshire Boulevard to Santa Monica Seafood to purchase the caviar. The store offered both the paddlefish and different varieties of sturgeon – the paddlefish already costs $35 for a 1-ounce jar while the sturgeon started at $79. We needed money to eat for the rest of the week, so we split a jar of the cheaper paddlefish.
I asked the cashier how best to eat the caviar since I had no experience with it and didn't want to waste such an expensive meal. Back in my apartment, I followed her recommendations for eating the fish eggs: served as a garnish on top of mini buckwheat pancakes known as blini with a small topping of creme fraiche.
The container was tiny and easily fit in the palm of my hand, and the eggs inside were even smaller than I imagined – about the size of a large grain of sand. Hundreds of little eggs were tightly packed inside the small glass bottle.
Caviar is never served with a metal spoon since the eggs will react with the utensil and take on an unpleasant metallic taste. So, while bone or mother-of-pearl spoons are preferred, I made do with a plastic Yogurtland spoon I had saved.
I took my first small bite of caviar and pressed the eggs against the roof of my mouth, feeling them pop and turn into a pasty substance. For my second bite, I let the eggs sit, so I could appreciate the flavor, and they began to melt in my mouth.
[Related: Silkworm soup flavor surprises, texture proves to be deal-breaker]
By itself, the caviar had an intensely salty and briny fish flavor. I found the taste to be a bit overwhelming – not unpleasant but definitely an acquired taste. I did get used to the taste after a few bites, but the flavor was so rich that it was hard to keep eating it.
Next I tried it with the blini and creme fraiche. The blini were a bit dry and had a semisweet blandness to them, and while the creme fraiche had a very light, milky flavor, it was hard to find a good ratio of creme to caviar.
Too much creme drowned out the salty fish flavor of the eggs; too little meant the fishiness was too strong. Eventually I remembered the cashier's advice and found that a thin, quarter-sized dollop of creme fraiche provided enough flavor to counterbalance the caviar's fishiness.
I have also read that caviar goes well with unsalted crackers and herbs like parsley, bland cheese, chopped onions and sour cream or with hard-boiled eggs – it's also a common wine pairing. I think that caviar would pair with any hors d'oeuvres as a replacement for salt and a way to make the overall meal seem fancier.
After trying caviar, I'm not sure that it's worth the price tag. Admittedly, I didn't try the authentic sturgeon caviar, but I'm not sure any difference in flavor or texture would be worth the price difference. Even if I could afford to buy it, I could also buy a lot of sushi for that price.
Final verdict: Both my wallet and taste buds are disappointed.