A Taste for Adventure: Escargot defies expectations with melt-in-mouth texture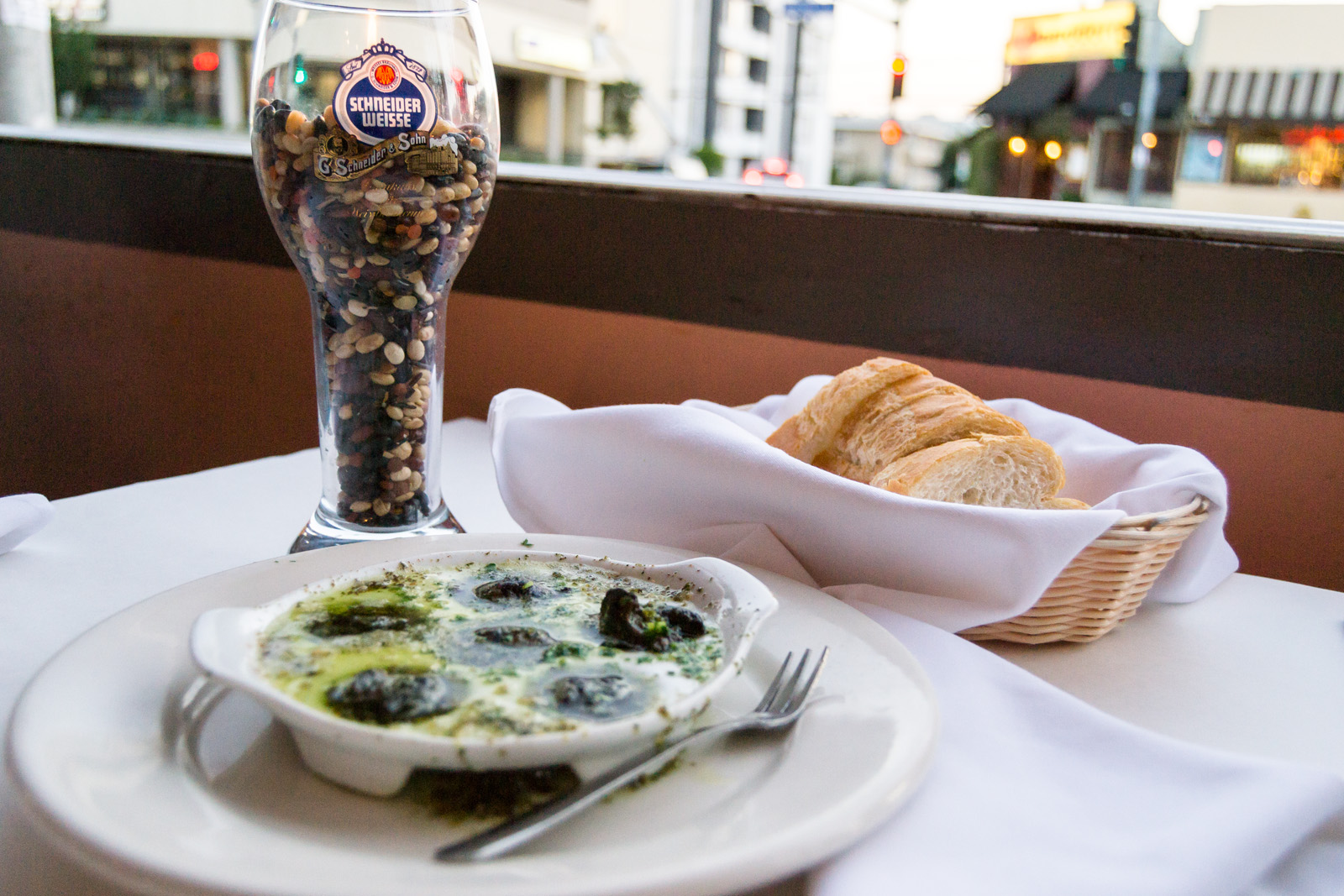 The escargot provençale at Soleil Westwood features six de-shelled snails cooked in a butter garlic sauce for $11. (Angelina Ruiz/Daily Bruin)
Los Angeles brings together cultures and cuisine from all around the world. The city's markets and restaurants offer menus that may be a little different from the typical dining hall menu. Each week, columnist Matthew Fernandez will plunge into LA's culinary scene and try food he's never eaten before.
Snails are not glamorous creatures. They're slimy pests that invade gardens and bubble up and die upon coming into contact with salt.
But they are also delicious.
Last week my friends and I made the trek south of Wilshire to Soleil Westwood, a restaurant that serves escargot. Despite my initial mental hang-ups about eating snails and uncertainties about the taste, escargot is a palate-pleasing dish with a delicately chewy consistency that takes on the flavor of the sauce it is cooked in.
Although it was my first time eating escargot, it was not the first time I've been confronted with the dish. When I visited the Philippines in seventh grade, my family went to a restaurant with our relatives after a baptism. I remember a large chafing dish full of shelled escargot. I had no intention of going near the dish, but my grandfather started scooping piles of snails onto his plate, before looking at me amusedly.
"What, you don't eat snail?" he asked. At the time, my answer was an emphatic no. Now I probably would help myself to a scoop or two, both because of my new attitude toward trying new foods and because escargot is a tasty appetizer.
Escargot is a French dish made from cooked land snails, commonly served in garlic butter sauce. The snails can be served either in or out of their shells. Soleil Westwood's escargot provençale, priced at $11, featured six de-shelled snails cooked in a butter garlic sauce served still bubbling hot on a plate with a little pocket for each snail.
When my dish arrived, I forked the smallest snail and took a closer look at it. The escargot was a dark grey color, a stark contrast to the bright green of its herbal sauce. It was also wrinkled like a raisin, so I spent a few seconds observing the snail's anatomy, which made my roommate impatiently yell at me to get on with it.
When I placed the snail in my mouth, the butter garlic sauce overwhelmed my taste buds. The snail itself did not have much initial flavor, but it left a gritty aftertaste that I have also experienced when eating other mollusks like oysters and clams. Although the aftertaste was slightly off-putting, it was not strong enough to outweigh the pleasant savoriness of the butter garlic sauce.
One of my biggest worries about eating escargot was its texture. I had heard that snails have a chewy, rubbery texture, so I was concerned that they would be hard to eat. Fortunately, Soleil's escargot was chewy but also very soft, almost melting in my mouth. It had a firmness similar to that of a mushroom – just squishier.
My mental block and reservations about eating escargot were unfounded, and I would definitely order it again – it's really not much different than eating clam chowder or calamari.