Restaurant review: Rocco's Tavern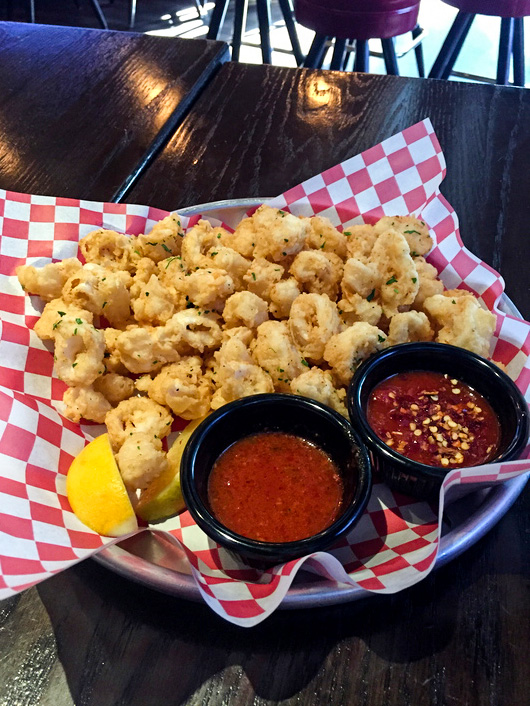 (Sarah Ahern/Daily Bruin)
Rocco's Tavern 1000 Gayley Ave, Los Angeles, CA 90024
Large flat-screen televisions cover almost every inch of Rocco's Tavern's rustic brick walls, broadcasting baseball, basketball and hockey games.
Last year, what was formerly O'Hara's bar on the corner of Gayley and Weyburn avenues transformed into Rocco's Tavern, a compact yet homey restaurant and bar nestled in Westwood Village. Its central location makes Rocco's the ideal spot for students looking for a drink and bite to eat after a long day of classes or work.
It's difficult to enter Rocco's without being captivated by one of the over 20 televisions plastered onto its walls – a treat for baseball fans during the opening of MLB season, as multiple televisions displayed several of the games being played. Behind the sounds of sports games, '80s tunes such as "Down Under" and "Tainted Love" played on a solid-quality sound system.
[Related: Rocco's Tavern now open after three years of negotiations]
The liveliness and activity within the bar is attractive as well. In the midst of Rocco's 3 p.m. to 7 p.m. happy hour, which is open to all ages, a sizable group of UCLA alumni gathered in the southernmost corner of the bar, commiserating with one another around the restaurant's red vinyl booths and shouting the occasional UCLA fight song. Between the alumni spirit and the large UCLA banner on the wall behind the bar, Rocco's feels like a quintessential college-town joint.
Further from the bar, the atmosphere is more mellow. Customers were more sparse with smaller groups of only two to three taking advantage of Rocco's happy hour specials.
The restaurant's happy hour food menu options are plentiful, offering mix and match two-for-one deals on select items from their regular menu, which include appetizing bites such as Rocco's Sizzling Shrimp and Fresh "Back-East" Little Neck Clams.
However, the restaurant's Thursday night happy hour options for drinks are much more limited: $5 gin and tonics, $5 AMFs and the option to "upgrade" drinks from a pint to a liter for an additional $2.
Although the menu does offer a hearty selection of beers on tap, the India Pale Ale prices are rather steep – a pint of Sculpin costs $9.50. Nonetheless, the flavors of the tap beers are rich and distinct. The Sculpin yields a tangy peach and lemon flavor, and the Angel City Pilsner offers a slightly bitter yet satisfying honey savor.
Rocco's happy hour food options pair nicely with the beers on tap. The Seven Cheese Mac-N-Cheese, which is made with mozzarella, provolone, jack, brie, cheddar and parmesan cheeses, pleasingly blends together the flavors of each cheese.
Baked with a garlic Alfredo sauce and bacon, the dish is rich, offering a creamy flavor profile that is served bubbling hot. The garlic isn't overwhelming and complements the zest of the cheeses. However, the macaroni and cheese is slightly oily, which can can be overpowering, so split the dish with another person.
[Related: Boulevard Bites restaurant reviews]
Rocco's Calamari Fritti, otherwise known as fried calamari, comes with two lemon wedges and both mild and spicy marinara sauces. Deep-fried and garnished with basil, the chewy consistency of the calamari accentuates its savory flavor, and the fried coating provides a satisfying crunch. But the snack would be more delectable if it were fried with slightly less breading.
The macaroni and cheese and calamari together cost $14.95.
Though Rocco's happy hour menu predominately offers comfort foods, healthier options are available on its more expensive regular menu, such as Rocco's Spinach Salad and Sizzling Herb Salmon.
With its local, neighborhood-like feel, Rocco's Tavern provides appetizing food options during its happy hour for students walking from Westwood apartments.
And as far as the drink specials go – the $5 gin and tonic is a suitable option for students looking to get an early start to the weekend.