Opera review: 'The Tales of Hoffmann'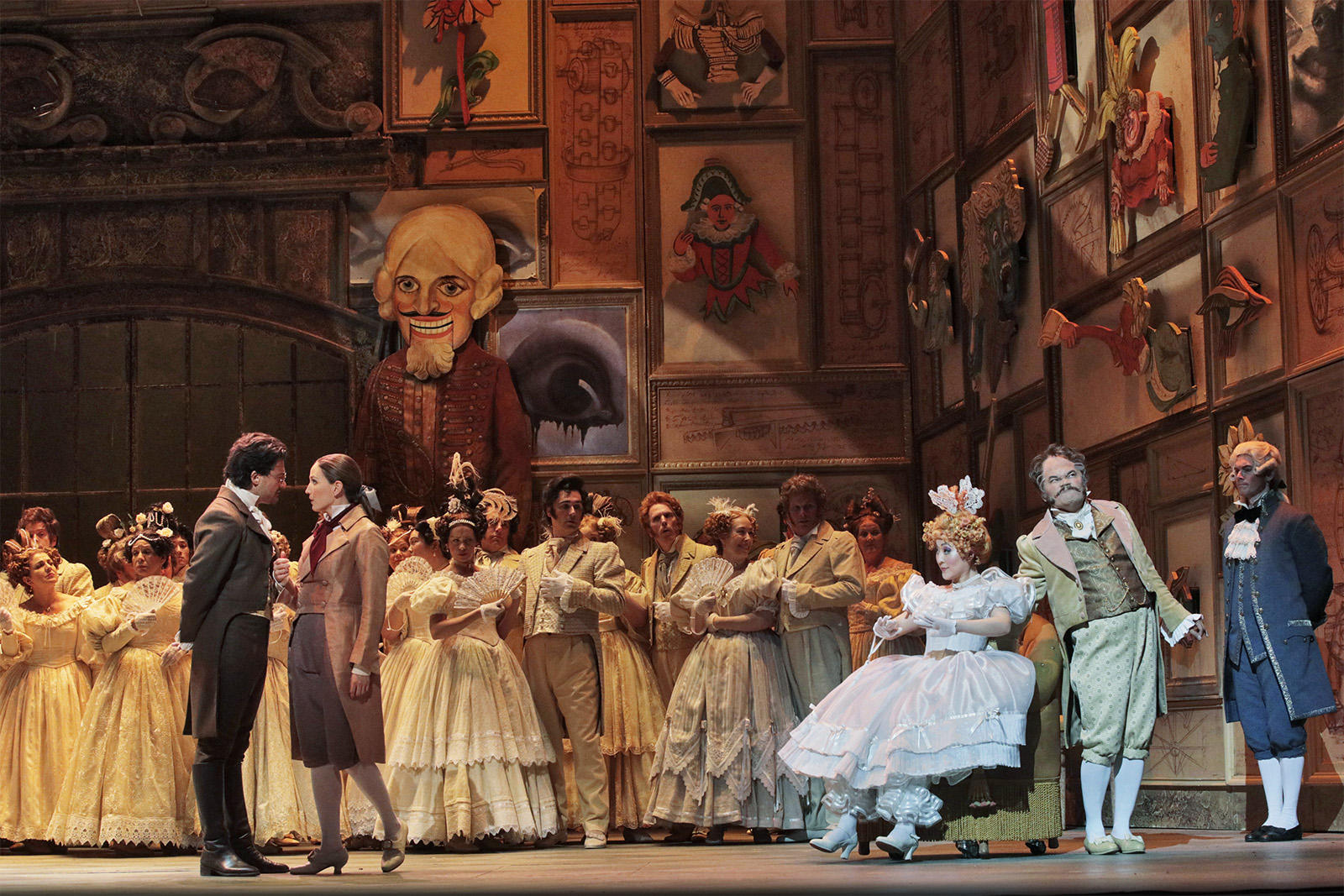 In the first act of "The Tales of Hoffmann," the titular character (Vittorio Grigolo) falls in love with a mechanical doll named Olympia (So Young Park) after mistaking her for a real woman.(Ken Howard / LA Opera)
"The Tales of Hoffmann"
The Dorothy Chandler Pavilion
Through April 15
Prices vary
A lovesick poet, a goddess disguised as a man and a slew of drunken students walk into a tavern.
So begins Los Angeles Opera's current production of Jacques Offenbach's "The Tales of Hoffmann," the story of an oft-inebriated writer named Hoffmann (Vittorio Grigolo) recounting his failed experiences with three past lovers before realizing that his true love is for his art.
The production skillfully transfigures a lighthearted, comedic fairy tale into a parable of depth and complexity, offering a fantastical take on the trope of the tortured artist.
The nearly four-hour-long opera is split into three distinct acts, one for each of Hoffmann's past lovers: Olympia, a mechanical doll he mistakes for a real person, Giulietta, a temptress who tricks him into giving her his reflection, and Antonia, a frail girl who is cursed to die when she sings.
[Related: UCLA transforms 'Cinderella' into opera set in post-WWII France]

Nicklausse (Kate Lindsey), a Muse of the arts disguised as man, follows Hoffmann throughout, saving him from his lovesick antics.
Throughout the show's segmented plot, Lindsey's saucy and sarcastic Nicklausse – the personification of Hoffmann's artistic inspiration – served as a strong focal point. Lindsey taunted Grigolo's Hoffmann like a longtime chum, imitating snippets of his lovers' songs and poking fun at his lovelorn state.
Although her character was written as a sidekick to Hoffmann, Lindsey often took center stage, her convincing physicality as a man aided by her rich mezzo-soprano.
She melded into the opening and epilogue tavern scenes filled with young men huddled around Hoffmann. Her femininity was completely and appropriately disguised for the sake of the part of Nicklausse, a "pants role" always portrayed by a female performer.
While some opera companies choose to have all three of Hoffmann's female lovers played by the same singer, this iteration features three separate singers sharing the stage at the Dorothy Chandler Pavilion.
The division at first seemed to diminish the metaphor of the female characters in relation to Hoffmann – three lovers who were really one and the same in their shortcomings – but the choice to split the roles seemed more justified after hearing the demands involved with each part.
Although the split in roles removed a layer of intricacy from the plot, it allowed the three leading ladies to bring a distinct personality and skill set to each character.
Soprano So Young Park dazzled as the doll Olympia in the first act, her jerky automaton-inspired movements contrasting with her nimble cadenzas and precise coloratura.
Set against a surreal backdrop adorned with disembodied eyes straight from the pages of "Alice in Wonderland," the first act was the most playful of the three.
Park chimed through her character's famous doll aria, earning well-deserved laughter from the audience as she pretended to suffer a mechanical malfunction.
[Related: Opera review: Macbeth]
The acting in the plot weakened in the second act, in which Hoffmann falls for the devious Venetian courtesan Giulietta (Kate Aldrich).
Aldrich – possessing an impressively robust sound that at time eclipsed even Grigolo's resonant tenor – pushed too hard in her portrayal of the seductress. Her emphatic pouts and exaggerated flicks of her emerald green shawl intended as gestures of coyness instead came across as contrived, doing little to fire up her chemistry with Grigolo in their duets.
The most emotionally riveting moments of the show came in the third act, centering on soprano Diana Damrau and her soulful portrayal of Hoffmann's star-crossed lover Antonia.
Damrau, a seasoned singer in her 40s, succeeded in portraying the youthful character written as being decades her junior. She flitted by the piano and twirled through her arias, fully embodying in voice and in physicality the bubbly vitality of a 20-year-old head over heels in love.
The third act was the most macabre of the production: Antonia sings in a trance to a statue of her deceased mother until her heart gives out and she dies before Hoffmann's horrified eyes.
A dungeon-esque set with barred windows and dim lighting complemented the thematic darkness of the plot. Damrau's nuanced attention to dynamics in her singing kept the drama feeling genuine rather than phony, using delicate pianissimo high notes to convey her character's plaintive yearning for her mother.
The audience later shares in Hoffmann's relief when Lindsey's character finally revealed she was really a Muse – a goddess of artistic inspiration – and thus Hoffmann's one steadfast love. The grand unveiling felt fulfilling and well-earned after hours of following the budding friendship between Nicklausse and Hoffmann.
With the performers' spirited singing and commitment to their characters, LA Opera's "The Tales of Hoffmann" shines as a modern fairy tale and tactful metaphor for overcoming even the worst of heartbreaks.
McCormick was the 2017-2018 Digital Managing Editor for the Daily Bruin. She was previously an assistant editor of the A&E section, overseeing the Music | Arts beat.
McCormick was the 2017-2018 Digital Managing Editor for the Daily Bruin. She was previously an assistant editor of the A&E section, overseeing the Music | Arts beat.