Dorm Dining: Carrot rice pilaf proves sweet yet savory treat for tastebuds, eyes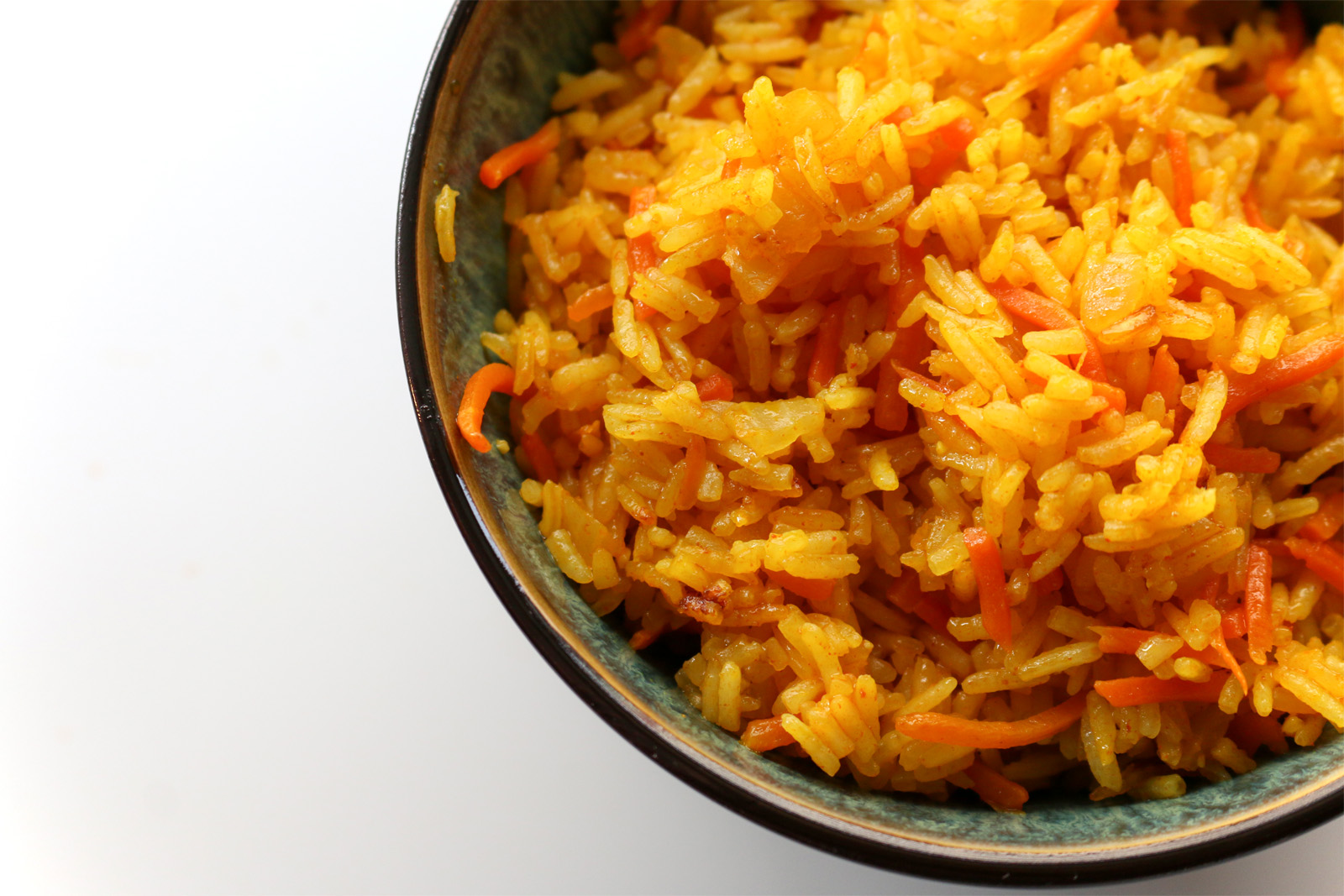 In the final edition of Dorm Dining, Daily Bruin columnist Andrew Warner spiced up traditional rice cooker rice with a rice pilaf dish cooked in carrot juice. (Rachel Lee/Daily Bruin)
Life on the Hill doesn't exactly allow ample opportunity for experimentation with cooking, leading to a routine diet at the dining halls. Over the course of the quarter, columnist Andrew Warner sets out to break the culinary monotony of dorm life, armed with a rice cooker and a few pantry staples.
I have not used my rice cooker for its intended purpose a single time all quarter. Until now.
But I didn't just make plain white rice. In typical Dorm Dining fashion, I decided to make something sophisticated and zesty. To find a recipe, I browsed through one of my favorite cookbooks, Michael Solomonov's "Zahav: A World of Israeli Cooking."
Solomonov's recipe for a bright carrot rice pilaf mesmerized me as I flipped through the pages of the cookbook's rice chapter. It is perhaps one of the most bizarre recipes I've come across – the pilaf turns a gorgeous, golden-orange color and achieves a sweet caramel flavor from being cooked entirely in carrot juice.
Since The Study at Hedrick has opened, I've spent the majority of my dining hall swipes on its carrot juice and kombucha. The carrot rice pilaf was the perfect excuse for me to head up to Hedrick Hall to grab myself something to drink and cook with.
Solomonov uses two main spices – saffron and cayenne pepper – to intensify the bright orange color of the dish. While cayenne is relatively cheap and easy to find, saffron is a bit trickier. Not only is it difficult to find, but it's also more expensive per gram than gold. So for my pilaf, I decided to use turmeric instead of saffron, as it gives off a similar bright yellow color while also being significantly cheaper.
The recipe, similar to many of my other recipes, required me to saute my vegetables together – shredded carrots, onions and garlic.
Unlike past Dorm Dining recipes, however, I used a slightly different saute method. With other recipes, it didn't really matter whether or not the vegetables gave off much water, so I was comfortable with the steam-fry technique I used before. But the liquid-to-rice ratio is important when cooking rice – if there's too much liquid, the rice will come out mushy and wet.
In order to keep my carrots and onions from giving off too much liquid, I decided to cook them uncovered so that any water could evaporate during the cooking process. However, because the rice cooker needs a certain amount of pressure on the inner pot to stay on the "cook" setting, I needed to use some sort of weight to press down on the pot. I used an extra spatula to press down across the rim of the pot while using a spoon to stir around the veggies inside.
It's not a traditional sauteing process, but it worked since it allowed almost all of the water from the carrots and onions to evaporate out of the pot.
After my carrots softened and the onions were translucent, I added my uncooked rice, spices and carrot juice and let it all cook covered.
I've cooked the pilaf three times now, and each time I've had to cook it for two white rice cycles. I don't know exactly why, but I think the residual heat from sautéing the veggies causes the rice cooker to switch to "warm" faster than it normally would. The rice was still a little bit crunchy and undercooked after the first time the rice cooker switched from "cook" to "warm."
To finish up the cooking process, I added two tablespoons of water – or carrot juice if I had any left – and covered the pilaf, letting it cook for one more rice cycle.
The carrot rice pilaf may very well be my favorite rice cooker recipe. It's a tantalizing blend of sweet and savory. The rice has a nice kick of heat from the cayenne pepper while the carrot juice and turmeric add a subtle sweetness to the dish.
But the rice pilaf isn't just tasty – it's absolutely beautiful. The rice is dyed with a spectacular golden hue thanks to the carrot juice and turmeric. The long shreds of julienned carrots pop out through the orange-colored rice like little plants sprouting up from the dirt. The only downside is that it's so tasty I didn't get a chance to admire its beauty for much longer than a couple minutes.
As I end my final Dorm Dining article, I can't help but reflect on the quarter's recipes as a whole. I know many of my Dorm Dining recipes haven't been the most simple or inexpensive. But at the end of the day, Dorm Dining helped me explore and innovate with the things I eat; sure, eating seitan in peanut sauce or kale and spinach flatbreads at Bruin Plate is adventurous, but it's not the same creative outlet that cooking for Dorm Dining has been.
The rice cooker can cook so many different foods, ranging from cheesecake to chili, but sometimes it's best to go back to the basics – rice is the staple rice cooker dish. It's in the name, after all.
Read more Dorm Dining:

Vegan rice cooker chili delivers complex flavors despite simple recipe
Rice cooker frittata not a yolk, get egg-cited for omelet alternative
Rice cooker to the rescue with chicken noodle soup on a rainy day
Rice cooker Parisian beef saute, a tribute to Julia Child
Mixed berry crumble, unsightly but undeniably delicious
Rice cooker mac and cheese, simple yet savory
Whipping up a vanilla cheesecake using an unlikely oven
Despite overflow setback, rice cooker curry successful
Rice cooker bread pudding surpasses The Study at Hedrick's rendition
Andrew Warner is a Daily Bruin senior staff reporter. Warner was the editor of The Quad during the 2018-2019 school year and an assistant editor for the Music | Arts beat of Arts during the 2017-2018 school year. Before that, he was an Arts reporter during the 2016-2017 school year.
Andrew Warner is a Daily Bruin senior staff reporter. Warner was the editor of The Quad during the 2018-2019 school year and an assistant editor for the Music | Arts beat of Arts during the 2017-2018 school year. Before that, he was an Arts reporter during the 2016-2017 school year.