Theater group to perform concert of Sara Bareilles' musical 'Waitress'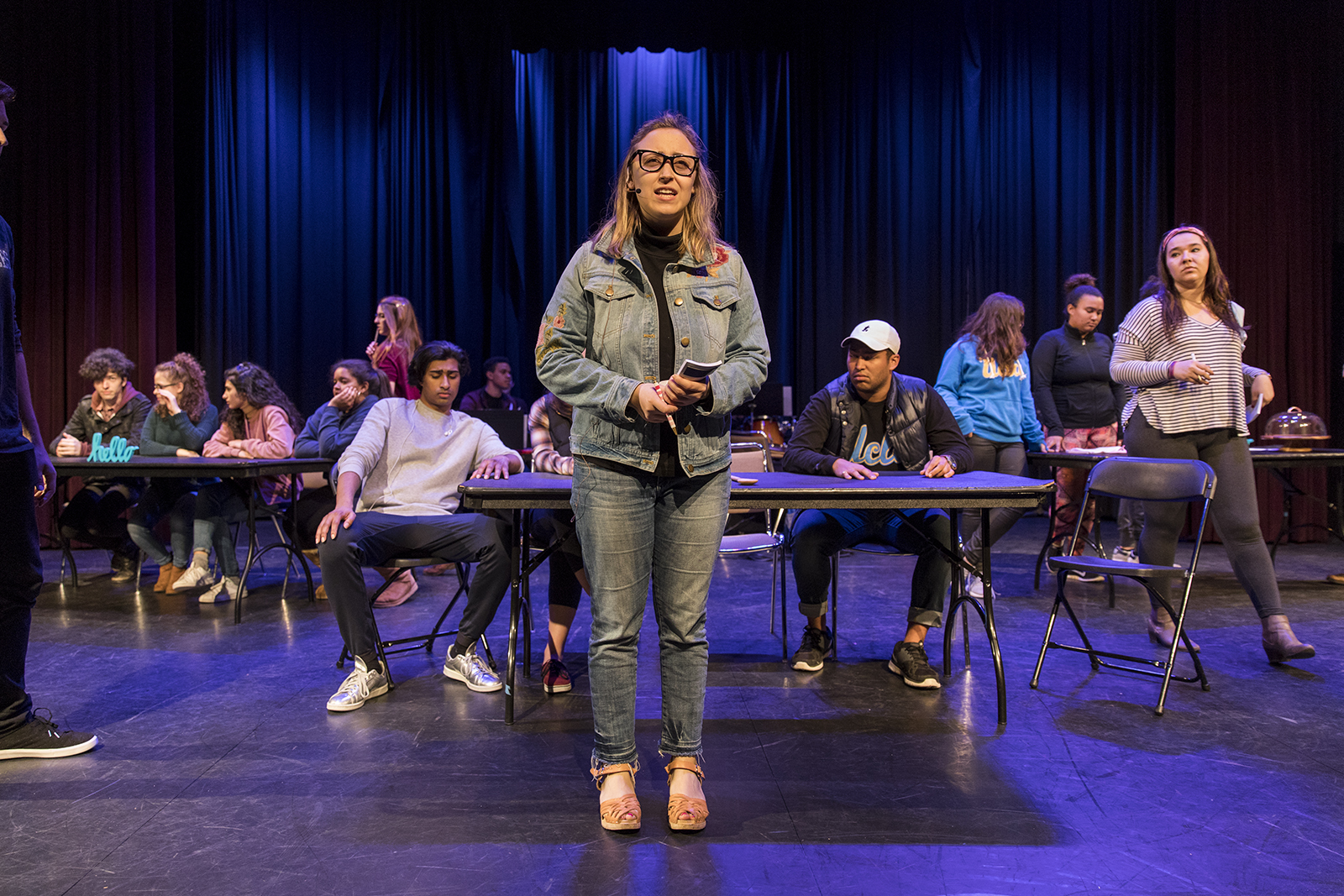 Third-year theater student Maeve Riley (center) directed a concert version of the musical "Waitress," which features music and lyrics composed by UCLA alumna Sara Bareilles. Riley, who will perform as main character Jenna, received permission from Bareilles to perform the songs in concert this weekend. (Dayoung Lee/Daily Bruin)
"Waitress the Musical in Concert"
Presented by Positivity Productions and UCLA Residential Life
Northwest Campus Auditorium
Thursday through Saturday, times vary
FREE
Grammy Award-winner Sara Bareilles gave UCLA students permission to perform the musical "Waitress" in concert on campus.
"Waitress in Concert," the second production by theater group Positivity Productions, opens Thursday at the Northwest Campus Auditorium. The off-Broadway production of the musical is uncommon, considering the original show just debuted on Broadway in 2016.
Bareilles, a UCLA alumna who composed the musical about a pregnant waitress, gave permission via Twitter to use her music.
[Related: Theater review: 'Waitress']
Maeve Riley, the director and actress playing the main character Jenna, said she knew it might be difficult to get the rights for a show still on Broadway.
Yet the third-year theater student knew it was a story she wanted to tell after seeing the musical in New York City during her 2016 summer job with Broadway World. Riley wanted to share the inspirational story of Jenna, a Southern waitress, who works in a diner with her friends Dawn and Becky as she goes through an abusive marriage and pregnancy.
Riley said the plot connects to her own mother's experience in an abusive relationship before she was born, and that the show will help raise awareness about domestic violence.
"There's a lot of conflict in our world right now with differing opinions or people having the ability to do something but not doing it," Riley said.
Riley researched various organizations and decided to use the musical as a platform to spread awareness of domestic violence by collecting donations for the National Coalition Against Domestic Violence, a campaign that Bareilles donated to.
After seeing "Waitress," Riley began looking into how to get permission to share the musical with the UCLA community. Bareilles released the sheet music online for anyone to personally use in October, and that's when Riley messaged Bareilles on Twitter to ask permission to perform "Waitress" as a public concert.
"I asked if we're able to use this music, we want to put on a performance in honor of you and your work and the music you've written for the show," Riley said. "She tweeted back, 'I love it! go, go, go.'"
But Bareilles had only released the piano and vocal parts of the score online.
Fourth-year music history student Joey Galasso, second-year music composition student Alonso Pirio and fourth-year music composition student Charlie Bond had to work with what they had – the sheet music and the soundtrack – to create a full sound, Riley said.
With Bareilles' blessing, the friends worked from their apartments to transcribe the band parts heard on the soundtrack and orchestrate them, reimagining its music for a larger ensemble condensed into two keyboards, a guitar, a bass guitar and drums. The self-described best friends sat in their apartment with headphones and keyboards late into the evenings to orchestrate the music, taking breaks from composing to make sporadic In-N-Out and De Neve Late Night runs.
Transcribing and orchestrating a musical is unusual for college musical productions: In Galasso's experience with previous HOOLIGAN Theatre Company productions of "Rent" and "In the Heights," the rights holders of the musical normally provide full sheet music, Galasso said.
"It's very humbling for me to see them take this project and put it first," Riley said. "I can't believe people are actually doing that. It's mind-blowing."
[Related: Theater group spotlights mental health, sexuality in new musical]
While second-year musical theater student Sara Gilbert, who plays Jenna's friend Dawn, has not seen the musical on Broadway, she said she watched excerpts of the musical online to get a feel for the show. She chose to read the lines and music as if she hadn't seen them performed before to ensure her character choices are organic and original.
Showing the musical off-Broadway to a college-aged audience provides a way to raise awareness about domestic violence and the feeling of being trapped, said Gilbert, who said she has experience with an unhealthy relationship.
"It will bring more awareness to the abuse that can go on in the university environment," Riley said. "I hope that people see this show and are able to recognize in their own relationships when something is wrong and when something needs to be stopped."