Oscars 2017: Alum brings short film to nomination through marketing know-how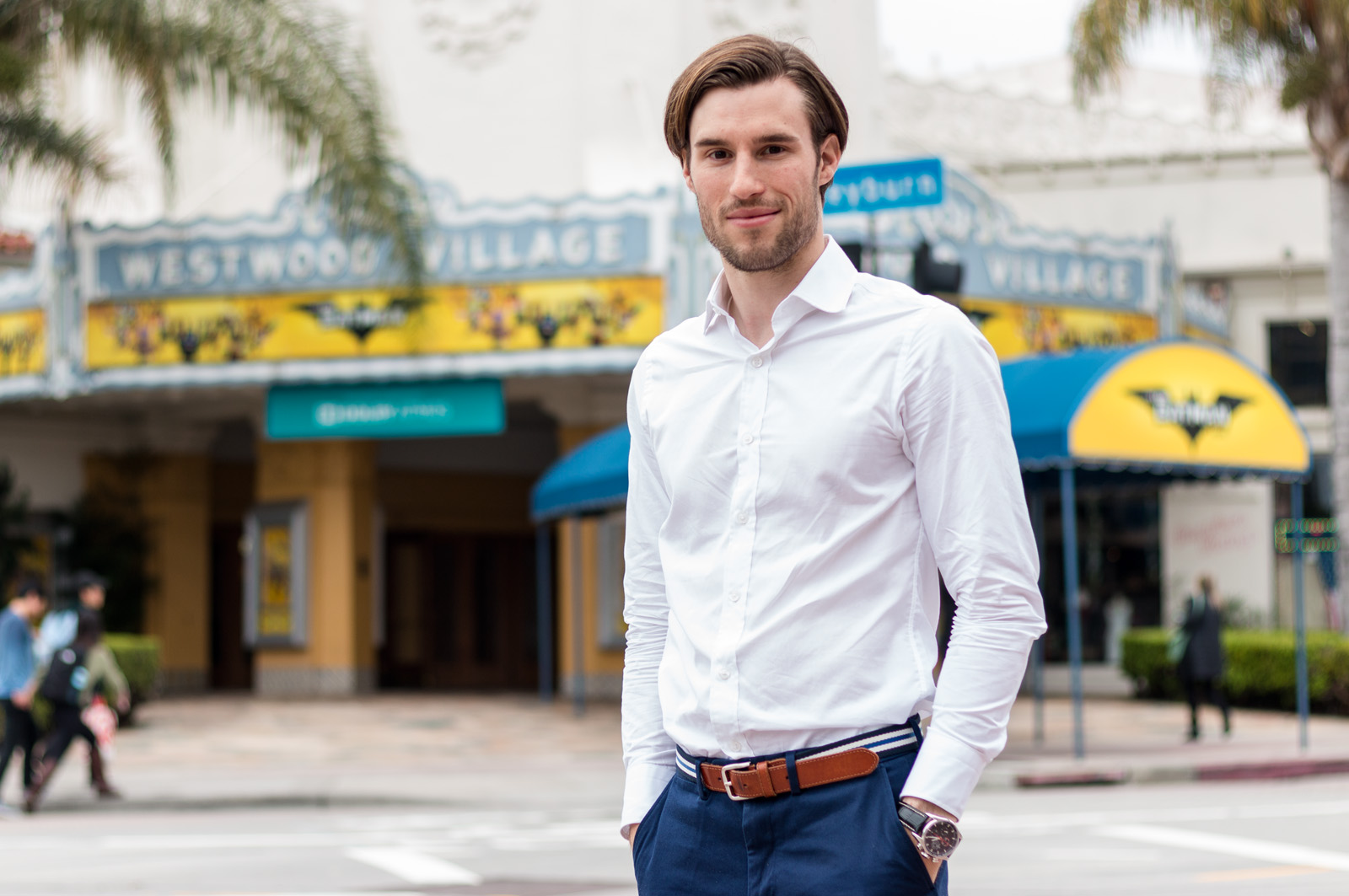 UCLA Extension alumnus Jean de Meuron was an executive producer for the Oscar-nominated short film "La femme et le TGV." He incorporated his arsenal of marketing skills including finance, poster design and script feedback. (Stella Huang/Daily Bruin)
The walls of Melnitz Hall, lined with Hollywood movie posters, foreshadow the potential of students at UCLA. After studying within the entertainment capital of the United States, some Bruin filmmakers go on to contribute to award-winning films. In the week leading up to the 2017 Academy Awards, Daily Bruin A&E will spotlight UCLA alumni behind the scenes and on screen of Oscar-nominated films.
Jean de Meuron has watched the Academy Awards since he was a young boy growing up in Switzerland, despite the nine-hour time difference.
This year, the alumnus will have a much closer vantage point as he walks the red carpet for the Oscar-nominated short film "La femme et le TGV," of which he was an executive producer.
"I used to wake up at 3 a.m. to watch the Oscars and hear all the nominees and the winners," de Meuron said. "Now, to even consider that you're going to the ceremony, it's quite unbelievable."
"La femme et le TGV" tells the story of a woman who exchanges daily letters with a train conductor who drives past her Swiss home. The film's success marks the culmination of 10 years of de Meuron's film career, driven by his professional persistence and marketing savvy that he acquired while studying at UCLA Extension.
[Read more: Oscars 2017]
In 2013, de Meuron took the UCLA Extension class "Marketing and Distributing Independent Films Across All Platforms," taught by Kevin August Mardesich, who later became de Meuron's mentor and friend. The class helped de Meuron craft the foundation of a marketing strategy for "La femme et le TGV."
"That was part of what I learned in class – be strategic, be smart," de Meuron said. "It's all about the rollout because you can literally kill your film if you expose it wrongly. I think exposure is a huge, important component, especially for shorts, (when) there's so many shorts. How are you the one film that stands out?"
The course focused on two points: how to market a film tactically, and the importance of marketing a film with a distinct point of view. "La femme et le TGV" typified the type of strong voice the class emphasized, in part because the film's protagonist is a Swiss woman in her late 60s, Mardesich said.
De Meuron's expertise in marketing was one of the many skills he brought to the film, said Timo von Gunten, director of "La femme et le TGV." De Meuron came onto the project near the beginning, raising finances and offering creative feedback to script notes. During post-production, he took over the marketing – designing posters, editing the trailer and eventually, spearheading the Oscar campaign.
Campaigning began in August, when the film premiered at the Locarno Film Festival in Switzerland. The film then played for a week at the Laemmle's Royal Theatre in Los Angeles, which qualified it for Oscar consideration. As the voting period for nominations approached, de Meuron planned luncheons and screenings to boost the profile of the film, de Meuron said.
"You can have a beautiful film," de Meuron said. "But if you are an independent film, because we are not Disney that has a $6 million budget, we have to raise awareness much more on a different level … it's all about building momentum and creating buzz."
[Oscars 2017: Alumnus discusses Oscar-nominated 'Elle']
The vote took place in November, but the nominees weren't announced until late January. De Meuron woke up at 5 a.m. to watch the live broadcast on ABC.

"It was just nail-biting because this is one of the greatest achievements for any filmmaker," de Meuron said. "I almost couldn't believe it. It didn't even resonate at first and I didn't even know which were the other three nominees at that point, I was only focused about that."
Although the awards ceremony is this weekend, De Meuron is already getting ready for his next project and searching for new films to pursue.
"Everyone asks, 'Well, what's next?'" de Meuron said. "Because the Oscars are done Sunday, by Tuesday, nobody cares anymore. It's true, it's really quick."
As for the future, de Meuron's endurance is inspired by his father, an award-winning architect. The producer was humbled by his father's answer to a simple question, which shaped the way he approaches his own work and ultimately achieved his childhood dream.
"I asked him 'Well, what is your favorite building right now?' and he said, 'Well, the one I'm working on right now,'" de Meuron said. "I really like that and I think that's also part of his drive, that he constantly keeps going. You cannot stop. You have to keep going."