Q&A: UCLA professor talks inspiring a character in a 1980 Italian novel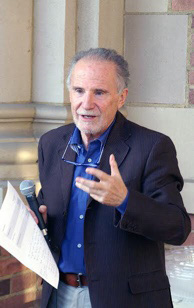 Italian and comparative literature professor Massimo Ciavolella inspired a character in Umberto Eco's book. The 1986 movie adaptation of the book will be screened at UCLA. (Courtesy of Brett Landenberger)
"The Name of the Rose" Center for Medieval & Renaissance Studies Royce Hall 314 Thursday, Jan. 26 at 5:30 p.m. FREE
Italian professor Massimo Ciavolella and the late Italian author Umberto Eco were good acquaintances. Ciavolella invited Eco to lecture during the professor's classes at UCLA. Eco made Ciavolella a character in his book "Il nome della rosa," or "The Name of the Rose."
The novel details a series of murders that take place at a Benedictine monastery in 1327. Eco drew inspiration for one of the monks in the story from Ciavolella, now the director of UCLA's Center for Medieval and Renaissance Studies and professor of Italian and comparative literature.
One of the subplots of the book includes a love story between the narrator, Adso, and a young woman. Through the story, a monk warns Adso about the danger of falling in love and tells him that love is a disease. This monk is Massimo of Bologna, named for Massimo Ciavolella and the town outside of which he was born.
The monk's teachings are quotations from Ciavolella's book, "La malattia d'amore dall'antichità al Medioevo," or "Love as a disease from antiquity to the Middle Ages." Ciavolella had given Eco the book after they first met, when he had invited Eco to lecture.
In 1986, the novel was adapted into a film, starring Sean Connery and Christian Slater. The film is being screened Thursday in Royce Hall for an event hosted by UCLA's Center for Medieval and Renaissance Studies.
The Daily Bruin's Olivia Mazzucato spoke with Ciavolella about discovering the character based on him, his friendship with Eco and the continued relevance of the Middle Ages in modern society.
Daily Bruin: Why did the Center for Medieval and Renaissance Studies choose to show this film?
Massimo Ciavolella: Two reasons: One, the Center for Medieval and Renaissance Studies every year shows one or two movies which are set in the Middle Ages or the Renaissance.
Second, because a few months ago, the author of the book, Umberto Eco died. Umberto Eco, in 2005, had received a medal of honor from UCLA and came here to receive the medal. So we thought that it would be a nice tribute to show the movie and also have, the day after, a small symposium dedicated to Umberto Eco, "The Name of the Rose" and his love for the Middle Ages.
DB: What was your reaction when you found out that you had been made a character in the book?
MC: I met (Eco) a few years before. I gave him a copy of this book … and then he never said anything about the book to me … So I thought, if he didn't say anything, obviously, he didn't think much of it. He was a man who had an incredible library – he had something like 30 to 40,000 books – so I thought probably he put it there in his bookcase and never looked at it.
So when he phoned me one day and said, "Oh by the way, I put you down as a character in the book, and I've taken a few pages from your book," I was totally surprised. And then I read an article that came out in a literary academic journal that said … that my book was, after the Bible, the most quoted book in the novel.
So I was surprised and at the same time, I was quite pleased. First, because I had a great admiration for Eco, and secondly because a little bit of vanity never hurts.
DB: Does Eco's passing change or alter how you feel about showing the film?
MC: Yes, it made it very poignant … a short time before he died, I sent to Eco a photograph, which was made here of him when he came here for the medal. And it was a spectacular photograph that someone gave me to send to him.
So I sent him this photograph, and I said, "You look absolutely great in this photograph, and I hope to see you soon." And he replied saying, "I still have 13 years, 14 years until I get to my 100th birthday. We certainly will have many occasions to see each other again." And then the year after, he died. I was very sad and in a way – the movie and the book – these remind me of what an extraordinary person he was.
DB: What do you think the film can teach UCLA students?
MC: It can teach them that … when you look at the past, you always look at the past with an eye to the present, because the present is made of our past and the past of our civilization. And that movie – just like "The Name of the Rose," just like Umberto Eco's many writings on the Middle Ages – is based on this very idea.
Umberto Eco believed that the Middle Ages, the philosophy of the Middle Ages, the life of the Middle Ages, what happened in the Middle Ages could teach much about us because of a continuity. This, for him, was the new Middle Ages in many ways. Not in a negative sense of the Middle Ages, but in an age of discovery.