UCLA students protest Trump at Los Angeles Women's March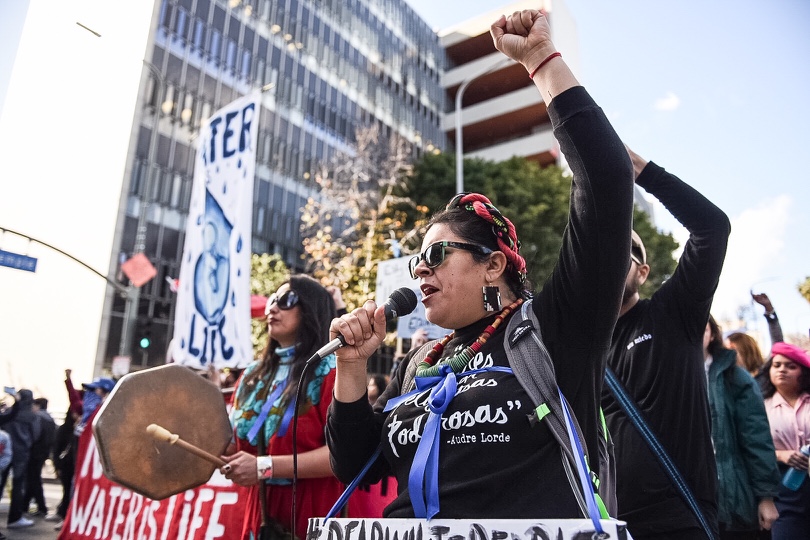 Hundreds of thousands of people participated in the Los Angeles Women's March Saturday. UCLA students traveled to Pershing Square to join the march and make their voices heard. (Miriam Bribiesca/Photo editor)
UCLA students joined hundreds of thousands of people in the Los Angeles Women's March on Saturday in support of rights for women and minorities.
Buses organized by several undergraduate student government offices dropped students off at Pershing Square at around 8 a.m. Students dispersed throughout the square to listen to different speakers, including California Secretary of State Alex Padilla, Los Angeles City Council Member Paul Koretz and Los Angeles Mayor Eric Garcetti.
The sheer number of people in the march prevented the crowd from moving for a time. Los Angeles police estimated about 500,000 people attended, but organizers said the number was closer to 750,000. Originally scheduled to start at 10 a.m., protesters remained stationary until about 11 a.m. when there was enough room to move.
The march reached Los Angeles City Hall around noon, where more speakers denounced Trump and called on people to resist tyranny.
The crowd booed a plane flying a banner congratulating Trump on his election victory.
Students expressed their defiance toward Trump with signs that read, "We deserve to thrive, not just survive" and "Tell those in power, safe in their tower, we will not obey." Another sign read, "Grab This," in reference to comments President Donald Trump made about grabbing a woman's vagina.
Students have protested against Trump since his election. About 250 students marched down Westwood Boulevard on Friday in the most recent protest.
Padilla told marchers he wanted to be able to tell his children he was at the Los Angeles march and looked to the future.
"In the next election, we will turn out the vote and take our country back," Padilla said.
Koretz, whose council district includes UCLA, spoke about his father as a young Jewish man in Germany, where people originally did not take Adolf Hitler seriously.
"If Trump does terrible things, he's going to have several million Americans (behind) him," Koretz said.
Some students in the march said they joined to take a more active role in politics and resistance.
"I want to take a literal stand instead of just using social media," said Erin Butt, a second-year sociology student. "Hearing the speakers and feeling supported by a network of millions is a powerful and healing experience."
Others said they wanted to support those who could be adversely affected under Trump's administration.
"I want to show solidarity for people who are going to have their lives changed or hurt," said Vivian Wall, a first-year chemistry student. "I want to tell the country and president it's not OK to treat people this way."
[Full photo gallery: Women's March Los Angeles]
Students and other protesters gathered on a freeway overpass on Main Street shortly before boarding buses back to UCLA. They waved their signs at drivers below, many of whom honked back.
The Los Angeles march was held in solidarity with the main Women's March on Washington, D.C. Sister marches with millions of people were also held in New York, Boston and Chicago, among other cities.
As students made their way back to Westwood, some said they felt encouraged by the goal of the march.
"It was a really positive experience," said Caitlyn Anderson, a first-year chemical engineering student. "Sometimes other protests don't stick to their original purpose but this one did."
Click here to see the full gallery.
Pauker was the managing editor from 2017-2018. She was previously an assistant news editor for the City beat and a reporter for the City beat.
Pauker was the managing editor from 2017-2018. She was previously an assistant news editor for the City beat and a reporter for the City beat.