The Quad: UCLA EMTs discuss the benefits of their life-saving work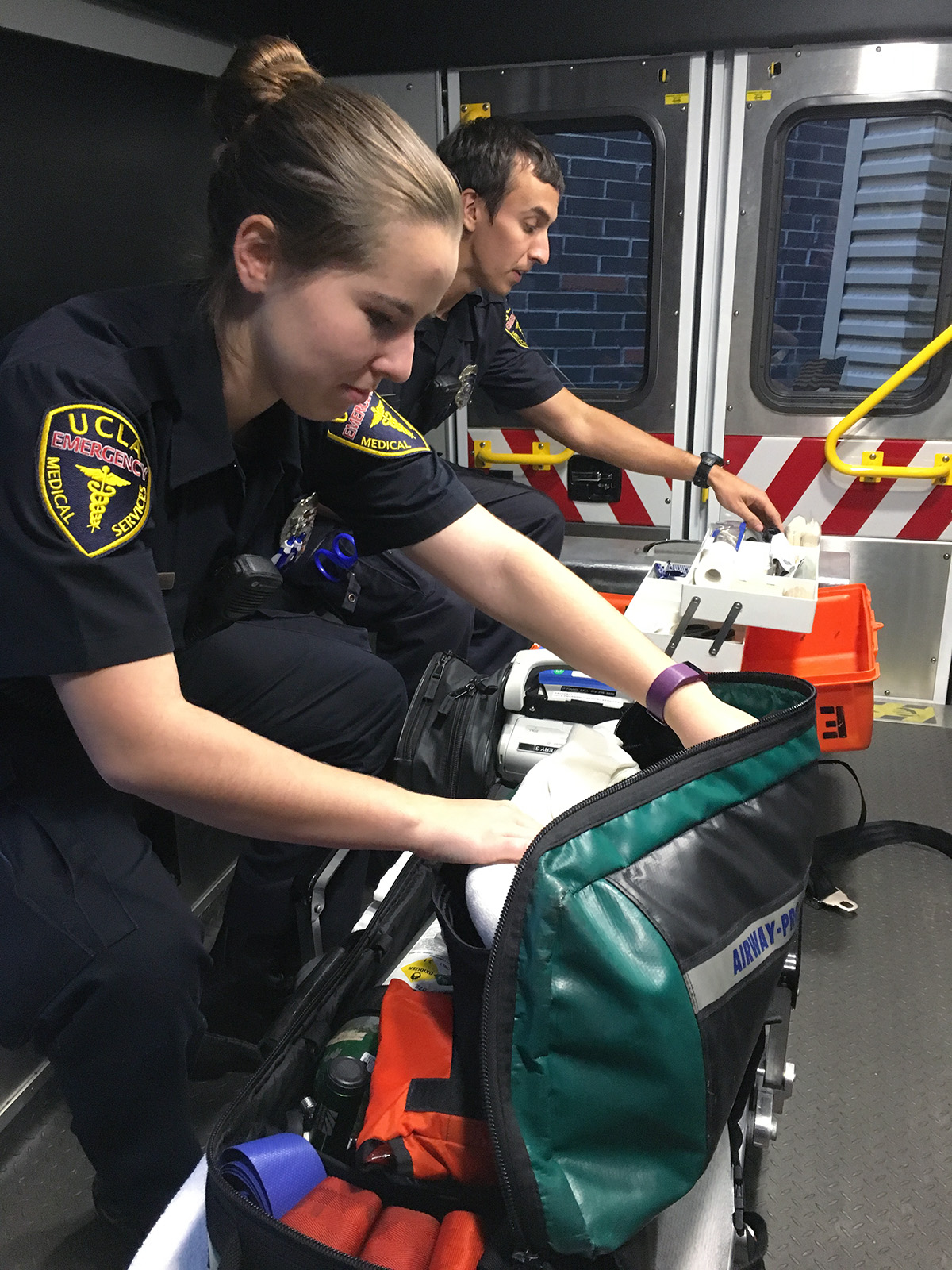 (Belicia Tang/Daily Bruin)
UCLA Emergency Medical Services is a student-run organization dedicated to providing the best healthcare possible to Bruins suffering medical emergencies. Part one of this series explored the history of UCLA EMS, the process of getting hired and trained by the organization and roles student EMTs perform. In part two of this series, we hear from the EMTs themselves, who discuss life as student healthcare providers and skills they've garnered from working for such an esteemed organization as UCLA EMS.
Through UCLA Emergency Medical Services, UCLA students respond to 911 medical aid calls both on campus and in Westwood, drive the ambulance to the scene and perform medical procedures to save an individual's life.
These student emergency medical technicians survived the long, costly and arduous road of getting EMT-certified, passing a rigorous eight-part recruitment process and enduring the minimum six-month long UCLA EMS training regimen to ultimately earn their EMT positions.
Students by day and frontline healthcare providers by night, these exceptional individuals juggle it all.
One such individual is Brittany Speer, a fourth-year biology student. Speer joined EMS during her sophomore year. She said she was looking for a job at the time and was intrigued by EMS, as she wanted to do something to advance her prospective healthcare career.
According to Speer, working as an EMT is an invaluable opportunity, as you get firsthand experience in patient care – something few undergraduate students experience. Now looking to go to physician assistant school, Speer has a wealth of knowledge and experience under her belt through her three years working for UCLA EMS.
Kathryn Godlewski, a third-year nursing student, joined UCLA EMS her freshman year of college, having earned her EMT certification the summer before. As a nursing student, Godlewski said she felt that working as an EMT would hone her patient interaction skills, which are of utmost importance in the field of healthcare.
Since joining EMS, Godlewski said she has gained confidence, decision-making skills, teamwork and time-management ability.
Joshua Pelletier, a fourth-year biology student, was inspired to work for EMS by his older brother and sister, both of whom were EMTs. Like Godlewski, Pelletier said he is grateful for the many skills and qualities cultivated through working for EMS, including leadership, critical thinking, empathy, time management and patient interaction.
When I asked Pelletier about the most intense call he's responded to, Pelletier, who was in the middle of a 24-hour shift at the station, pondered for a minute. After mentally scrolling through the many calls he's responded to, he recalled the 63-year-old man who jumped off of the biomedical library during fall quarter.
When Pelletier and the other EMT arrived on the scene, the man had already jumped and was in critical condition.
According to Pelletier, a few EMTs were actually studying at the biomedical library when they witnessed the jump. When Pelletier and his partner arrived, they were already in action. Pelletier described this call as "particularly high-pressured," because the man faced trauma to various body systems, so Pelletier and his fellow EMTs had to work quickly.
Tom Reynolds, manager of UCLA EMS since 2008, notes that all EMTs love the work they do, as they wouldn't be doing it otherwise.
Many former UCLA EMTs have gone on to lead successful careers in healthcare and service.
According to Reynolds, one former UCLA EMT is currently an emergency medicine resident. Another is a medical director for the Los Angeles County Fire Department. According to the UCLA EMS website, more than 90% of UCLA EMTs go on to medical school or join fire departments. Of those who've applied to medical school thus far, 100 percent have been accepted.
Reynolds stresses that even though UCLA EMTs are all undergraduate students, this does not render them any less qualified to provide effective patient care to those in need. UCLA EMS has a strong reputation of staffing some of the greatest EMTs in the nation.
In February 2012, five members of UCLA EMS participated in the 19th annual National Collegiate Emergency Medical Services Foundation Conference, a nonprofit organization dedicated to the advancement of existing collegiate EMS teams. They brought home first place in the mass-casualty incident simulation and finished sixth out of the 90 participating collegiate EMS teams in the skills competition.
It is sometimes difficult to believe that these life-saving EMTs are also college students, juggling academic pressures, relationships and day-to-day challenges of young adulthood.
Learning about the immense time commitment student EMTs devote to their work has made me think twice about getting an EMT certification and applying to EMS. The organization is reserved only for the truly dedicated. However, if you are passionate about patient care, want first-hand exposure to the medical field and yearn to make a positive impact on the UCLA community, EMS is definitely an organization worth checking out.
Belicia Tang is a Daily Bruin Quad contributor. She writes about a wide range of topics, including mental health, meditation, dance, and the psychology of motivation and success.
Belicia Tang is a Daily Bruin Quad contributor. She writes about a wide range of topics, including mental health, meditation, dance, and the psychology of motivation and success.