Dorm Dining: Whipping up a vanilla cheesecake using an unlikely oven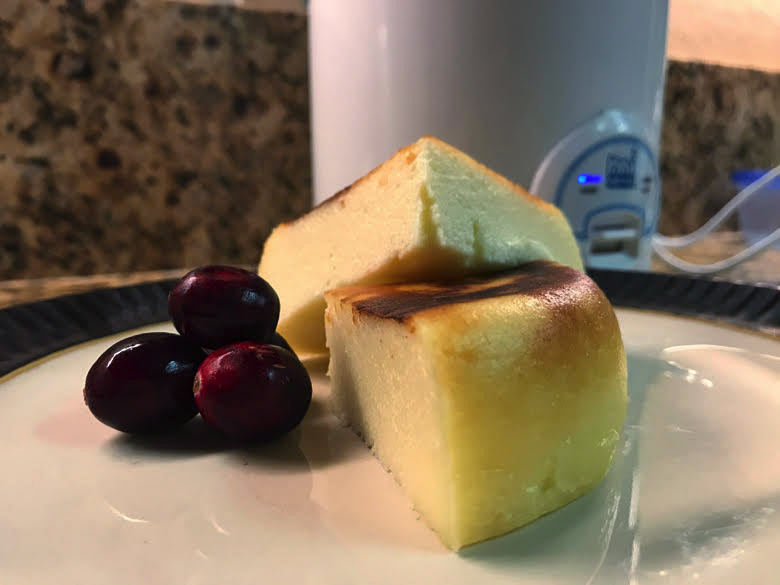 Despite two failed attempts, columnist Andrew Warner succeeded in baking a vanilla cheesecake dessert using only a rice cooker. Chefs who want to try out the recipe can also add cocoa powder or lemon juice to create their own takes on the dish. (Andrew Warner/Daily Bruin)
Life on the Hill doesn't exactly allow ample opportunity for experimentation with cooking, leading to a routine diet at the dining halls. Over the next 10 weeks, columnist Andrew Warner sets out to break the culinary monotony of dorm life, armed with a rice cooker and a few pantry staples.
The name "rice cooker" is a bit misleading. To call a rice cooker a rice cooker is akin to calling an oven a bread maker. Yes, people make bread in an oven, but that's not all an oven is limited to.
Likewise, more than just rice can be made in a rice cooker. A quick Google search for "rice cooker recipes" will lead curious chefs to recipes for simple dorm room staples like mac and cheese, as well as more complex dishes like jambalaya or chili.
While UCLA does a good job of providing those of us on a meal plan with a wide range of foods, sometimes the unvaried routine of going to a dining hall gets boring. After choking down a salad at B-Plate for the 12th time in a week, I tend to get a little homesick, wishing I had a kitchen all to myself, so I can cook up anything I want.
So, instead of moping around and waiting for the next time I head home, I'm bringing the kitchen to my dorm. This quarter, I'm determined to make one tasty and simple dish a week using my trusty three-cup mi AROMA rice cooker.
[Related: Party Flavors: Orange and chocolate biscotti]
For my first rice cooker rendezvous, I whipped up a cheesecake. While the cheesecake was just as rich and creamy as any other cheesecake, it was not quite as simple as I had hoped.
The recipe sounded innocent enough – throw all the ingredients into a rice cooker, and flip the switch to "cook." I certainly thought it would be that simple, but after burning the dessert twice, I knew it would take a bit more effort than I'd expected.
First things first – not all rice cookers are created equal. For cooking in a dorm, I recommend buying a cheap three- or five-cup rice cooker – anything bigger than that is a bit impractical, and the more expensive ones tend to have a lot of newfangled features that aren't necessary.
Try to make sure it's a relatively new rice cooker. Younger than five years, at least. Rice cookers, even the cheapest ones, usually have a sensor that will monitor the temperature and keep the food inside from burning, but older ones may not have the most up-to-date or efficient sensor.
I learned that lesson the hard way.
The recipe I found called for cooking the cake for one white rice cycle – approximately the amount of time it takes for a rice cooker to cook one serving of white rice. Which I did. Or at least I tried to do. However, about eight minutes into the white rice cycle, I could tell things were going awry; my kitchen smelled of burnt toast, and the cheesecake batter didn't set like it was supposed to. Instead, it was simmering and bubbling up like the La Brea Tar Pits.
All rice cookers have at least two settings: The cook setting, which brings the contents up to and maintains a boiling temperature, and the warm setting, which keeps them from exceeding that temperature. If the rice cooker is new, it should switch from the cook setting to the warm setting on its own, but if it is an older model like mine, be sure to switch the setting manually after about five or six minutes.
My rice cooker was an older model which did not have the most adept sensor, forcing me to go out and purchase a newer model.
[Related: Bar necessities: Butcher's Dog]
Once I acquired my new rice cooker, the process went more smoothly. I still felt frustrated on my second attempt, since the rice cooker switched from "cook" to "warm" much faster than I'd expected – about four or five minutes – and was definitely not a full white rice cycle.
In hindsight, I believe the rice cooker was only trying to save the cheesecake from its predecessor's infernal fate. At the time, though, I wasn't thinking so much about the way the rice cooker moderates temperature, so I switched it back to cook, probably about three or four times before I noticed the cake was burning yet again.
On my third attempt, I tried a second, more detailed recipe for rice cooker cheesecakes. It said to cook the cake until the rice cooker switched to "warm," and then to leave it on warm for 30 minutes. Once I tried the new method, everything came together, and I had a cheesecake worthy of competing in "The Great American Baking Show."
Once I got the basic cheesecake down, I could add many new ingredients to the cheesecake to change up the flavor. As is, the recipe makes a plain vanilla cheesecake, but the possibilities are endless – add a tablespoon or two of cocoa powder to make a decadent chocolate cheesecake, or add a few extra tablespoons of lemon juice and top it with a spread of lemon curd for a luxurious lemon cheesecake.
Although the recipe was a pain for me to get down, the struggle was worth it. While the cheesecake isn't traditional, as it lacks a crust, it's substantial enough to stand on its own without one. The smooth and indulgent cheesecake is perfect to bring to small gatherings if it's made in a five-cup rice cooker, and three-cup rice cookers will make a cute personal cheesecake.
I didn't think baking was viable in a dorm room, and while operating a rice cooker barely constitutes as baking, it was exciting to see a real cheesecake pop out of my meager little steamer.
Andrew Warner is a Daily Bruin senior staff reporter. Warner was the editor of The Quad during the 2018-2019 school year and an assistant editor for the Music | Arts beat of Arts during the 2017-2018 school year. Before that, he was an Arts reporter during the 2016-2017 school year.
Andrew Warner is a Daily Bruin senior staff reporter. Warner was the editor of The Quad during the 2018-2019 school year and an assistant editor for the Music | Arts beat of Arts during the 2017-2018 school year. Before that, he was an Arts reporter during the 2016-2017 school year.