Hear This Not That: John Legend breaks barriers, Pete Doherty brings stale sounds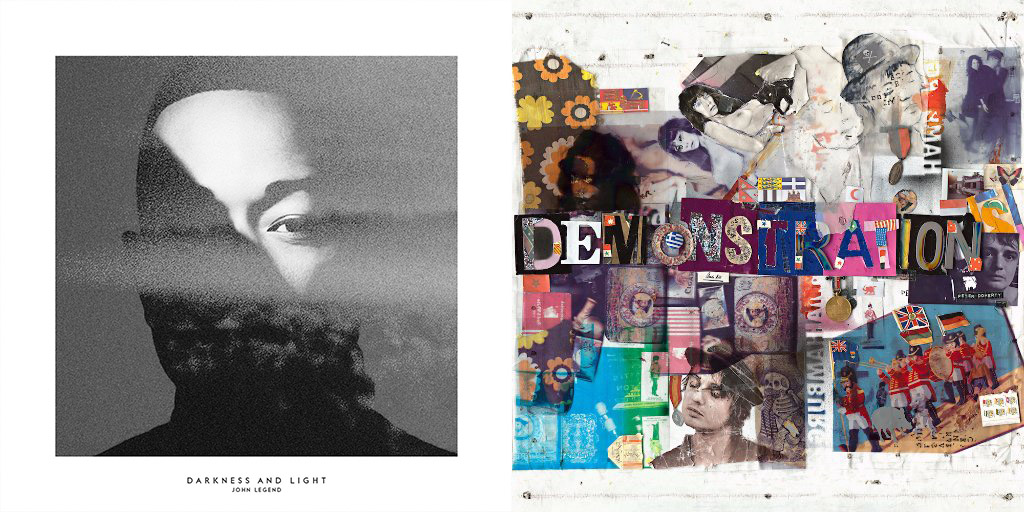 John Legend's fifth studio album "Darkness and Light" (left) and Pete Doherty of The Libertines' "Hamburg Demonstrations" (right) were both released Friday. (Columbia Records (left) and BMG Rights Management (right)).
Music fans can find it hard to decide which albums to stream and which to skip, considering the surplus of new music released. Each week, A&E columnist Sean Lee will compare two newly released albums and recommend which one students should listen to. This week, Lee compares the musicality of Pete Doherty's latest album "Hamburg Demonstrations" with that of John Legend's "Darkness and Light."
Successful songwriters act as modern poets, offering their alternate view of the world through tightly packaged, sing-along melodies.
Neo-soul singer and pianist John Legend and The Libertines' co-frontman Pete Doherty have proven their relevance as modern songwriters with standout lyricism on their Friday album releases.
Legend's fifth studio album "Darkness and Light" bends genres by blending love songs that smoothly move from Legend's classic piano-driven soul to EDM buildups and hip-hop backbeats that stay in the groove.
[Last week: Hear This Not That: Thee Oh Sees' album reinvents rock, Title Tracks' is unoriginal]
Doherty's second solo album "Hamburg Demonstrations" does not veer from the British garage rock of the songwriter's youth, sounding like a collection of demos from his first band The Libertines albeit without fellow frontman Carl Barât's snarky lyrical punctuations.
While Legend's album finds the singer breaking into new musical territories, "Hamburg Demonstrations" sounds as if Doherty merely gave his old songs a new lyrical outfit.
"Kolly Kibber," the opening track from "Hamburg Demonstrations," begins with blues licks from acoustic guitar building into an acoustic strum combined with a driving rock beat. The song sounds reminiscent of The Libertines' song "Music When the Lights Go Down" with its shift from quiet verses to hard-hitting choruses.
On "Kolly Kibber," Doherty's abstract romantic lyricism – "Baby, oh baby I am told / They broke the mold / When they made you" – offers a refreshing new shift toward more romantic and metaphoric lyricism than from the songwriter's previous straightforward and observant lyrics on his 2009 solo album "Grace/Wastelands."
Unfortunately, moments of lyrical freshness are not enough to distract me from the musical aspects of Doherty's work that have become stagnant over the course of his over decade-long career. The syncopated rhythm guitar on "Down for the Outing" sounds uncannily similar to The Libertines' "Gunga Din," but without the intrigue of Barât's savvy lead guitar skills.
Even the newly political lyrics of "Hell to Pay at the Gates of Heaven" such as "Three-page advert on the LA Times / They want you religious fanatics with a military mind" cannot redeem the song from sounding like it could be a demo off of "Grace/Wastelands." Both songs contain nearly the same acoustic guitar work, song structure and production.
The standout track on "Hamburg Demonstrations" is "Birdcage," a beautiful duet between Doherty and English singer Suzi Martin that suggests the English singer works best when paired with others, like when he was part of The Libertines duo.
[Related: Hear This Not That: Honeyblood's album screams female energy, Slow Hollows' bemoans lethargy]
While "Hamburg Demonstrations" sticks firmly to Doherty's past in British rock, John Legend's "Darkness and Light" pushes the boundaries of Legend's signature piano ballads by bringing his solid songwriting chops to new genres.
Gospel-inspired album opener "I Know Better" replaces Legend's typical acoustic piano with a church organ as Legend sings, "And the music chooses me to sing I let her / I'll sing what I know, yes." The track acts as a final nod to Legend's old sound – "Darkness and Light" keeps the same piano driven ballads as Legend's previous work, 2013 album "Love in the Future."
The rest of the album introduces drum machines and electronic influences into his typical soul backing band.
Legend allows the music to guide his album along, and his smooth singing voice effortlessly complements the changing musical aesthetic throughout the album. The dance floor beats of "Love Me Now" bring EDM into Legend's catalogue. Legend's catchy chorus "I don't know who's gonna kiss you when I'm gone / So I'm gonna love you now, like it's all I have" provides the perfect fodder for future remixes by festival DJs.
Likewise, "What You Do to Me" begins with an orchestral horn section that breaks into a Drake-inspired hip hop beat, which made me do a double take because of its smooth transition from a classical acoustic introduction into a tight R&B groove.
"Hamburg Demonstrations" sounds much like the artist's last album, but "Darkness and Light" exhibits an artist in the midst of innovation, keeping the listener engaged by effortless juxtaposing seemingly unlikely genre pairings like trap and jazz.
Listen to "Hamburg Demonstrations" to hear a singer-songwriter who was once breaking boundaries only to now bind himself. Listen to "Darkness and Light" for a refreshing, new direction from a musician who has refused to stay in his lane.
Writing this column has forced me to explore outside of my favorite music and has introduced me to so many new albums that I would have otherwise ignored.
Thank you for reading this final installation of "Hear This Not That." I hope you all continue to listen, expand your musical libraries and form your own opinions on what music you think is worth your investment.