Finnish voice actress, student Paula Vesala debuts original play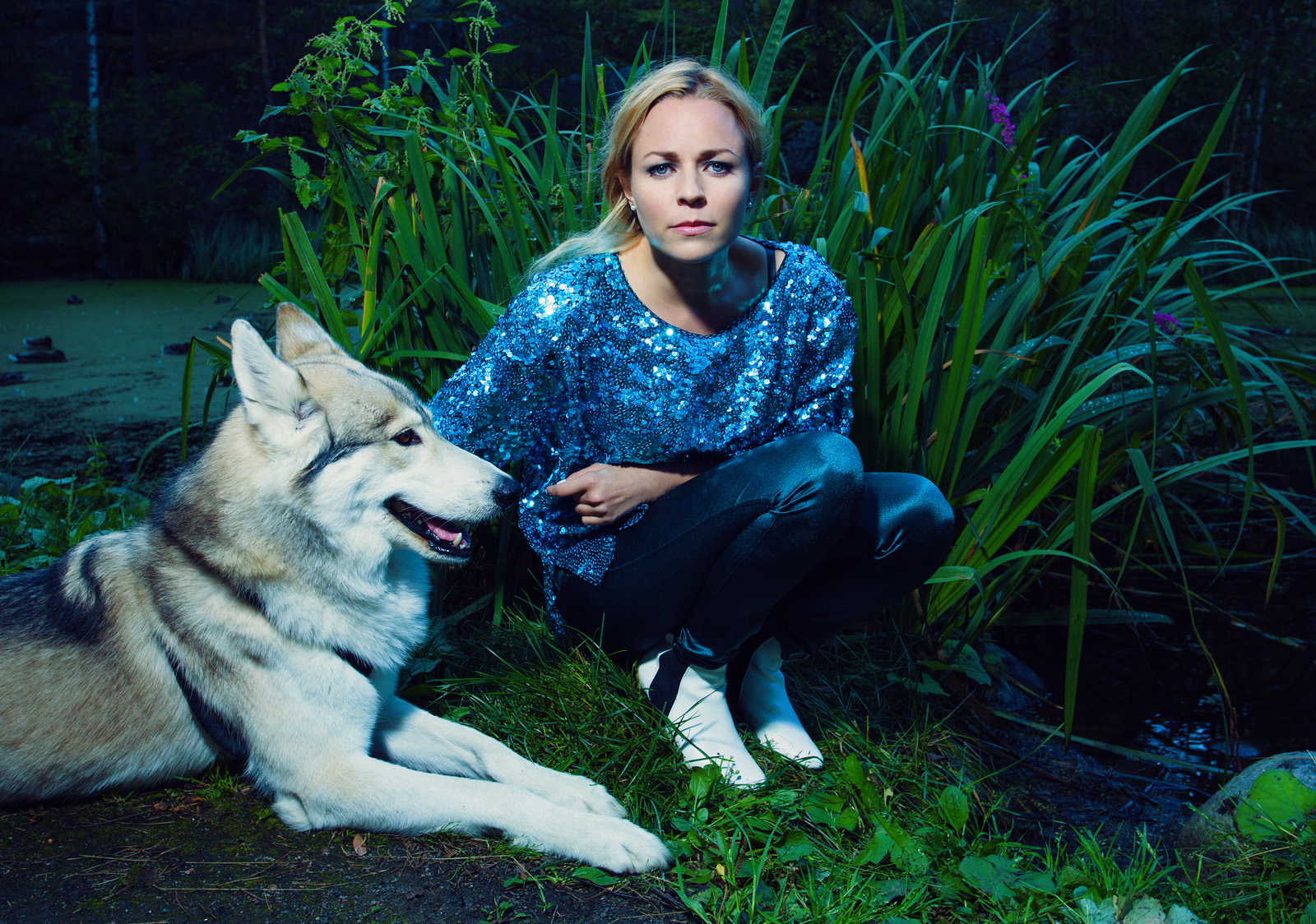 Graduate student Paula Vesala rose to fame in Finland as a singer and voiceover actress of American films. Now she is focusing on expressing her creativity through playwriting at UCLA. (Courtesy of Viivi Huuska)
Paula Vesala is the Sigourney Weaver of Finland.
In the film "Finding Dory," Weaver's voice plays out over the aquarium speakers in a celebrity cameo, humorous because her name is recognizable to American audiences. In the Finnish version of the film, Vesala plays herself as the aquarium guide, a nod to her fame as a Finnish voiceover actress in American films.
However, the UCLA student and actress found more liberty voicing in original Finnish animated films and cartoons. Vesala hopes to pursue more creative freedom in film and theater. She recently started writing her own scripts, enrolling in University of the Arts Helsinki's Theatre Academy in 2011 and then moving to Los Angeles in 2014 to attend UCLA. Vesala premiered her play, "Monsters We Imagined," at the New Play Festival on Thursday, hosted by the UCLA School of Theater, Film and Television.
[Related: Movie review: 'Finding Dory']
Her previous experience as a Finnish voice actress came after a period of acting in theater as a teenager.
"When I got older I realized that somebody's writing the things we're saying and I want to be that person" Vesala said. "I didn't want people to put words into my mouth."
Vesala originally stopped theater acting around the age of 20, focusing on her music career and her band, PMMP, recording albums that would eventually go platinum. Vesala's band has received nine Finnish Grammys and she has performed at arenas across Finland.
Her voice became recognizable to Finnish audiences, and she went on to dub over 20 characters in American films and television series in Finnish, both live-action and animated. Most of the roles she booked were originally voiced by well-known American actresses.
From 2008 to 2010, she lent her voice to "Hannah Montana," dubbing over Miley Cyrus' lines for the series. Vesala also went on to dub Cyrus' character Penny in the animated movie "Bolt." As "Hannah Montana" was only her second voice acting role, her career as a singer helped her get the part, she said.
"Hannah Montana" required her to be in the studio for hours recording for back-to-back episodes. She became so acquainted with the role that eventually she didn't have to look ahead in the episode but could predict the character's tone and inflection, she said.
[Related: First-year gives mischievous voice to 'Despicable Me' character]
Dubbing over American films doesn't allow for character development since that has already been explored by the original actors, she said. One of the challenges of dubbing is approaching the character in her own way, she said. In the film, "Arthur and the Invisibles," Vesala substituted Madonna's voice with hers in the Finnish version.
"She was so mature and kind of serious in the role, so I had a hard time finding the right angle," she said.
Vesala has also provided the original voices for animated cartoons, where she had more freedom in character development, she said. She voiced the villain in "Angry Birds Stella," a Finnish animated television series based on the video game. The animated aspect of cartoons often led to more believable voiceovers because it gave her more flexibility in the role, she said.
In "Angry Birds Stella," the characters spoke in a made-up language, which required creativity for actors to pull sounds from their minds, said Salla Hämäläinen, the then-senior sound designer at Rovio Entertainment Ltd.
"It's not easy for even experienced actors to do that kind of onomatopoetic acting," Hämäläinen said. "That's why we needed to find those really brave people that can throw themselves into the acting."
After years of playing parts written for her, Vesala is currently focusing on writing her own plays and music. Unlike acting, she is responsible for creating her own worlds and constructing the rules for those worlds, she said.
"I hope to be a playwright that can work anywhere in the world," she said. "It makes me feel like I have a place in the world and a reason to figure it out."
Her play "Monsters We Imagined" explores the concept of humanity when people cross the borders of being human and being monstrous, she said.
[Related: Playwrights connect UCLA, London students for Two Cities Project]
Theater professor Dominic Taylor said he didn't want Vesala to feel constricted by the physical limitations of a college production. One of his goals as an advisor was to make sure Vesala wasn't making accommodations in her script because of a smaller budget or actors that weren't the same age as her characters.
Vesala is working on taking American scripts back to Finland to introduce Finnish artists to new American plays. She sees theater and film as a universal language and hopes to generate new performances based on her interactions with different people, she said.

"I am hoping to do all the things I am doing now," Vesala said. "I can do solo performances, I can do a one-woman show, I can do whatever I want."
Xu is a senior staff reporter for the Arts and Entertainment section. She was previously the assistant editor for the Lifestyle beat of Arts.
Xu is a senior staff reporter for the Arts and Entertainment section. She was previously the assistant editor for the Lifestyle beat of Arts.