Bar Necessities: Mom's Bar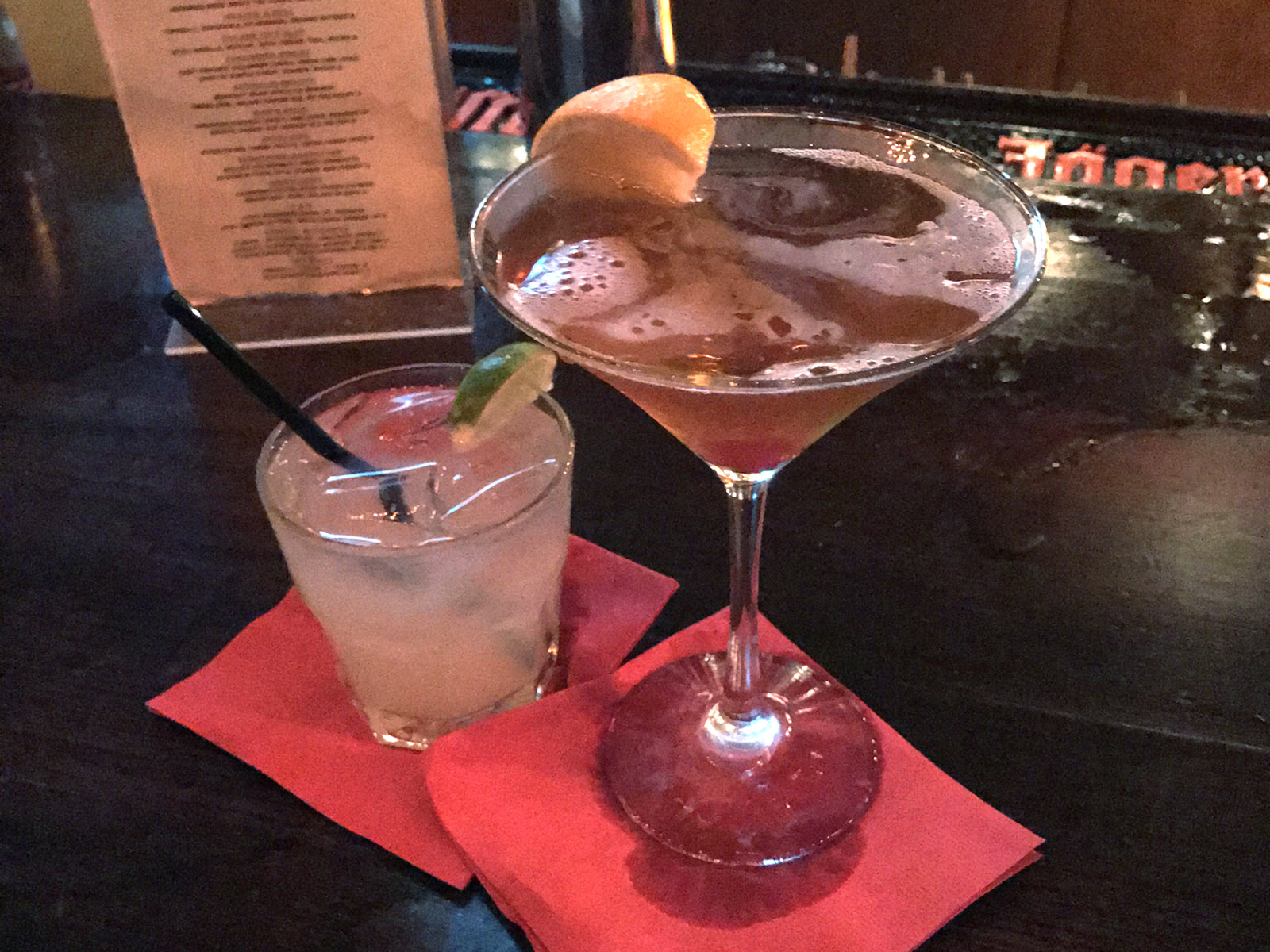 The homey bar Mom's in Santa Monica offers the White Light with lychee liqueur (left) and the cherry-topped Downtown Manhattan (right). (William Thorne/Daily Bruin senior staff)
Westwood's bars, or lack thereof, can easily grow old for thirsty college students in search of a taproom suited to their tastes. Daily Bruin senior staffers Erin Nyren and William Thorne embark on a bar-sampling journey to uncover the best watering holes in Los Angeles. Over the next 10 weeks, they explain which have the bar necessities, those simple bar necessities.
One thing has been conspicuously lacking from many of the bars Erin and I have visited so far: students.
Part of the aim of the Bar Necessities column is to identify great student bars and so far we have had mixed results. I was determined to find a bar just outside of Westwood where students can hang out, relax and have an affordable time.
I had driven past Mom's Bar in Santa Monica many times on my way to the beach or to shop on the Third Street Promenade, and something about its foreboding exterior made me feel like it was the ideal place for the task.
From the outside, Mom's channels The Daily Pint in its sketchiness, causing Erin to once again question whether we were in the right place.
[Read more: Bar necessities: The Daily Pint]
However, from the moment I stepped inside, the bar felt homey, welcoming and dark. It was like walking into my mom's house, only with more alcohol and students gyrating to pumping beats.
A large, open space with scattered stools and tables dominated the inside of Mom's, with a long, orange-lit bar along the right hand wall. The bar was already packed with UCLA students at around 10:30 p.m. on a Thursday, and soon after we perched on two stools at the bar, the space behind us began to heave with people. Some were dancing in friend groups while others chatted and sipped pints or cocktails.
I loved the feel of the place, as it reminded me of the local, neighborhood vibe of The Daily Pint, except that the crowd was much younger and aging patrons didn't lean up against the bar trading stories about their '70s band days. The bar was so packed that you could barely move, and the addition of loud pumping music made it seem more like a nightclub but without the seediness.
A DJ was set up in one corner, with speakers blaring generic house music and chart hits, which clashed with the relaxed atmosphere of the bar.
However, we brushed off the jarring music and turned our attention to the drinks. Erin started by ordering a White Light, which was a melange of Cazadores tequila, lychee liqueur, grapefruit juice and a splash of soda, while I opted for a Downtown Manhattan which consisted of rye whiskey, sweet vermouth, orange bitters and a red cherry dropped in the middle.
The White Light was sweet yet powerful and Erin commented that the lychee liqueur was just as runny and delicious as she hoped. Meanwhile the whiskey and vermouth in my Manhattan provided more of a kick, and I was glad to bite into the little cherry, bringing relief from the fiery alcohol. Fortunately I enjoy strong drinks, so the burning sensation I felt in my throat was a welcome boot to the system.
[Last Week: Bar Necessities: Blind Barber]
Next, Erin chose an American Beauty with Midnight Moon apple pie whiskey, fresh lime and splash of ginger ale. I must confess I had no idea apple pie whiskey existed and was faintly traumatized by the idea.

For my second round I opted for the Devil Doll, which contained gin, fresh lemon juice and Crème Yvette, a liqueur which I later discovered is made from violet petals, blackberries, raspberries, strawberries and cassis, with added hints of honey, orange peel and vanilla. Both drinks were delicious, but mine stood out in particular as a sweetened, darker version of a traditional gin and tonic.

I'm still not sure Erin's drink convinced me of the need for apple pie whiskey, but I was too busy enjoying Mom's popping vibe and great student crowd to care.

While we were there, Erin ran into a bunch of friends from classes she took over the summer, demonstrating that Mom's is the perfect place for UCLA students to party on a Thursday night.
Thorne was the prime director. He was previously the assistant A&E editor for the Theater | Film | Television beat.
Thorne was the prime director. He was previously the assistant A&E editor for the Theater | Film | Television beat.