Coffee Cultured: Cold Brew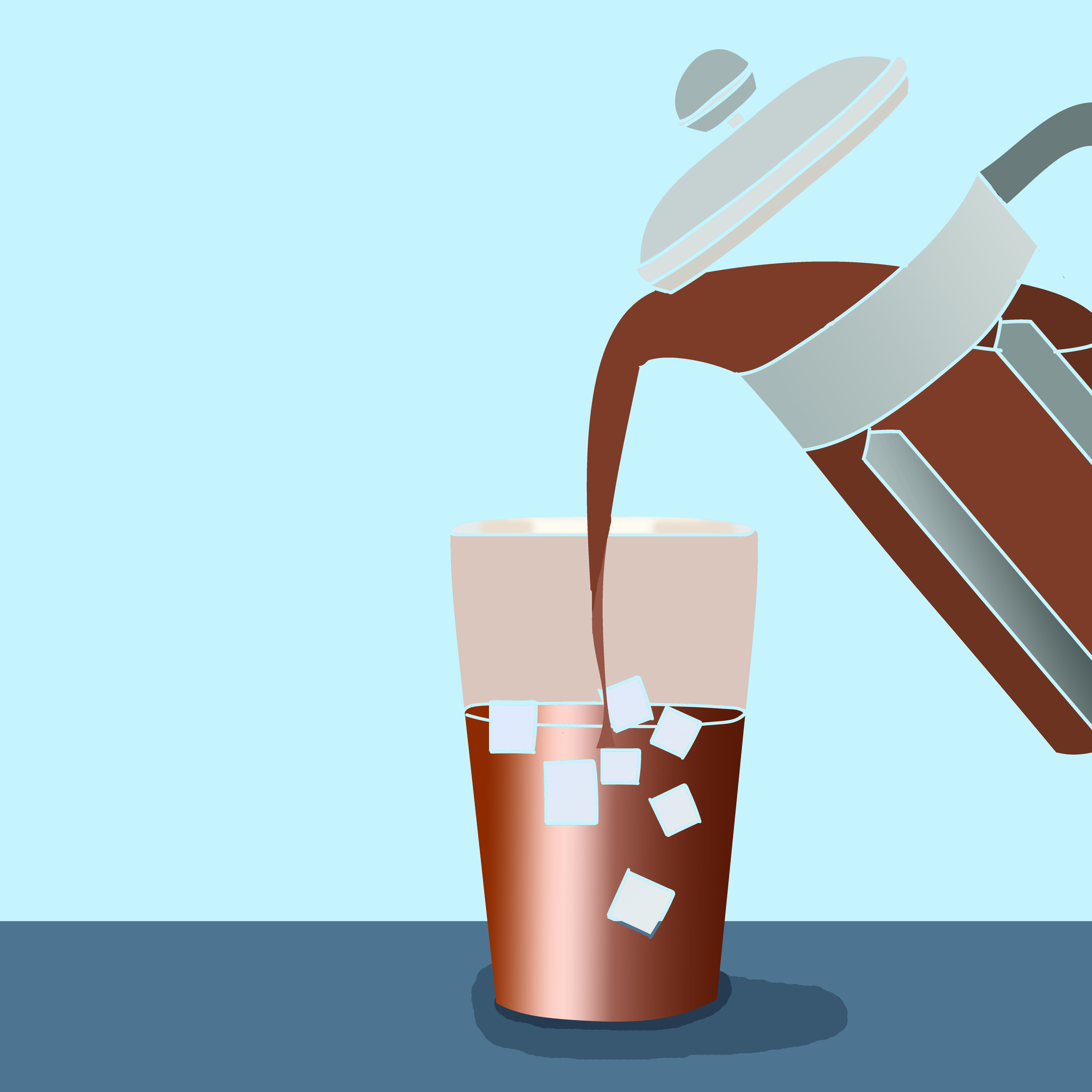 From latte art videos on Facebook to not-so-witty quotes on T-shirts, coffee is an indisputable aspect of our everyday lives. Every frappy hour is national news, and liking the taste of coffee is viewed as a mark of adulthood. I don't claim to be a coffee expert that can easily discern between single-origin coffees and blends. However, I love coffee because of how much it has to offer in regards to its taste, variety, effect and experience. For the rest of the quarter, I will be embarking on an in-depth exploration of coffee from all aspects, and hopefully become more coffee-cultured.
Many crazes come and go, but cold brew is here to stay, transforming from a mere trend to a part of everyday life. Its benefits make it much more than just an ephemeral bandwagon for hipsters, justifying its special place in the hearts of coffee snobs and Starbucks frequenters alike.
As a point of clarification, cold brew is not your traditional iced coffee, which is made by chilling hot espresso or coffee. Instead, cold brew is an extremely straightforward coffee-making process. The process of cold brewing results in a beverage that's less acidic and more smooth, making for a better iced coffee.
With few ingredients and no swanky gadgets, it's easy enough to make in the dorms. Coffee grounds are mixed with cold water, and set aside to steep for usually around 18 to 24 hours, either at room temperature or in the refrigerator. Then, it's strained and ready to drink. Ice, milk or sugar in the form of simple syrup can also be added.
Although this method takes much longer than brewing hot coffee, it produces coffee that's less acidic and bitter. Cold brew also has more natural flavors and sweetness. By avoiding the use of hot water in the brewing process, less of the coffee's fragrance, oils and acids are extracted; the extraction is what makes the acidity and bitterness of hot coffee so strong. In addition, cold brew is less diluted, since iced lattes are weakened by melted ice.
Cold brew can also be a healthier option – because of its lower acidity, many find it does not need milk or sugar. These additions typically raise the calorie count of regular iced coffee, whose bitter taste may need to be masked. This makes cold brew a better coffee choice for both those who are lactose intolerant and those who are health conscious.
In both the LA and national context, cold brew is trending, especially among millennials. Cold brew isn't just for coffee aficionados anymore as it was 5 years ago – it's so mainstream that all of the major coffee chains not only offer it, but heavily publicize it. This includes Starbucks, Coffee Bean & Tea Leaf, Dunkin' Donuts and Peet's Coffee & Tea.
Whole Foods in Westwood stocks a fridge filled with different brands and types of cold brews – and you know that means cold brew is in because Whole Foods is like the Urban Outfitters of the grocery industry.
After much indecisiveness, I picked 5 different cold brews from Whole Foods to try and put them to the test. I rated them in 4 different categories – price, acidity, smoothness and sweetness, with 20 being the full score.
Chameleon Cold Brew (Mexican Coffee) 9.4/20, $4.04 ($0.40/oz)
Price: 4.4/5
Acidity: 1/5
Smoothness: 1/5
Sweetness: 3/5
I started this week off with a cold brew that I don't think deserves its name. This drink was extremely acidic, sharp and harsh. It left a lingering and sour aftertaste, and coated my mouth and tongue. It tasted like fake sugar, even though it's made from organic cane sugar. The sweetness would've been great, but the acidity was too overpowering.
On the bright side, the coffee did smell good, with a hint of cinnamon. In addition, it came in a cute glass jar that's easy to carry on the go and screw close. However, for the same price, you can definitely get a better cold brew. My cold brew adventure could only go up from this low, low start.
Stumptown Winter Cheer 18.4/20, $3.49 ($0.22/oz)
Acidity: 5/5
Smoothness: 4.4/5
Sweetness: 4/5
Price: 5/5
This drink came in a cute and festive carton, and is a special holiday drink from Stumptown. It has a strong, biting and unapologetic spice flavor that really cuts through the coffee taste. I could actually taste all the different spices – cinnamon, orange peel, allspice and cloves. It wasn't sweet enough for me, but had the perfect ratio of milk to cold brew, making it creamy and smooth but still refreshing. It wasn't acidic at all.
Price-wise, this cold brew wins. In addition to being the cheapest cold brew out of the five, the flavor is so strong that you don't have to drink a lot at one time, so a carton would last you a few days. I'd even recommend adding ice or more milk to dilute the flavor.
Despite the pleasing aesthetics of the packaging, this isn't the type of cold brew to take on the go because of the carton. I'd definitely want to drink this again in December, as it's a great drink to share during the holidays. It's like a hipper version of eggnog, and tastes like a SoCal Christmas.
Califia (Black Mocha) 18/20, $4.04, ($0.42)
Acidity: 4.4/5
Smoothness: 4.8/5
Sweetness: 4.4/5
Price: 4.4/5
This cold brew tasted mind-blowingly like a dark chocolate truffle. It was extremely rich, and the cacao taste complimented both the smoothness and the coffee flavor. It had only a hint of sweetness, which I usually wouldn't be able to accept. It didn't need to be sweet, though, because the strong cacao flavor shines through. The lack of milk made it extremely refreshing.
I can't pretend to understand the notes of coffee, but this would definitely be cacao, cacao and more cacao.
Blue Bottle: 18.2/20, $3.55 (sale), ($0.44/oz)
Acidity: 4.8/5
Smoothness: 4.8/5
Sweetness: 4.4/5
Price: 4.2/5
This Blue Bottle cold brew embodies what a standard cold brew should be – smooth, not acidic and a good base for customizing. There's no sugar, but it isn't bitter or hard to drink. Out of the five, this one has the strongest coffee taste, and is for people who actually love the taste of pure coffee. It's extremely complex and rich, but also refreshing. It tasted floral and fruity, reminding me of iced tea.
Adding simple syrup made this cold brew perfect for me, bringing both the acidity and sweetness to a 5/5. If you're looking for a cold brew with no frills, I'd definitely recommend this because of its customizability and high-quality taste.
Stumptown Nitro: 17/20, $5.04 ($0.46)
Acidity: 4/5
Smoothness: 4.8/5
Sweetness: 4.4/5
Price: 3.8/5
Nitro cold brew is coffee that's infused with nitrogen, which makes it more smooth than a typical cold brew. Fittingly, this Stumptown drink was extremely smooth, and had foam on the top. It reminded me of a high-quality beer in its texture and taste.
This is definitely not for everyone because of its strong taste and smell, but if you like beer, you'd like this. It's not acidic in a burning and unpleasant way like the Chameleon, but was more acidic than the others. Although I appreciate the technology that goes into producing the additional smoothness, I'm not willing to pay extra for nitro cold brew.
Considering the fact that there aren't good places to get cold brew near school, other than chains such as Peet's Coffee & Tea, and Kerckhoff Coffee House on campus, I'd definitely recommend getting your caffeine fix from Whole Foods. The prices of these cold brews are comparable to any of the coffee places in Westwood or on campus, but are higher quality and taste better.
Michelle Lin is a Daily Bruin Quad contributor. She writes about everything, but especially likes lifestyle and informative pieces.
Michelle Lin is a Daily Bruin Quad contributor. She writes about everything, but especially likes lifestyle and informative pieces.