Hear This Not That: Honeyblood's album screams female energy, Slow Hollows' bemoans lethargy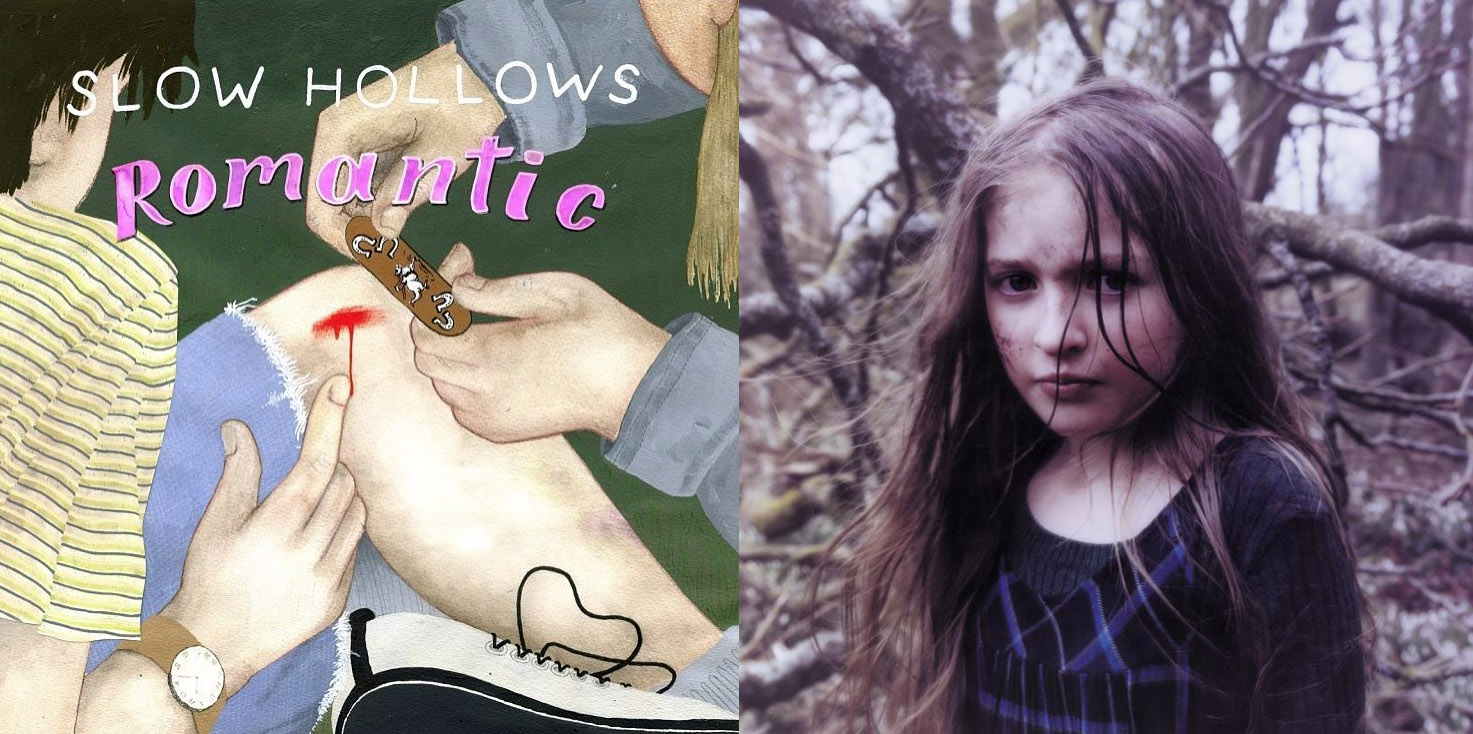 Honeyblood's Oct. 28 album "Babes Never Die" (right) brings female energy and powerful delivery, while Slow Hollows' Friday release "Romantic" (left) is repetitive and sleep-inducing.
(Danger Collective Records/FatCat Records)
Music fans can find it hard to decide which albums to stream and which to skip, considering the surplus of new music released. Each week, A&E columnist Sean Lee will compare two newly released albums and recommend which one students should listen to. This week, Lee compares the punk energy of Slow Hollows' Friday release "Romantic" with Honeyblood's Oct. 28 album release "Babes Never Die."
There are two types of modern indie rock artists – the slacker singer songwriters and the spirited heavy hitters.
Los Angeles indie rockers Slow Hollows and Scottish garage rock duo Honeyblood represent this dichotomy with their latest album releases.
While both bands stay true to the do-it-yourself tradition of indie rock with their crackly lo-fi production, confessional lyricism and '80s pop-tinged choruses, their musical similarities stop there. In Honeyblood's second full-length album "Babes Never Die," the female guitar and drum duo of Stina Marie Claire Tweeddale and Cat Myers yell their way into punk greatness with bratty lyrics à la Kathleen Hanna and Joan Jett – two frontwomen known for their ardent performances.
[Last week: Hear This Not That: Tyler, The Creator versus Eminem]
Meanwhile, Slow Hollows' third album "Romantic" sounds lazy, with 18-year-old frontman Austin Feinstein's charisma unable to keep the energy as sustained as on the band's 2015 album "Atelophobia."
"Spirit Week," the opening track from "Romantic," fails to capture my attention with repetitive post-punk guitar riffs made even more tiresome with Feinstein's monotonous singing.
"I'd rather dream / Oh can't you see," bemoans Feinstein, but with such a lack of energy that he manages to lullaby his listener to sleep. While his lyrics aim to woo a lover, his sleepy vocal delivery fails to put in any real effort into winning her heart.
The rest of the album continues in indolent musicianship and lethargic lyricism. On the track "Softer," Feinstein sings, "How can you love something / And know you're not trying," over sparse spacey-sounding chords and laid-back drums that send the impression that the band feels too cool to actually infuse some charisma into its songs. The out-of-tune, oscillating flanger on "Hospital Flowers" paired with Feinstein's tedious vocal delivery attempts to pay homage to new wave bands like My Bloody Valentine, but ultimately sounds more like the band isn't capable of tuning its own instruments.
[Read more: Hear This Not That: The Game versus Gucci Mane]
If there is one redeeming moment in "Romantic," it's the instrumental track "4141" which replaces Feinstein's singing with Daniel Fox's trumpet. The track's slow pulse and dreamy soundscape plays like an intentional tribute to the cool jazz era of the '50s instead of a half-hearted imitation of the '80s post-punk movement.
"Romantic" presents a band that is arrogantly lethargic, but Honeyblood's album "Babes Never Die" introduces a new burst of female energy into punk rock's three-chord formula. Their energy contributes to the modern resurgence of riot grrrl punk spurred on by other bands like Sleater Kinney and Wild Flag in the mid-2000s.
The title track of "Babes Never Die" repackages the punk attitude of older bands like Sonic Youth and The Julie Ruin with a newfound level of energy.
Unlike Feinstein's boring singing on "Romantic," when singer/guitarist Tweeddale screams, "Care to be clean / Purse to be free," an invigorated sensation, brought on by the singer's fiery vocal screaming, rushes through me, and I can't help but head-bang and mosh.

The distorted guitar riffs on "Ready for The Magic" transport me back to the music of '70s metal band Budgie, but with an added embellishment of razor-sharp, edgy vocal delivery. Honeyblood manages to revive the sounds of older bands with newfound vibrancy through hard-hitting riffs and forward-pushing drum beats.
The stark disparity between the sleepy indie rock of "Romantic" versus the edgier sonority of "Babes Never Die" is most evident in the albums' uses of percussion. Honeyblood's slower song "Cruel" keeps the energy up with Myer's simplistic percussion propelling the song forward. Whereas the laid-back drumming on "Romantic" causes heavy eyes, the drumming on "Babes Never Die" keeps the spirits high, making for an altogether more engaging listening experience.
Unlike Honeyblood's powerful delivery, the careless post-punk sounds of Slow Hollows and other indie bands following in the dream pop tradition dilute the impassioned performances of older punk bands to the point where this listener is just as uninterested in the music as the performers.
Listen to "Romantic" to cure your insomnia. Listen to "Babes Never Die" to jolt you from your bed onto the dance floor.