The Quad: UCLA Salsa Society provides unique opportunity to learn Latin dancing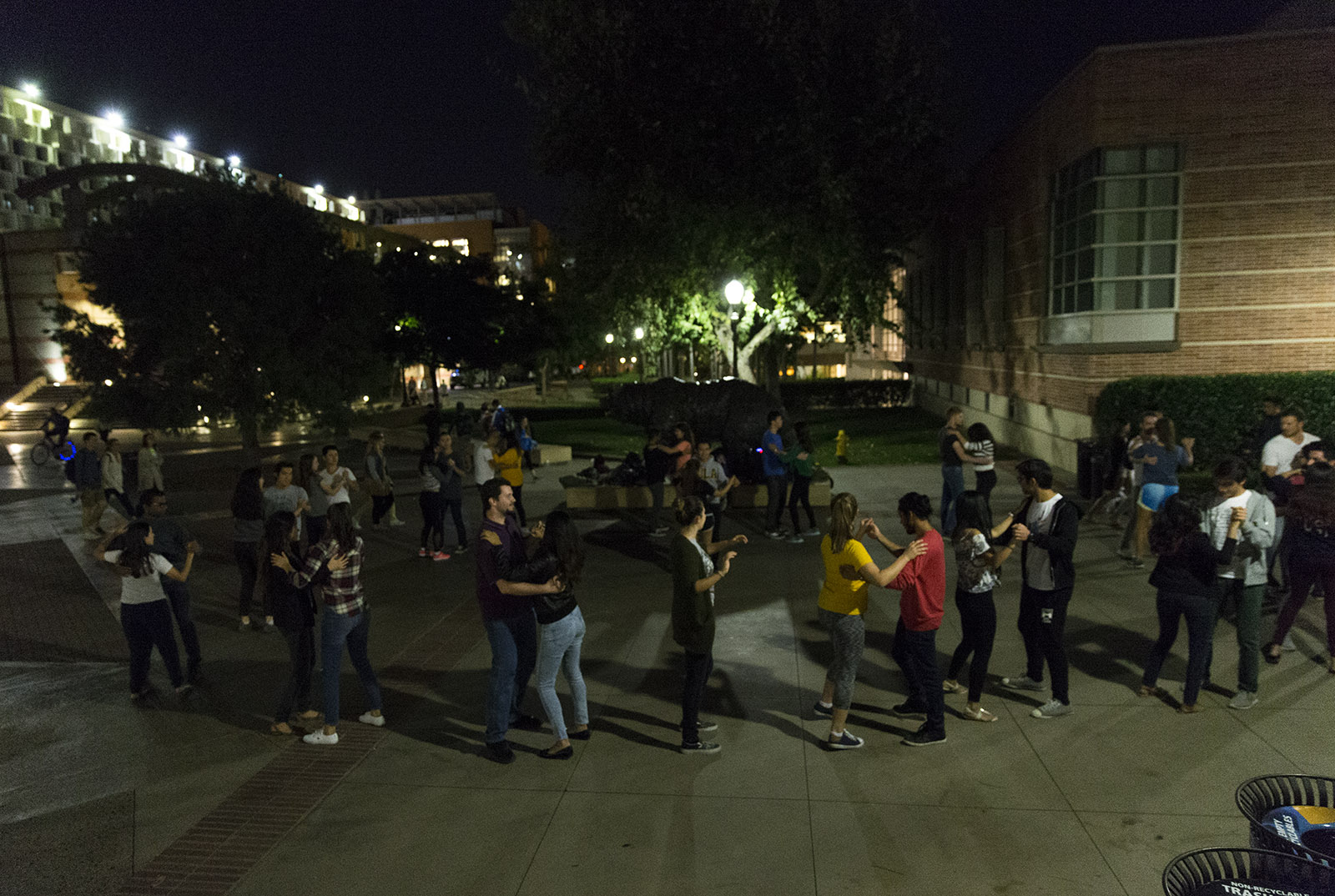 Students try out salsa dancing on Wednesdays next to the Bruin Bear. (Aubrey Yeo/Daily Bruin senior staff)
They can be seen in front of the Bruin Bear every Wednesday night, shaking their hips to the Latin tunes of Marc Anthony and Luis Enrique.
These dancing Bruins are none other than members of UCLA's Salsa Society, a student-run organization dedicated to bringing together fellow Bruins who share a common love for salsa dance.
Salsa Society was founded 10 years ago by Bruin alumni who dreamt of popularizing the beautiful art of Latin dancing on campus. A decade later, Salsa Society is still going strong, meeting each Wednesday in Bruin Plaza from 8 to 10 p.m. for a free salsa dance lesson followed by a night of social dancing.
Unlike many other UCLA dance teams that hold quarterly auditions and require significant time commitment, Salsa Society is open to everyone of all dance backgrounds and levels. Commitment level is up to you, as you can attend as many or as few Wednesday night sessions as you want.
One of this year's board members, bioengineering graduate student Ming-Lun Wu, joined Salsa Society two years ago. He said that one of the most rewarding things about salsa is its power to bring together dance lovers from all different walks of life.
Ever since joining the society at the start of fall quarter, I've met so many individuals, including other freshmen, graduate students, UCLA alumni and even professors— all of whom share a passion for salsa.
Through dancing with so many people, I've gained a marked increase in confidence both on and off the dance floor, as the unique social aspect of salsa dancing has pushed me to grow from my formerly shy and reserved self.
Mechanical engineering graduate student Kenneth Gutierrez shares a similar experience. He was introduced to salsa dancing three years ago while interning in Boston.
"Salsa did a complete a 180 degree turn on my social and professional life," he said. "Social situations, something I used to be afraid of, is now something I look forward to."
Salsa has given Gutierrez the opportunity to connect with many people, even if only for a single song.
Another active member of Salsa Society is Akrivi Soundia, dental resident at UCLA's School of Dentistry. Soundia, who has been dancing salsa for three years now, credits both her improved posture and heightened confidence to salsa dancing. She said that some of her best friends at UCLA were made through salsa dancing, further illustrating the power of this art to bring people together.
[Read more: Romance adds new spin for Salsa Society dance partners]
Maybe you've always wanted to learn how to salsa dance, but were worried you'd make a fool of yourself on the dance floor. If you feel this way, you are not alone. I remember feeling butterflies in my stomach during the car ride to my first Latin dance party. Know that it is completely natural to feel some anxiety when starting any new hobby, as you are putting yourself in the vulnerable position of a beginner.
In response to the common worries shared by most novice dancers, Wu stresses that the salsa community is very welcoming and that most people will not mind dancing with beginners. For Wu, what's more important than being a good dancer is having fun.
"Even if you suck (at dancing), if you look like you are having fun, then I would dance with you every time," he said.
For those looking to perform and compete in salsa dance, UCLA's Latin dance team is currently recruiting. The team, coached by an LA-based professional salsa dance couple, meets every Tuesday and Friday for two-hour practices. When performances or competitions approach, frequency of rehearsals may increase to every day of the week. No prior salsa background is necessary to join the team – just a positive attitude and an eagerness to learn.
Whether you're looking to compete in salsa dance, or are simply looking to show off your moves at the next dance party, salsa dancing is for everyone.
Belicia Tang is a Daily Bruin Quad contributor. She writes about a wide range of topics, including mental health, meditation, dance, and the psychology of motivation and success.
Belicia Tang is a Daily Bruin Quad contributor. She writes about a wide range of topics, including mental health, meditation, dance, and the psychology of motivation and success.