Bar necessities: Bodega Wine Bar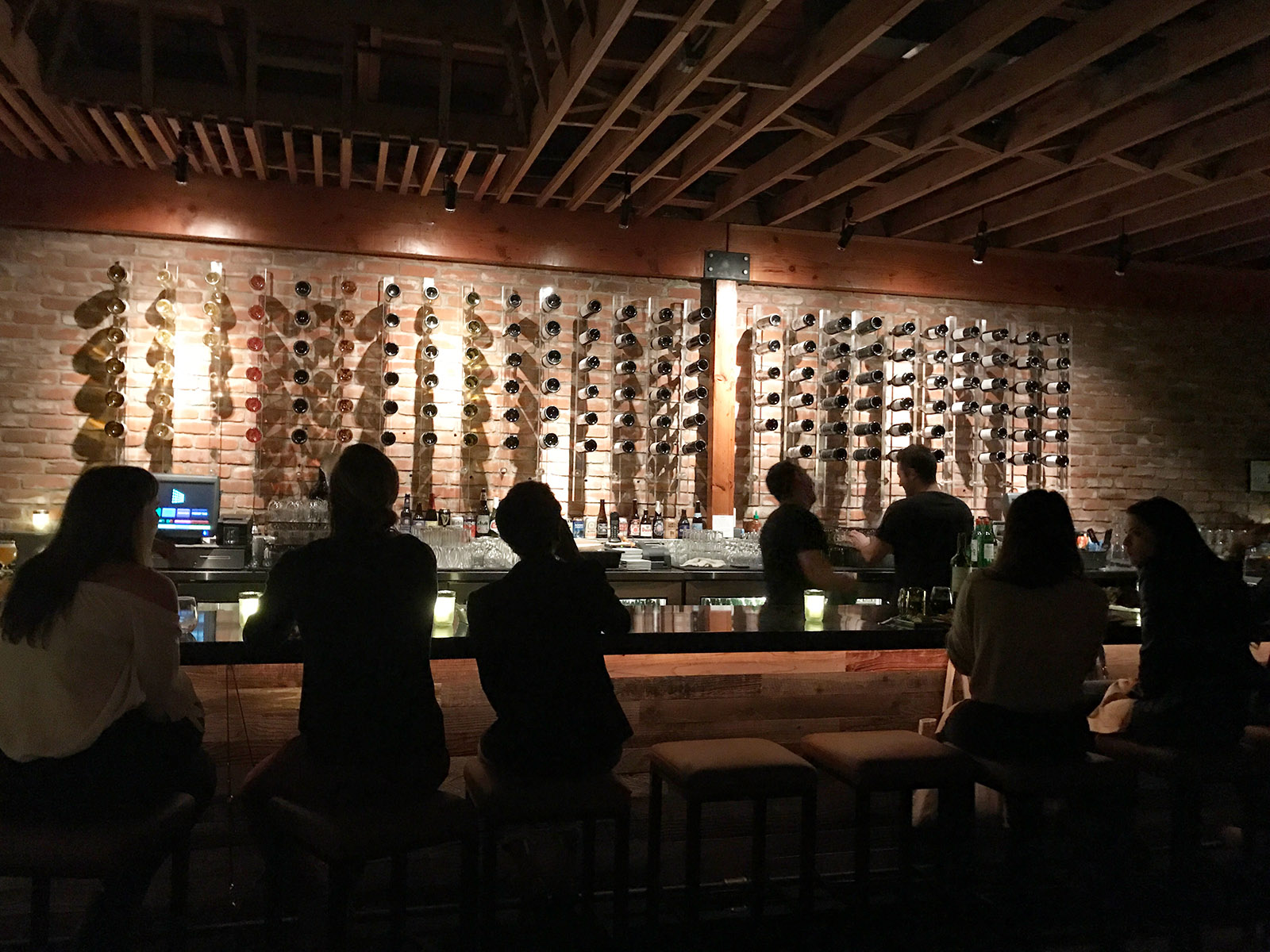 Columnists Erin Nyren and Will Thorne traveled to Bodega Wine Bar for this week's Bar Necessities. Bodega Wine Bar offers its customers the chance to try fine wine in a casual setting. (Will Thorne/Daily Bruin)
Westwood's bars, or lack thereof, can easily grow old for thirsty college students in search of a taproom suited to their tastes. Daily Bruin senior staffers Erin Nyren and William Thorne embark on a bar-sampling journey to uncover the best watering holes in Los Angeles. Over the next 10 weeks, they explain which have the bar necessities, those simple bar necessities.
When my mum was born, her parents gave her several cases of wine, a couple of dolls and a rattle.
Although it may seem like a dangerously irresponsible present for a baby, in France giving wine to newborns used to be a common practice because as the wine ages, its price skyrockets. My mum taught me a lot about wine, but not every college student has the privilege of a French mother or the time to learn about viticulture.
[Last week: Bar Necessities: Bigfoot West]
However, Bodega Wine Bar in Santa Monica combats the seemingly inherent snobbery that's part of wine drinking. The bar has a manifesto written in the bottom left corner of the menu which reflects my feeling towards how to enjoy wine – "Don't take things too seriously, especially wine. It doesn't matter what you do or don't know about it. We opened this place because we prefer to just drink it. Salud!"
Bodega seemed like the ideal place for me to taste-test some new Californian vintages, and also for Erin, who is a self-confessed novice in terms of wine-drinking, to rekindle her taste for wine after she lost interest in it.
As we approached Bodega, Erin was already forming an opinion of the bar.
Erin: It looks like a typical, hipster LA bar.
Will: I kinda like the look of the place. The logo is cool and I like how dark it looks in there. For me, a wine bar needs to be dark and atmospheric.
The inside of Bodega was just as Erin had predicted. A wall on the right displayed wine bottles on their sides, providing a pleasing contrast of red and green, inviting drinkers to sample each one. But the remaining walls were stacked with plain red bricks, creating a warehouse aesthetic which Erin felt was trying to be too hipster.
We ordered two glasses of red wine from the menu, one on happy hour which meant it cost $6 instead of $9. Erin opted for the Greyson Cellars Merlot from California, and I went for the "Old Zin Vines" (OZV) Zinfandel from Mendocino, Calif. My choice was a safe option, given that Zinfandel is my favorite variety of red wine, so I knew I would enjoy the glass even before I brought it to my lips.
Sure enough, the OZV didn't disappoint, producing an oaky, fruity explosion in my mouth. The wine also left a pleasing cherry aftertaste and I looked at Erin, expecting her to be similarly pleased with her choice. However, with every sip, Erin's grimace grew wider and her displeasure became more obvious.
Erin: I mean I think I've always preferred white wine, but I really don't like this red. It just tastes like bitterness to me.
Will: Yeah red wines normally have a lot more tannin in them which makes them bitter. Why don't you try some whites?
Next we ordered a plate of bruschetta to go with my glass of McManis Petite Sirah from California and Erin's Viognier white wine from France. The platter arrived laden with six pieces of tomato, parmesan and artichoke bruschetta. The tomato versions were much tastier than their bland artichoke counterparts, but both accompanied the wine well.
I was again pleased with my wine choice, which was more subtle and more fruity than the Zinfandel, with a hint of blackberry. Erin was more satisfied with her lighter, more palatable glass of white, so we turned our attention to other aspects of Bodega's ensemble.
Erin felt the music in the bar was too loud and we agreed that somehow, despite the decent crowd, the Bodega's warehouse style made it feel lifeless and empty. But the price of $6 per glass of wine during happy hour compensated for the lack of atmosphere.
To finish our evening of wine wandering, I ordered a glass of the Honey Bubbles Moscato dessert wine from New Mexico. The wine lived up to its name; it was a deliciously fizzy and sweet concoction.
The Moscato was the highlight of the evening for me, and although the atmosphere and decor could be more welcoming, Bodega succeeded in creating an environment where people can come and drink wine without taking it too seriously. It summed up what I love about wine in California – unlike in France or most of Europe, I don't have to force myself to remember everything my parents taught me to enjoy drinking it.
Thorne was the prime director. He was previously the assistant A&E editor for the Theater | Film | Television beat.
Thorne was the prime director. He was previously the assistant A&E editor for the Theater | Film | Television beat.