Alum panelists discuss Asian-American representation in popular media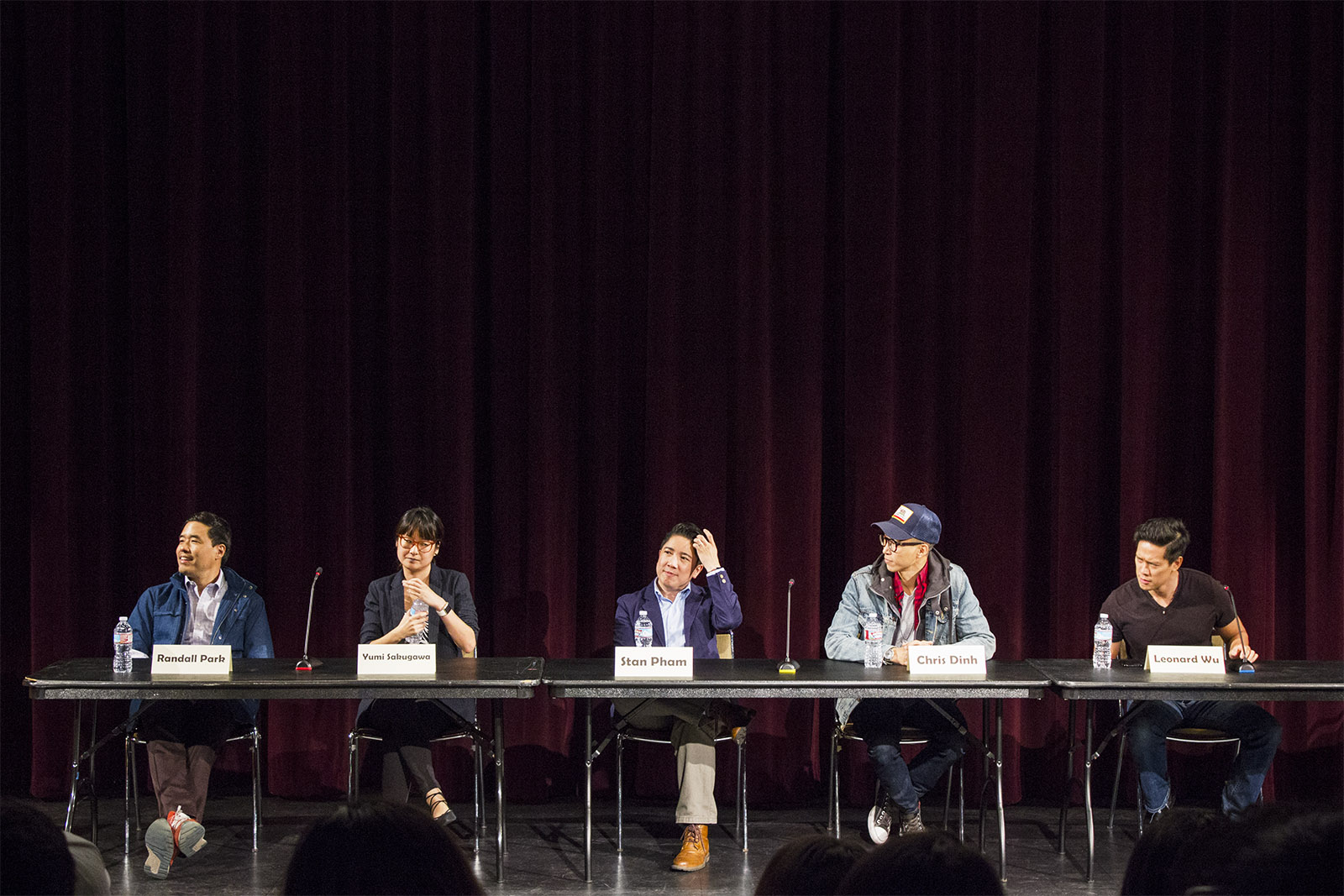 Five UCLA alumni returned to UCLA's Northwest Campus Auditorium on Friday for the panel "Asian-Americans in Hollywood & Entertainment." (Dayoung Lee/Daily Bruin)
Chris Dinh's favorite film growing up was "Indiana Jones and the Temple of Doom." His favorite character was Short Round, a young Asian boy who helps the famed archaeologist on his adventure.
It wasn't until much later that he realized Short Round's true significance for him as an Asian-American.
"The fact that my favorite movie had a character that looked just like me … it gives you a sense of confidence, it gives you a sense of belonging," Dinh said. "That's why representation matters so much."
Actor, writer and YouTuber Dinh, along with four other Asian-American alumni in the entertainment industry, returned to UCLA on Friday for "Asian-Americans in Hollywood & Entertainment," a panel hosted by UCLA's Lapu, the Coyote that Cares Theatre Company in the Northwest Campus Auditorium.
During Friday's presentation, the panelists discussed challenges they faced as Asian-Americans in the entertainment industry. They shared some of their own experiences, speaking on topics that ranged from the importance of developing a distinct voice to the pervasiveness of stereotypical characters.
Randall Park, one of the panelists who has starred in projects like "Fresh Off the Boat" and "The Interview," founded LCC Theatre Company with two other alumni 21 years ago. Park and the other founders created the company with the goal of changing representation in the media by encouraging Asian-American students to participate in all aspects of the creative process, including writing, directing, producing and acting, said LCC Theatre Company producer and third-year global studies student Cameron Coulter.
"Media representation is an incredibly problematic, incredibly influential thing," Coulter said. "To some degree it reflects reality, but to a larger degree, it creates reality."
Members began planning the event in May 2016, said LCC Theatre Company producer and fourth-year statistics student James Gao. Producers tried to create a diverse and dynamic panel by including panelists from different parts of the entertainment industry, including film, television, acting, production, drama, comedy and art.
The main reason the alumni wanted to come back for the panel was because of the impact the company had on their college experiences and careers, said panelist Stan Pham, manager of current programming at ABC Studios.
Pham encountered LCC Theatre Company completely by chance while studying at UCLA when he happened to see one of the company's shows. Pham remembers watching Park appear as the leading man in a romantic comedy scene.
"You would have never seen that in a film or TV show 10 years ago, even five years ago," Pham said. "To see a person who looked like me do that was just mind-blowing."
Actor and panelist Leonard Wu remembers LCC Theatre Company as a place that crafts Asian-centered stories and leading roles that were missing for Asian-Americans.
"There weren't a whole lot of opportunities for us to be seen on screen, on television; even in the theater department, Asians were nonexistent," Wu said. "It was a great venue for us to explore these arts and also a venue in which we could talk about what it's like growing up American and being Asian in this country."
Park spoke on the limitations of parts made available to him.
"There was a time when I was like, 'I just want to do roles that were written for white people,'" Park said during the panel. "As an Asian actor, I don't want race to be a factor, but now it's like, I'm so glad race is a factor. … These things that I thought were really holding me back were really a part of who I am."
Panelists also discussed the fine line between stereotypical Asian characters and characters that reflect Asian identities, using Wu's role in the TV series "Marco Polo" as an example. Park and Wu agreed that while Wu's character did perform martial arts, arguably a stereotypical Asian trait, he was defined by much more than just his physical abilities.
"What I think we want to see as a community is three-dimensional, fully fleshed-out characters," Wu said. "We want to know more about a person as a human being."
Dinh emphasized the importance of supporting other Asian-American artists in the entertainment industry in his panel answers. He suggested that for every mainstream blockbuster they go to see, Asian-Americans should make sure to also purchase or support a piece of art by a fellow Asian-American.
Pham's panel discussion centered on the importance of increasing the number of Asian-Americans working behind the scenes and crafting stories.
"If we have more people go into the industry as assistants in the background – as crew members – and working their way up, when the opportunity comes, you're in the room where those decisions are made," Pham said.
The panel was well-received by audience members, who snapped when they liked a particular answer, clapped after every panelist spoke and laughed throughout.
First-year film, television and digital media student Ashley Rous attended because she was a fan of Dinh and Park, and because she has a strong passion for diversity, she said. Philosophy alumnus Christian Lee was impressed by the panel because of the significance of the speakers and their achievements for the Asian-American community.
"These people are truly making history in that they're the first in the mainstream," Lee said. "To hear their point of view on what the industry is like was really interesting and important to me."
Panelists offered students a variety of advice throughout the night, but it was author and artist Yumi Sakugawa's words of wisdom that drew the most positive reactions.
"Instead of having to conform to the industry's expectations, have the industry to conform to you," Sakugawa said. "And as much as it sounds impossible, if you believe in it, the world will adjust to you accordingly."