Graduate student animated about pushing envelope with cartoons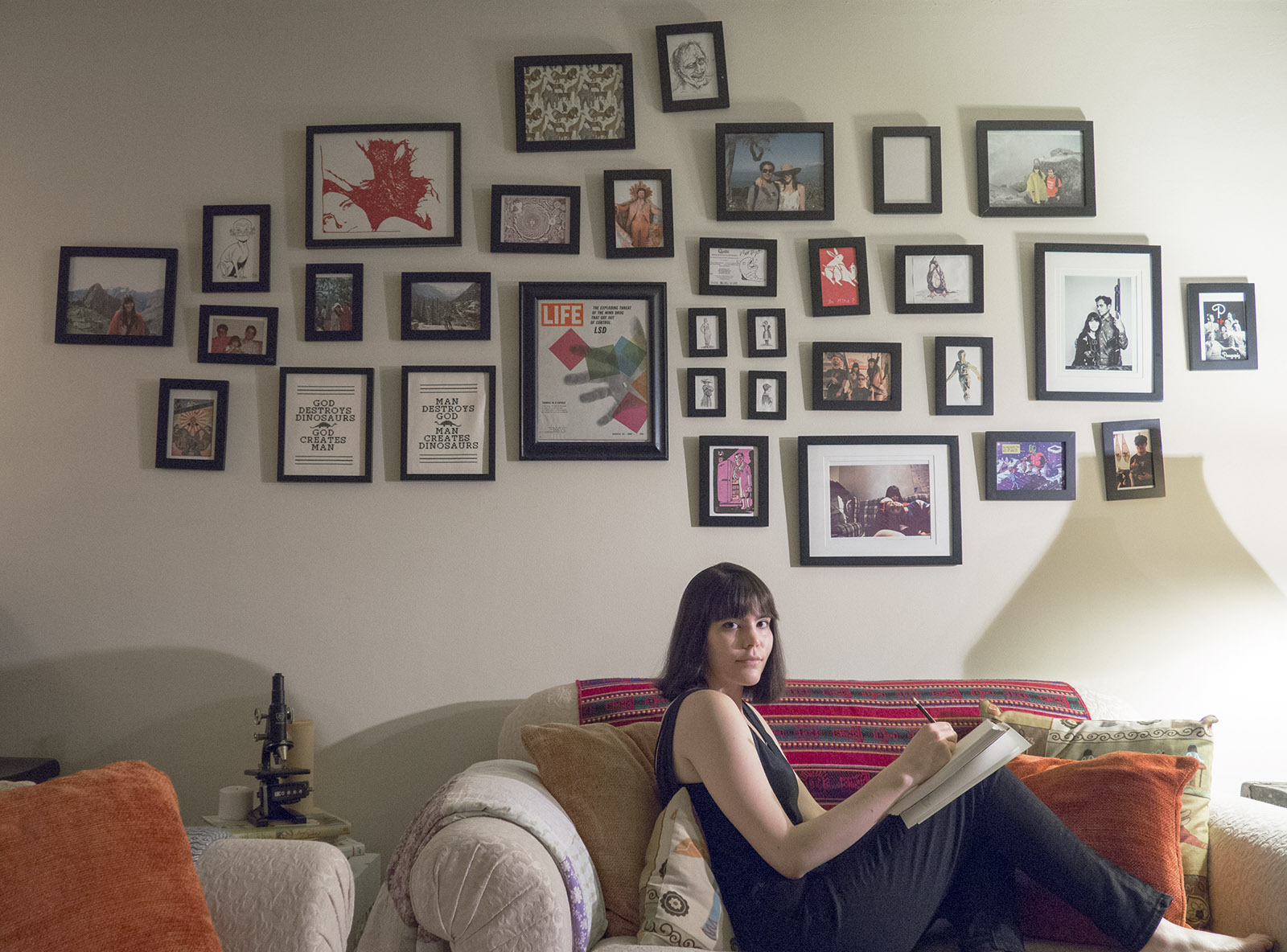 Tyler Rice released her animated short at NewFilmmakers Los Angeles. The four-minute short details the story of two men who get the munchies from marijuana, order tacos and experience paranormal activity. (Pinkie Su/Daily Bruin)
Correction: The original version of this article incorrectly stated Sam Grinberg helped draw boards with Tyler Rice. In fact, Grinberg only provided feedback.
Tyler Rice turned a late night craving for tacos into a surreal experience.
The graduate animation student screened her original animated short "Taco Terror" at NewFilmmakers Los Angeles on Saturday. The film follows two men who get the munchies from marijuana, order tacos and proceed to witness some paranormal sights, all in the span of four minutes.
[Related: Graduate student's film earns best animation at Shorttakes festival]
Rice came up with the concept for "Taco Terror" during her undergraduate studies at the University of Texas at Austin. Influenced by childhood cartoons and her lifelong passion for storytelling, Rice created characters and settings that bring the medium into the adult world.
"It was kind of the vibe in Austin – a bunch of stoner guys walking around, looking for food," she said. "I always just imagined, what would happen if the world started to end around them?"
Rice spent months animating to make her film come to life after storyboarding each scene, pairing her writing with images drawn in Photoshop and incorporating classmates' feedback. The process of drawing, revising and animating took a year, beginning August 2014.
Experimenting with dark humor and unconventional storylines came naturally to Rice as a kid. At age seven, Rice watched cartoons like "Rocko's Modern Life" and "Beavis and Butt-Head," which shaped her childhood and inspired her interest in animation.
"If there was something live-action on TV, I didn't want to watch it – I only wanted to watch cartoons," she said.
Rice first began storytelling by creating elaborate narrative arcs with her toys at the age of 5. She staged scenes drawn from her imagination, re-enacting stories like Dante Alighieri's "Inferno" with naked Barbie dolls.
Animators like "The Ren & Stimpy Show" creator John Kricfalusi inspired Rice to experiment with adult subjects and humor, she said. She added he pushed the boundaries of what children's cartoons could achieve by manipulating older animation techniques seen in shows like "Looney Tunes" into more absurd characters and settings.
"He was able to do some really perverted stuff in children's animation," she said. "Stuff that probably wouldn't make it on TV today."
Rice imbeds her work with the same dark humor, a quality she said she was born with.
Rice entered college at the University of Texas at Austin in 2006 as a film major but switched to animation her last semester. Rice chose to express her humor through animation because live-action filming was more constrictive, requiring specific backgrounds and actors. Animation allowed her to create her own worlds and figure out where to place the camera in those worlds, she said.
[Related: Let's Animate: Bruin Animated revises goals for 3-D film to focus on modeling scenes]
In the "one person, one film" curriculum of UCLA's animation department, students create one original film every year, which prompted Rice to create "Taco Terror" as her second-year film. The freedom students have with their films allowed Rice to explore the art form on her own, she said.
"She has a very interesting and distinct sense of humor," said Rice's collaborator and former classmate, Sam Grinberg. "It translates really nicely to animation."
In addition to lending his voice to one of the characters in "Taco Terror," Grinberg offered feedback to Rice on her hand drawn storyboards, he said.
Animation professor Celia Mercer oversees the graduate animation program and served as an advisor to Rice for "Taco Terror." The philosophy of the program is to give students ownership of their own films and responsibility for their content, she said.
"With animation, the only thing that limits you is your imagination and exhaustion," Mercer said.
Since completing "Taco Terror" in 2015, Rice wants to continue to explore the possibilities of adult animation. With the boom of shows like "Family Guy" and "Archer," she believes the genre will continue to grow and expand, she said.
"With animation, we still have this idea that we have to have it sanitized for children, and I love adult animation," she said. "They always push it and try to take it somewhere crazy."
Xu is a senior staff reporter for the Arts and Entertainment section. She was previously the assistant editor for the Lifestyle beat of Arts.
Xu is a senior staff reporter for the Arts and Entertainment section. She was previously the assistant editor for the Lifestyle beat of Arts.