Hear This Not That: Taylor Swift's 'Fearless' shows promise, 'Red' launches her to stardom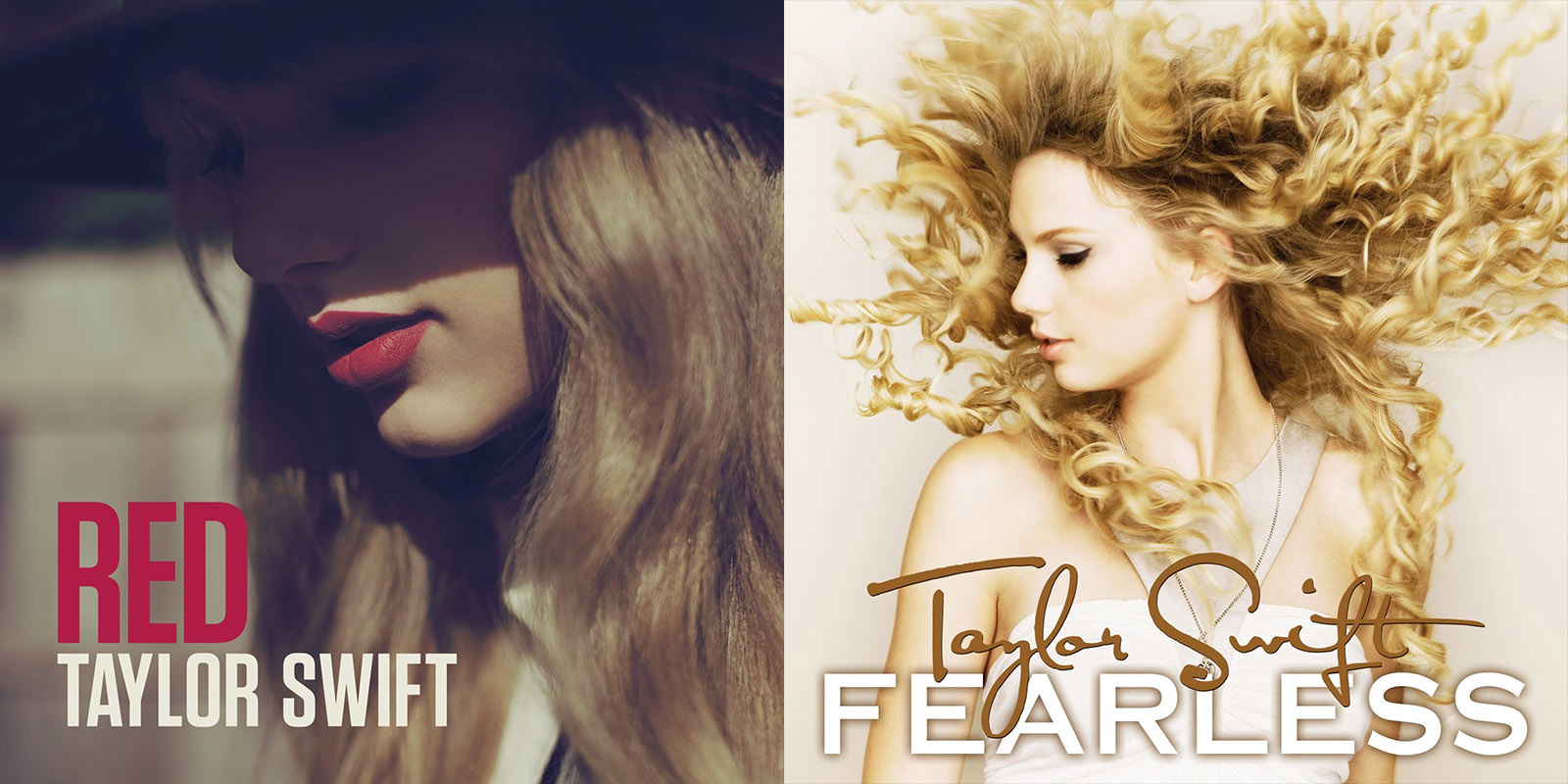 Taylor Swift's 2008 album "Fearless" (right) foreshadowers her rise as a soon-to-be pop star, whereas her 2012 album "Red" (left) shows off catchy choruses that prove Swift was already on her way toward her true pop sound on 2014's "1989." (Big Machine Records)
Music fans can find it hard to decide which albums to stream and which to skip, considering the surplus of new music released. Each week, A&E columnist Sean Lee will compare two albums and recommend which one students should listen to. For The Daily Bruin A&E's Taylor Swift issue, Lee compares the charisma of Swift's album "Fearless" with that of "Red."
If there is one thing that has sustained Taylor Swift's decade-spanning career, it is her ability to musically reinvent herself to coincide with pop's constantly changing sonic landscape.
At first, she was just another teenage girl trying to break into the already-crowded acoustic singer-songwriter genre. Her first studio album, the eponymous "Taylor Swift" released in 2006 seemed almost indistinguishable from the works of other early '00s female songwriters with girl–next-door charm, like Ingrid Michaelson and Fiona Apple.
However, it was the release of two of her following albums, "Fearless" from 2008 and "Red" from 2012, that propelled Swift from the parochial realm of country songwriter to the lavish world of superstardom. Both albums musically reinvented Swift at the time of each of their respective releases. But "Fearless" presented a singer- songwriter who could write pop hits, while "Red" proved that the country artist actually possessed the dazzle to fully embody a pop icon.
[Last week: The Game's '1992' versus Gucci Mane's 'Woptober']
The namesake track from "Fearless" does not stray far from Swift's small-town roots, beginning with an accented snare drum and acoustic guitar picking typical in modern country tracks. The song's verses follow the genre's storytelling tradition, musically painting an image of two young lovers simply riding in a car. But Swift's infectious chorus, "And I don't know how it gets better than this / You take my hand and drag me head first / Fearless" foreshadows her future career path, veering away from country clichés toward radio-friendly pop filled with accessible melodies.
The rest of the album carries on with the juxtaposition of country motifs and glimpses of pop gold. Songs like "Love Story" and "You Belong with Me" continue to showcase Swift's storytelling lyricism paired with choruses ready to be sung in stadiums. Even the slower, balladic "White Horse" manages to couple confessional lyrics – "Maybe I was naïve / Got lost in your eyes" – with a catchy chorus begging for audiences to pull out their cellphones and wave them in the sky.
But within the arena-ready power ballads of "Fearless," Swift's overall vocal ability seems unable to size up to the enormity of her songs. Her delivery on the lyrics, "It's a revolution!" on the song "Change" seems like more of a polite question asked by a timid teen rather than a call to arms proclaimed by a star.
Whereas "Fearless" showcases a country singer with a knack for pop choruses, "Red" marks the start of a transformed Swift, a celebrity whose confidence and persona is undeniably as big as the hits she crafts herself.
Album opener "State of Grace" hits hard, foregoing the sensitive acoustic guitar for electric arpeggios and pulsating drum beats. Swift sings, "Love is a ruthless game" with a newfound maturity and confidence in her voice that was lacking on the confessional songs of "Fearless."
On the country-tinged track "Treacherous," Swift wipes away the teardrops on her guitar and instead adamantly proclaims, "This slope is treacherous / And I like it." The newfound taste for danger and unapologetic expression of self-empowerment on "Red" are qualities that "Fearless" shies away from altogether.
Swift's newfound edginess is epitomized on the track "I Knew You Were Trouble," where Swift's pop sensibilities are finally fully formed and club-ready with dubstep bass drops and fervent "oh" vocalizations replacing the guitar-centric choruses of "Fearless."
Whereas a "Fearless" era Swift would cry for days over a breakup and write herself a hit, the new Swift on "Red" finds lyricism in the excitement of the unexpected world of single adulthood — a perspective that Swift continues to sing about on newer tracks like "Bad Blood" and "Blank Space."
Listen to "Fearless" for a look into a promising songwriter about to make it big. Listen to "Red" to see her ready to take center stage.