UCLA alumnae defy racial archetype as Elsa in 'Frozen – Live'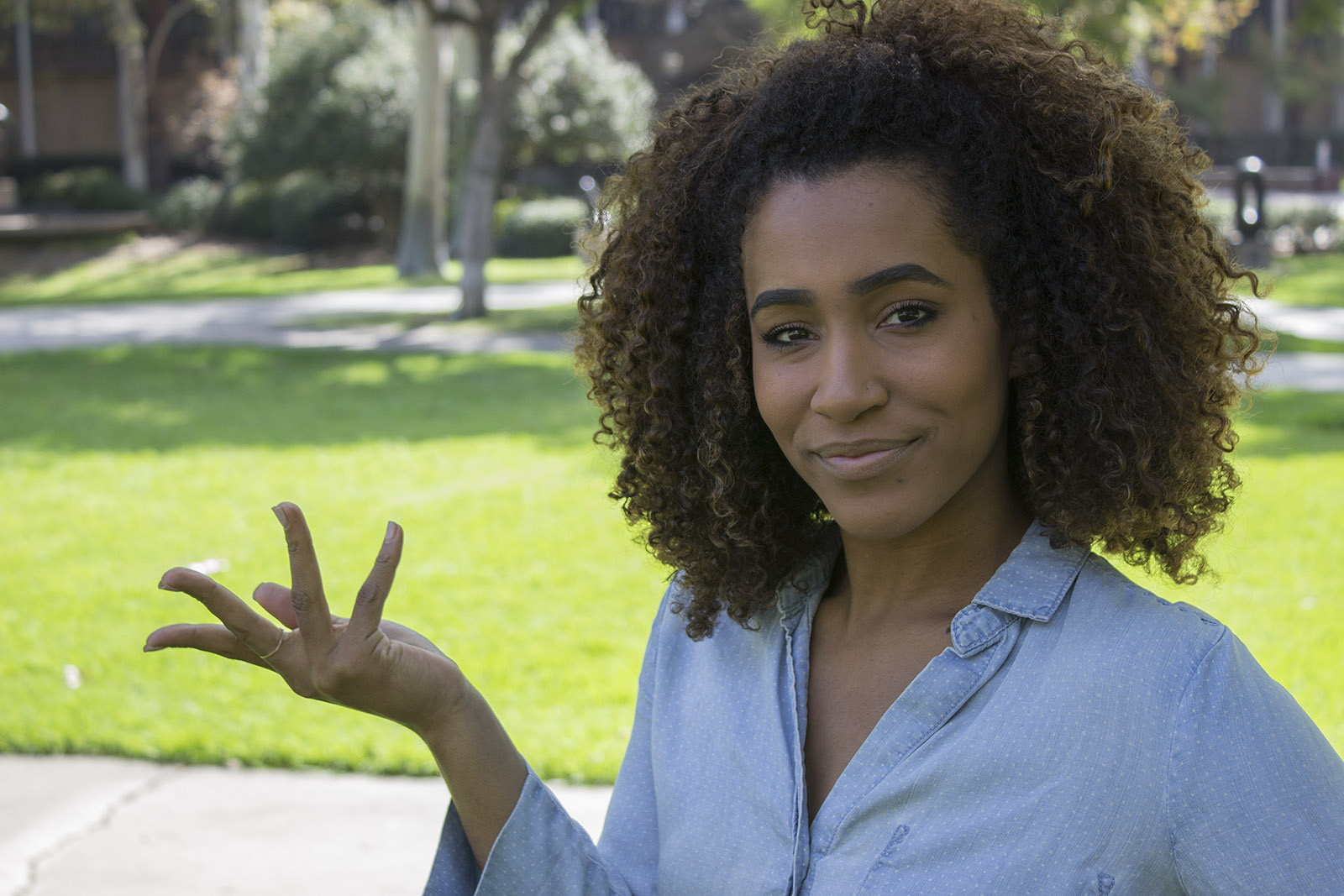 Tiana Okoye (pictured) plays the role of the snow queen Elsa in "Frozen – Live at the Hyperion" at Disney California Adventure. The 2013 theater, film and television alumna is the first black actress to play the role in the live action production based on the original 2013 animated film. Okoye has also performed as the title role in "Carrie" at the Hollywood Bowl. (Alyssa Dorn/Daily Bruin)
Nine UCLA alumni joined the cast of "Frozen – Live at the Hyperion," performing as Elsa, Olaf, Hans, Kristoff or the ensemble. The live adaptation of the 2013 Disney animated film "Frozen" currently plays three times a day at Disney California Adventure after opening in May. Each week, the Daily Bruin will share alumni's experiences working at the Happiest Place on Earth.
Kailyn Dunkelman and Tiana Okoye never thought they would go blond. But they never imagined they would portray the queen of Arendelle either.
The Theater, Film and Television alumnae both play Elsa in "Frozen – Live at the Hyperion" at Disney California Adventure. The snow queen in the original animated "Frozen" film was of Nordic descent, but Dunkelman and Okoye are the first Asian-American and black actresses, respectively, to portray Elsa in a professional live theater production.
While their natural skin shows through, Dunkelman and Okoye wear blond braided wigs to assume the role of the snow queen. Each wig is a slightly different shade of blond, custom matched to complement the skin color of the performer portraying Elsa, Dunkelman said.
"Once I put that blond wig on I kind of become a different person," Dunkelman said. "Honestly I don't think people recognize me when I have all the makeup and the wig and when I come out with my brown curly hair."
Okoye was among the first to be cast in the role of Elsa during the 2015 casting call, but her initial forays with Disney several years earlier did not go quite so smoothly. As an 18-year-old, she was turned down after auditioning for the title role in "Tiana's Showboat Jubilee" for not looking the part of the New Orleans princess, she said.
"I guess I have lighter skin and I might not be as thin as Tiana and my eyes aren't as round," Okoye said. "But it's so funny because today I'm playing Elsa, a role I definitely never imagined I'd be playing."
[Related: UCLA alumnus shines as villainous Hans in Disney's 'Frozen – Live']
Elsa is not the first role Okoye originated as an actress of color, the 2013 alumna said. In summer 2015, she was cast in a professional production of "Carrie" at the Hollywood Bowl as the first black woman in the title role typically written as a blue-eyed, blond actress.
But for Dunkelman, a more recent 2015 graduate, Elsa is among her first professional lead roles. Dunkelman grew up in Anaheim, California, watching the live "Aladdin" show at the Hyperion with her family, sometimes seeing the show twice in one day, she said. She always aspired to perform in the show after graduating with a degree in musical theater, she said.
Dunkelman feared her Disney dreams might never come true when the curtain closed on the live action "Aladdin" in 2015 after its 13-year run at the theme park, she said.
"When I heard 'Frozen' was going to be the show, I didn't think I looked enough like the animated characters," Dunkelman said. "I thought Disney would cast based on what the characters looked like."
Identifying as half Japanese and half Caucasian, Dunkelman said her mixed race has sometimes made it difficult for her to brand herself while working in professional theater.
"A lot of people identify so much with their ethnicity, and because I'm both Caucasian and Asian, it's hard to pinpoint me in certain roles," Dunkelman said. "Even though I feel like I can bring a lot to the character, if they're imagining it different, it doesn't really matter what I bring to the table."
But the "Frozen – Live" cast represents performers of many backgrounds, including actors of Korean, Filipino, Hispanic and American Indian descent, Okoye said. Tony-nominated director Liesl Tommy was more interested in staying true to the heart of the story rather than the appearances of the original animated characters, Dunkelman said.
"The 'Frozen' story doesn't really have an ethnic stamp on it," Dunkelman said. "It is a story about family, and so I feel like adding that element of diversity just allows a lot more people to relate to the story."
The most important quality for playing Elsa is not the performer's appearance, but the ability to bring depth and personality to the character and pull off the iconic song "Let it Go," said "Frozen – Live" casting director Michael Donovan. After the Theater, Film and Television lecturer worked with Dunkelman and Okoye in his fourth-year acting class at UCLA, Donovan invited both women to audition live for the part of Elsa.
"We needed girls who really had super powerhouse voices who could have that kind of strength to do it over and over and over again," Donovan said. "Both these girls do."
Donovan and Tommy initially worried about whether Disney's producers would be on board with the idea of casting actors who did not match Elsa's animated rendering, he said. However, his worries were ultimately unfounded.
"I wasn't sure they were going to go for this because the cartoon character is so much in everyone's heads about what the character looks like," he said. "But there was really no resistance."
[Read more: Alumnae take the stage at Disney California Adventure]
Okoye and Dunkelman are able to better capture Elsa's experience of being an outsider because they too are in the minority as actors of color, said Judith Moreland, an adjunct associate professor of Theater, Film and Television who worked with both alumnae in her second-year acting class. Moreland, an actress of color herself, said she thinks they bring more depth to the part because they understand Elsa's journey on a personal level.
As recently as 10 years ago, Dunkelman and Okoye would probably not have been considered for the role of Elsa, Moreland said. Live theater is leading the way in breaking down diversity barriers in show business, with more diverse actors originating roles in recent hit musicals like "Hamilton" on Broadway and now in "Frozen – Live" at the Hyperion, Moreland said.
Okoye feels responsible for helping all young audience members see themselves reflected in her performance as an actress of color portraying Elsa, she said. Her favorite part of the show is looking out into the audience and seeing the smiling faces of the kids who are so excited to see their favorite Disney characters come to life, she said.
"They believe that I'm Elsa," Okoye said. "They believe that Anna is my sister, even if we don't look exactly the same."
Dunkelman's younger viewers are her biggest motivators when performing the role of Elsa, she said. Dunkelman once saw two Asian girls side by side dressed as Anna and Elsa while walking through Disneyland, she said.
As a story of sisterhood and family love, "Frozen – Live" is a universal tale meant to be accessible to all, not just an archetypal few, Okoye said.
"We have to remember we're telling stories of people," Okoye said. "It's really important for kids watching these performances to see themselves up there."
McCormick was the 2017-2018 Digital Managing Editor for the Daily Bruin. She was previously an assistant editor of the A&E section, overseeing the Music | Arts beat.
McCormick was the 2017-2018 Digital Managing Editor for the Daily Bruin. She was previously an assistant editor of the A&E section, overseeing the Music | Arts beat.