Two UCLA alumni headline as Kristoff in live production of 'Frozen'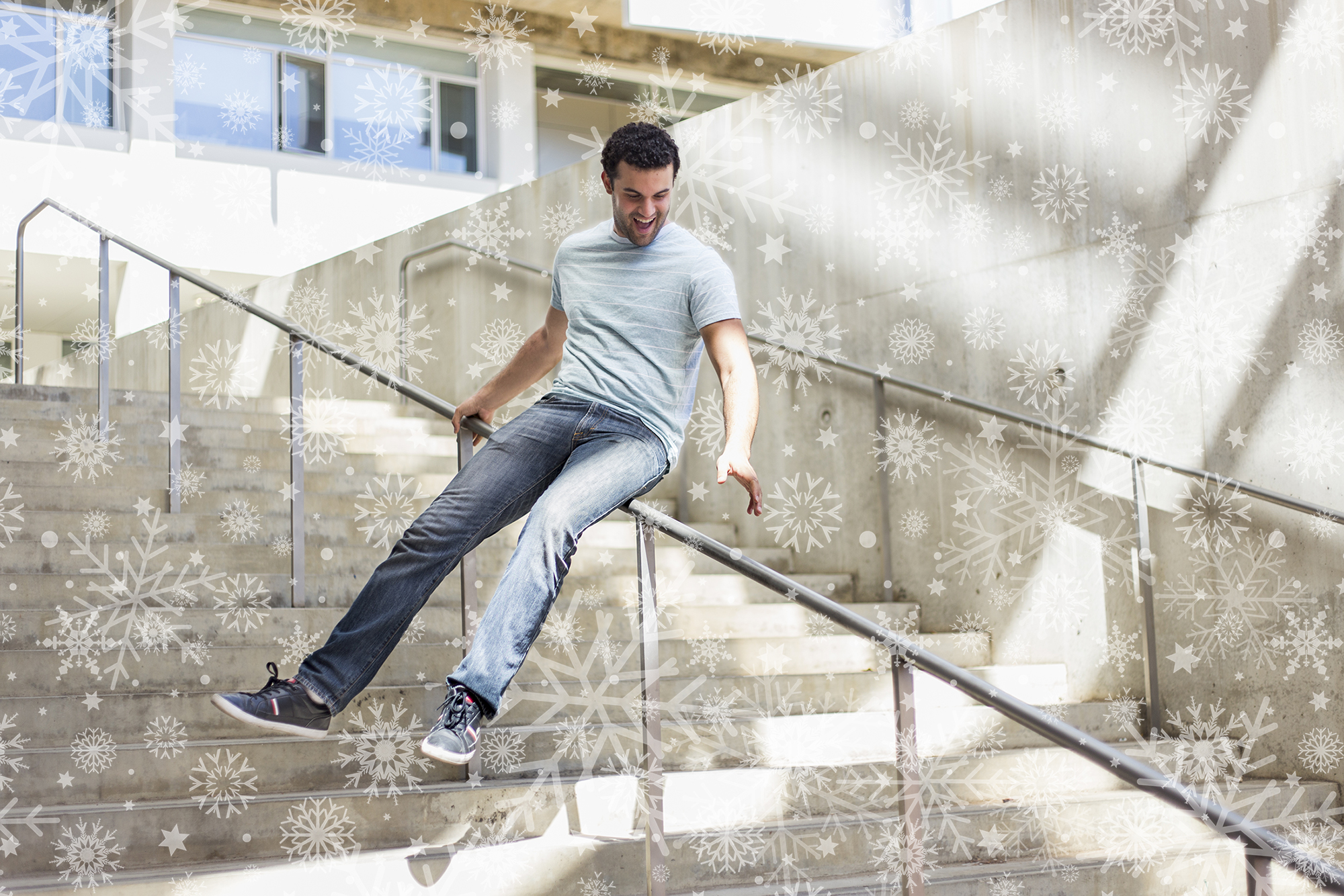 Alum Travis Leland had never seen the movie "Frozen" before he auditioned for "Frozen – Live at the Hyperion" at Disney California Adventure earlier this year. (Jennifer Hu and Harish Balasubramani/Daily Bruin)
Nine UCLA alumni joined the cast of "Frozen – Live at the Hyperion," performing as Elsa, Olaf, Hans, Kristoff or the ensemble. The live adaptation of the 2013 Disney animated film "Frozen" currently plays three times a day at Disney California Adventure after opening in May. Each week, the Daily Bruin will share alumni's experiences working at the Happiest Place on Earth.
A science alumnus auditioned for the ensemble and a theater alumnus had never seen the movie. Yet both were cast as the lovable ice harvester Kristoff in "Frozen."
Christopher Culberson and Travis Leland are now two of six actors playing the lead male in Disney's live musical theater version of "Frozen." For each principal role, Disney cast six actors who rotate each performance since "Frozen – Live at the Hyperion" runs every day. Actors not only interpret their own characters, but must also react to other characters' choices on short notice.
[Throwback: Alumnae take the stage in 'Frozen' production at California Adventure]
Culberson studied atmospheric and oceanic sciences at UCLA, but pursued acting after graduation.
"I was going to just quit the arts cold turkey," Culberson said. "At one point my mom said to me, 'Chris, one day you have to decide whether you want to be an astronaut or play one on TV.'"
He auditioned for the ensemble of "Frozen" in early 2016. At the third callback, director Liesl Tommy decided she would rather have Culberson try for the lead male character Kristoff, and suddenly he was auditioning the very next day.
Leland didn't even see the film until after he was cast as Kristoff.
Though he was familiar with the music, Leland said he isn't in the target audience demographic for Disney's animated "Frozen."
"I didn't know the story," Leland said. "When people would tell me like, 'Oh what role are you going in for?' I'm like, 'Kristoff, I don't even really know who that is.'"
After his callbacks, during which he accompanied himself on guitar and improvised a Thomas Wade song, he figured he'd better see the film. Leland bought the DVD from Amoeba Music in Hollywood before rehearsals began and forced himself to watch. He ended up enjoying the story about sisterly love.
The two actors joined four others to play the blonde, rugged love interest, Kristoff, and they each inevitably made the character their own.
Actors were welcome to bring their own personalities and takes on the characters, Culberson said. Reindeer pal Sven licks Kristoff's face during the song "Reindeer(s) Are Better Than People," and some Kristoff actors react positively and kiss him right back. Culberson chooses to cringe in disgust.
"We're still best friends with Sven, but the specifics of our day-to-day relationship are very different depending on who is doing it," Culberson said.
No matter what choices the Kristoff actors make, Armando Yearwood, who plays Sven, treats them all loyally – like best friends, in fact.
"It's always interesting when you come to work to see what combination of actors you're going to get – who is going to be my Kristoff, my Anna, my Elsa," Yearwood said. "The show is always kind of different because the Kristoff is a different actor."
[Read more: UCLA alum Kevin Doherty puppeteers Olaf in live 'Frozen' production]
Each Kristoff has his own beats, timing and way of ad-libbing when they crash the sleigh and fly 30 feet above the stage, or when they sing "Reindeer(s) Are Better Than People." During one line, "Don't let the frostbite bite," Yearwood bites playfully and some Kristoffs decide to move away from Sven.
Culberson generally has a calm and subtle demeanor, Yearwood said.
The actors sometimes choose not to follow another actor's choices, Leland said. He tries to keep his portrayal aligned with the original blocking, following what the director intended, he said. Leland believes Tommy's goal was to elevate the show beyond a typical theme park performance and slapstick humor.
"You don't have to try too hard to make things different," Leland said. "Everybody has such different personalities that they kind of come through."
Kristoff also must interact with alternating Anna actresses, which keeps the freshness alive for Culberson because it's a new take during each show.
Kristoff's relationship with Anna is challenging to depict, because they have to pack acts of love into each second to convey the quick love story since "Frozen – Live at the Hyperion" is half an hour shorter than the movie. The pair makes up for the lack of time with simple actions like touching arms or giving each other a look in the middle of Olaf's snowman fantasy.
"It's also challenging because sometimes you forget that the person doesn't give you this look at this moment," he said. "You go for it, and then they're not there."
Leland said it's not necessarily a goal to make his version of Kristoff stand out, but it happens naturally among a group of six actors.
"If you watch any of the Annas or any of the Kristoffs, you're going to get entirely different performances every time you see it because of the different people," Culberson said.
Weinberg is the prime content editor. She was previously the A&E editor and the assistant A&E editor for the lifestyle beat.
Weinberg is the prime content editor. She was previously the A&E editor and the assistant A&E editor for the lifestyle beat.