Photographer Nolan Isozaki inspired by the pretty and the gritty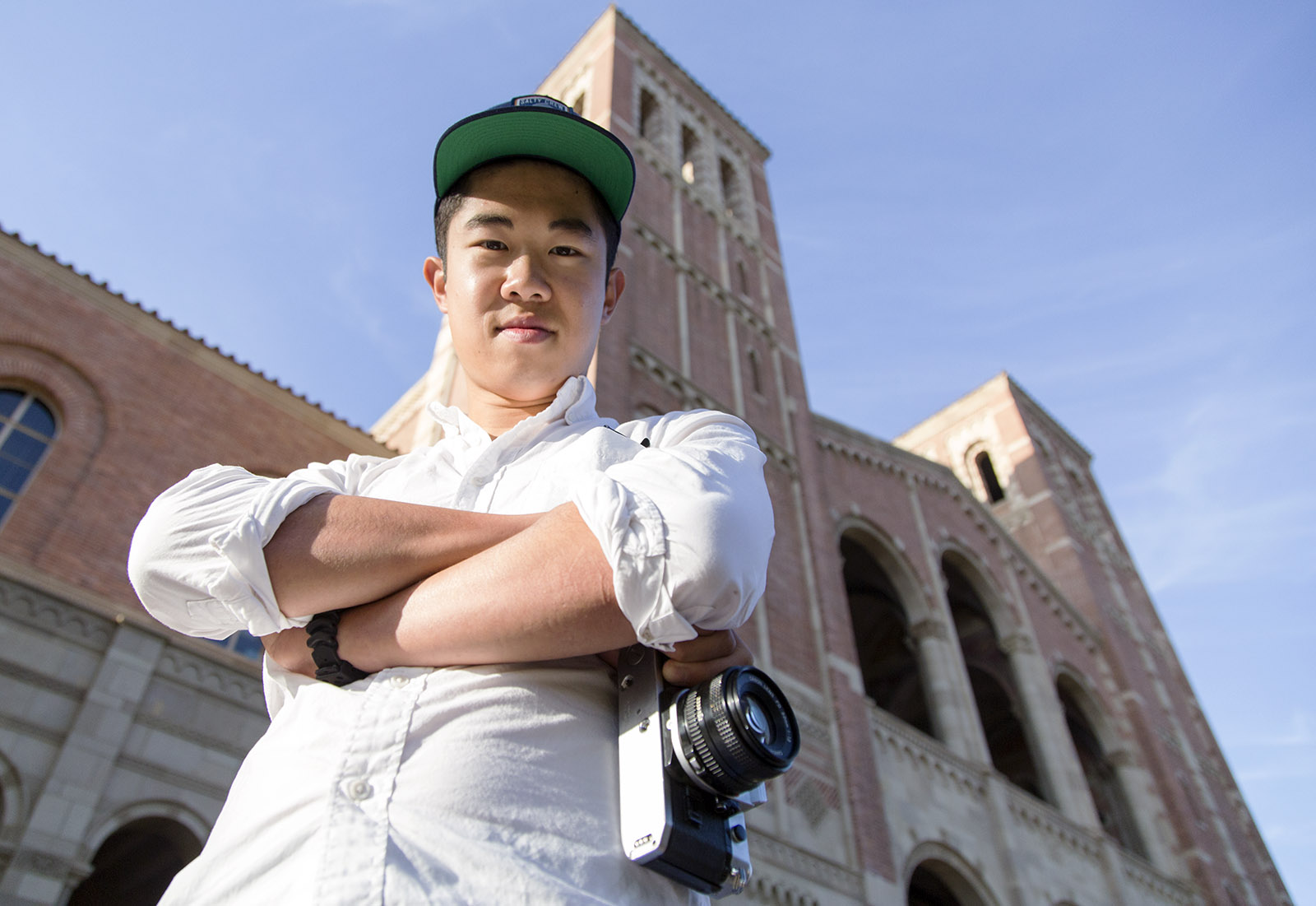 Fourth-year English student Nolan Isozaki bought a Fuji Film X20 camera and began shooting street photography of random encounters with people. (Owen Emerson/Daily Bruin senior staff)
Nolan Isozaki clung to the side of a mountain, watching stones dislodged by his backpack tumble down 14,000 feet to the ground. Freezing wind whipped around him as the sun's light faded over the Rocky Mountains, muffling the warning shouts of his friends in the valley below.
Isozaki clasped his Fujifilm X20 camera with frozen fingers, determined to capture on film what he thought would be his last moments.
The fourth-year English student survived the near-death experience during a hiking trip with friends in the summer of 2015 and continues photographing his adventures both in nature and on the streets of Los Angeles. Isozaki's background in street photography has allowed him to explore adventure and fashion photography since coming to UCLA and after graduation.
Isozaki first began photographing in a high school class in San Francisco and soon after coming to UCLA bought his first camera, the Fujifilm X20. Isozaki said Richard Avedon's blend of fashion and street photography in Vogue magazine inspired him to pursue street photography himself.
Street photography records people interacting with their natural environments, so Isozaki said he photographed friends in museums like The Broad and in downtown Los Angeles.
Isozaki joined Flickr, an online forum for sharing and discussing photography, to teach himself basic photography skills, he said. But his photography soon became less about observing rules of composition and more about subconsciously capturing moments while getting coffee with friends or exploring hidden parts of campus.
"Art is learning all the rules and learning which ones to break," he said.
Isozaki began to photograph scenes beyond city streets, documenting UCLA's triathlon team. Since joining the team his freshman year, Isozaki said being a part of the group and photographing its training sessions provided a natural transition to adventure photography.
"I like detailing the training stuff that people usually don't see," Isozaki said. "Like the backroom in triathlon – the suffering is what fascinated me."
Isozaki began to experiment with landscape photography because of his friend and fellow photographer Blake Simpson. Simpson, a third-year civil engineering student, said Isozaki developed quick thinking by spontaneously photographing candid moments with friends at parties or on campus, capturing moments and telling stories through his photos.
On a backpacking trip through Sequoia National Park in January, Simpson said he struggled to snowshoe through the thick snowbanks, but Isozaki ran up the mountain ahead with camera in hand, trekking through the snow and photographing their journey.
"He just has passion for the adventure," Simpson said. "He'll do things most people wouldn't do, but he'll do it because he wants to tell the story."
Isozaki tries to show a subject's spirit, getting to know someone's story and then capturing it in a photo, Simpson said.
Isozaki said he photographed Fashion and Student Trends' fashion show on campus in May, since fashion initially drew him to photography.
Models striding down the runway to a mixture of techno music create a lively atmosphere similar to street photography, Isozaki said.
Isozaki's photography is distinguished by his curiosity and willingness to explore, said Adam DeBrosse, a fourth-year economics student and former member of the triathlon team. DeBrosse said Isozaki's photos chronicle the intersection of his interests in fashion, the outdoors and music.
"The essence of photography is putting yourself in the right place, taking advantage of the opportunities that you're in to take a photo," DeBrosse said. "(Isozaki) is really opportunistic; he just lives a life that is colorful and takes a camera (along) with him."
After graduating, Isozaki said he wants to pursue photography as a career, working in fashion before hoping to ultimately shoot for National Geographic. He said his background in street photography allows him to capture spontaneous moments, tell stories in his adventure photography and will help him experiment more with fashion photography in the future.
"(Fashion photography) is kind of more sterile, but it is very dynamic because I'm bringing my adventure photography into this," Isozaki said.