Love | Hate: Is the all-female 'Ocean's Eleven' a stepping stone or unoriginal remake?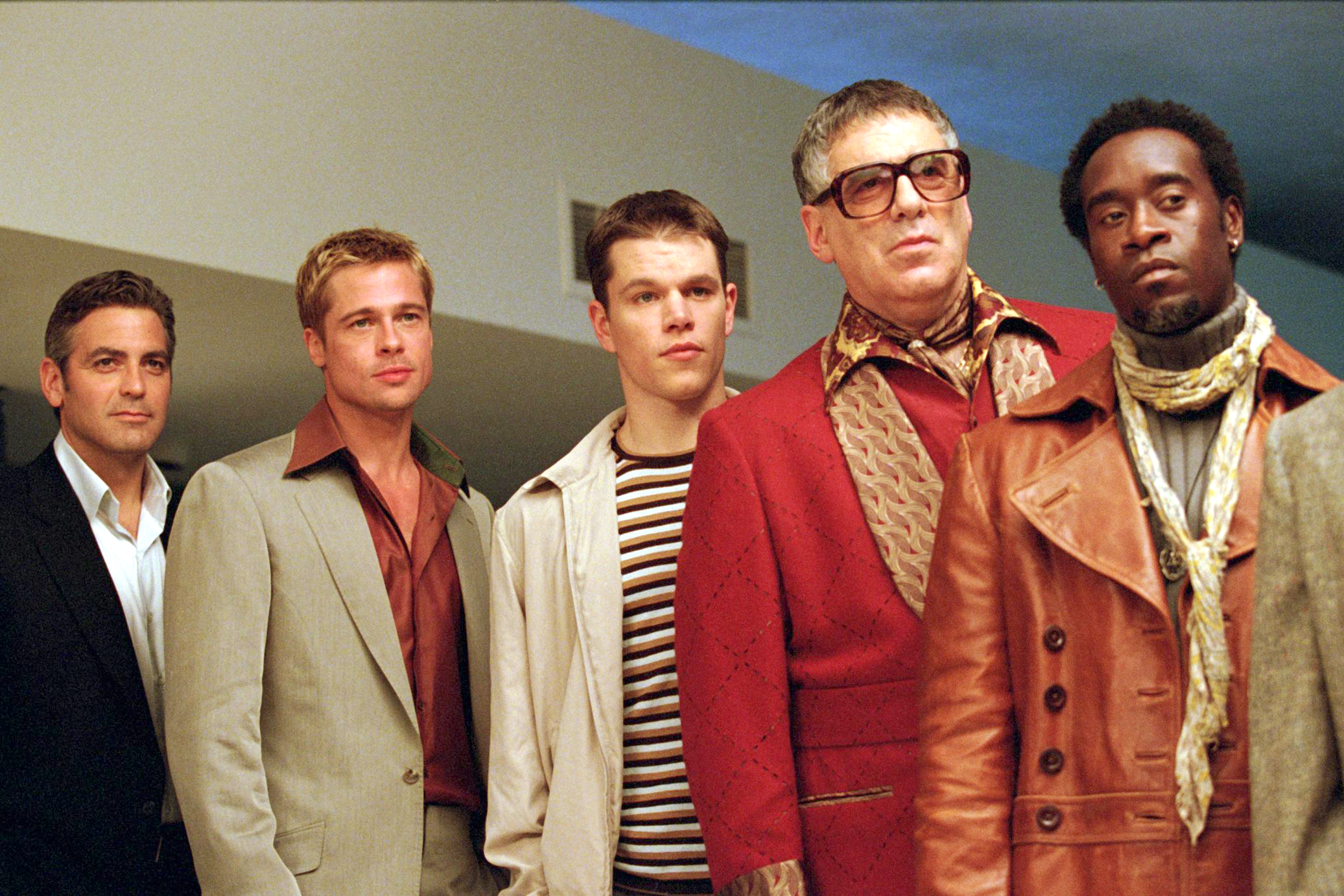 The 2001 remake of "Ocean's Eleven" featured George Clooney as Danny Ocean (far left), Brad Pitt as Rusty Ryan (middle left), Matt Damon as Linus Caldwell (middle right) and Elliot Gould as Reuben Tishkoff (far right). (Courtesy of Pixar Animation Studios)
"Ocean's" films has always boasted an A-list cast. In the 1960 film, Frank Sinatra, as Danny Ocean, led his squad of Dean Martin and Sammy Davis, Jr,. In 2001, George Clooney's Danny Ocean headed a team of Brad Pitt and Matt Damon.
It seems only a matter of time before all-star female-led heist caper hits the big screen, with rumors circulating about Jennifer Lawrence joining Sandra Bullock in the upcoming all-female "Ocean's Eleven" reboot.
But is the "Ocean's Eleven" reboot a catalyst for greater change for women, or is it an unoriginal adaptation of the1960 film that has already been remade? Daily Bruin senior staffers Gail Acosta and William Thorne debate the remake's value.
Love
Disney reboots are running amok: "Cinderella," "The Jungle Book" and "Pan" all in the last two years. I now cringe when I hear yet another announcement of a remake.
But an all-women "Ocean's Eleven"? Please, sign me up!
Films like "Ghostbusters" and "Ocean's Eleven" are getting much needed TLC featuring an all-female ensemble: a welcome break from testosterone fueled movies.
Today, iconic films led by an all-women cast are sorely missing. The list of predominantly male-led films is never-ending, boasting blockbuster films like "The Avengers" and "X-Men."
In comparison, the list of female-led films is sparse, with light-hearted movies like "Bridesmaids," "Pitch Perfect" and "Sex and the City." To add "Ocean's Eleven," a crime film, to that small list proves that talented women don't just belong in comedies. I would love to see the prowess of Sandra Bullock and potentially Jennifer Lawrence exercise her prowess in scheming a complex heist. I am, however, crossing my fingers for the "Ocean's Eleven" cast to feature women of color.
The "classic" status of "Ocean's Eleven" holds promise for greater exposure of women and their talents. Most importantly, the cast can leave a lasting and motivating impression on aspiring actresses to realize their full potential in the face of a male-dominated film industry.
Sure, a reboot is not necessary to feature a female cast; an original film would do. But that's beside the point: These women-led films have to be thought of as catalysts.
When a classic movie is remade to include an all-female cast, it is a sign of change, no matter how small. It is a signal of history being written to finally include women in the front seat, calling the shots.
An all-female cast might not solve larger industry issues like wage disparities and employment opportunities between sexes. These remakes, however, provide small but significant stepping stones to greater change.
– Gail Acosta
Hate
Watching "Ocean's Thirteen" is like going to Las Vegas. The sleaze and superficiality of both are so overwhelming, viewers come away needing a long, hard loofah scrub.
There is one particular scene in the film, in which Danny Ocean and his merry men are gathered in a Las Vegas hotel room to plot their heist, which grosses me out. Every time I watch it I swear I can make out sweat dripping from the walls as the hotbox, sausage fest proceeds with little interest.
After "Ocean's Thirteen" I thought I would never have to picture Danny Ocean's smug smile or Al Pacino's tangerine fake tan again. However, with the announcement of an all-female "Ocean's Eleven" remake led by Sandra Bullock and reportedly starring Jennifer Lawrence, I pictured "Ocean's Twelve" and Matt Damon's whining coupled with Brad Pitt's ceaseless munching popped into my head like a zit or an Adam Sandler performance.
Don't get me wrong, I have no problem with an all-female caper in a similar vein to the "Ocean's" movies. Female representation in lead roles in all film genres other than romantic comedies is embarrassingly low and the stigma against casting them in such roles was clear for all to see with the hate leveled at the "Ghostbusters" reboot trailer on YouTube. One top commenter remarked, "There have been natural disasters that had a better reception than this trailer."
But why remake "Ocean's Eleven?" Why retread tired, stale material that is itself already a remake of a 1960 Rat Pack movie?
I am disappointed no one is taking the initiative to create new, original material for female actors to star in. I would rather see an all-female heist movie that explores a different storyline and doesn't associate itself with a trilogy that was plainly lacking in strong female characters with agency.
The remake might be trying to make a point about how women can be just as successful as men in similar roles and that all-female casts can produce financial and critical hits, but it is going about it the wrong way.
For the acting scales to begin to balance in Hollywood, the clear talent and appeal of female leads would be demonstrated more excitingly and emphatically through a original, female-driven heist movie.
– William Thorne
Thorne is the prime director. He was previously the assistant A&E editor for the Theater | Film | Television beat.
Thorne is the prime director. He was previously the assistant A&E editor for the Theater | Film | Television beat.