Vegan Ventures: The Vegan Joint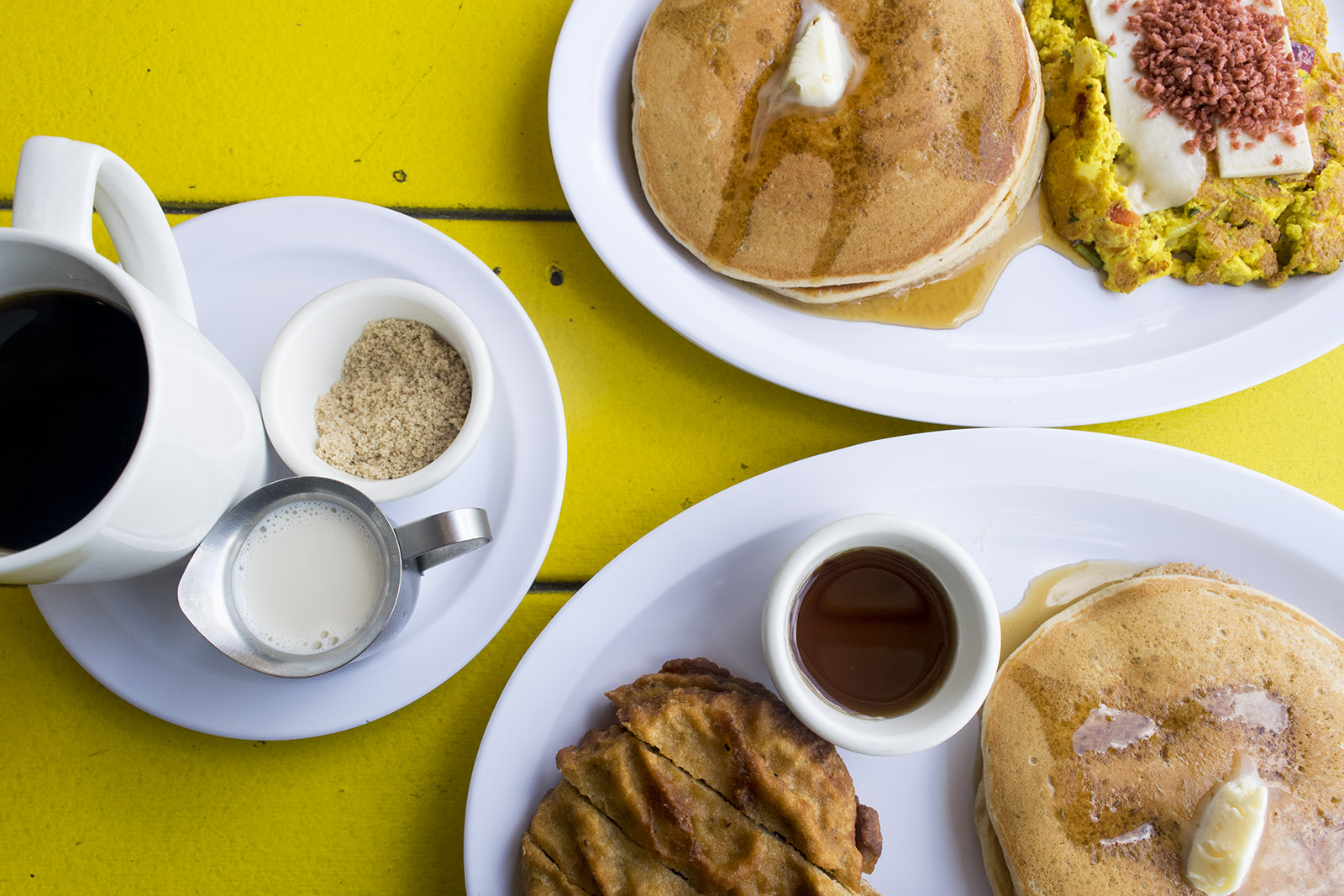 (Alejandra Reyes-Velarde/Daily Bruin senior staff)
To highlight the delicious perks of her vegan lifestyle, Daily Bruin staffer Alejandra Reyes-Velarde showcases 10 diverse vegan restaurants in the West Los Angeles area. She will be joined by Daily Bruin staffer William Thorne to bring a meat-eating perspective to vegan cuisine. They will alternate reviewing a restaurant each week.
My method for getting rid of a hangover in the United Kingdom is simple.
I go to the nearest pub or restaurant and ask for a bang-up, full English breakfast. After devouring two chunky sausages, two fatty bacon rashers, two fried eggs, some grilled mushrooms, two juicy tomatoes, a couple slices of toast, a pile of baked beans and maybe even some of the infamous black pudding, my hangover is miraculously no more.

So far, I have found that breakfast in America is one meal that doesn't quite pack as much of a cholesterol punch.

I once went to the International House of Pancakes – I still can't see what's international about it – and came out disappointed. Yes, a towering stack of pancakes lathered in maple syrup is filling, and yes I could have added a side of bacon and sausages, but it didn't provide with me with the grease feast of an English breakfast.

Since IHOP didn't satisfy me – I won't be trying Denny's anytime soon either – I had very low hopes that a vegan breakfast would do the trick.

As I set off on my most recent vegan venture, I had the perfect test for whether my upcoming breakfast would make the cut: I was nursing a hangover. Could a vegan breakfast rival a "good ol' English breakfast"? Would it cure my headache and purify my system in a similar meaty, greasy fashion?

The venue where the pivotal question to be answered was The Vegan Joint in West Los Angeles, a restaurant best known for its Asian-inspired dishes, which also serves breakfast burritos, omelettes and pancakes.

Alejandra and I sat at one of their yellow, wooden picnic tables in the glorious sunshine and ordered the pancakes with vegan chicken and the tofu scramble with pancakes.

The dishes could not have been further from a full English breakfast. Instead of a plate piled high with meat and fat, we were presented with an ensemble of two fluffy pancakes each, a neat stack of deep-fried soy chicken and a tofu mixture similar to an omelette.

The pancakes were deliciously fluffy and gained a pleasing, soggy texture when decadently lathered with maple syrup and creamy vegan margarine. However, the real surprises of the meal were the meat and egg replacements.

I have never understood the concept of chicken and waffles. Deep-fried chicken I can comprehend, and waffles by themselves are a delicious, Belgian-inspired treat. But combining the two seems to me a fundamental culinary faux pas. After eating the pancakes with chicken at The Vegan Joint, however, I have seen the light.

The soy chicken was tender and moist, and when dipped in maple syrup it made for a crunchy, breaded mouthful of joy. Combining it with the pancakes made me realize what a fool I had been to doubt the hallowed marriage of protein and pancake.

The tofu scramble was less of a revelation, but a dash of yellow curry powder and some green and red peppers gave it a little kick, which contrasted elegantly with the sweetness of the syrup.

By the time the check arrived, my headache was gone and the mistakes of the previous night were a distant memory.

I was left to reflect on the dichotomy between a vegan and full English breakfast. While the latter glorifies meat by piling as much of it on a plate as is humanly possible, the former shows what can be done without the need to combine pig's blood and oatmeal in black pudding.
Suddenly a full English breakfast doesn't sound as appealing.
Thorne is the prime director. He was previously the assistant A&E editor for the Theater | Film | Television beat.
Thorne is the prime director. He was previously the assistant A&E editor for the Theater | Film | Television beat.