Love Apptually: Falling flat with Bumble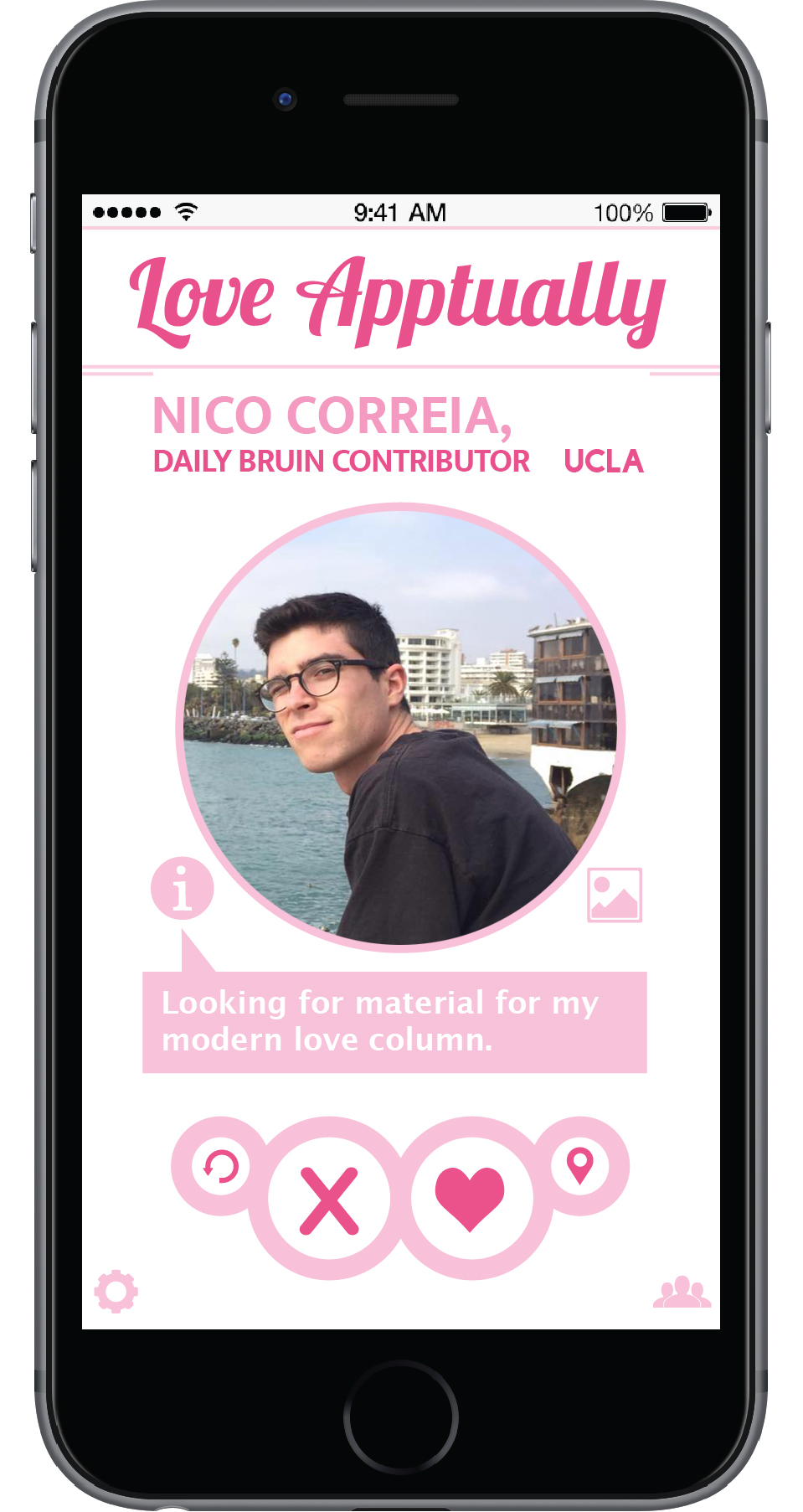 (Kelly Brennan/Daily Bruin)
April 21, 2016 12:00 a.m.
Each week in "Love Apptually," Daily Bruin staffers Nico Correia and Natalie Green will take turns attempting to find love in all of the wrong places: dating applications. To help thousands of loveless students, but mostly themselves, Correia and Green will test run and rate five dating apps over the course of one quarter.
At one point in my sophomore year, I considered myself an unofficial groupie of UCLA a cappella, which I've convinced myself is marginally nerdier than it is sad.
Maybe I'm drawn to them because of extreme jealousy that my singing voice resembles a mutant of the voices of Sanjaya Malakar and Kanye West sans Auto-Tune. Perhaps I'm trying to live a vicarious "Pitch Perfect" collegiate experience through others.
Possibly it's lingering resentment over my failed middle school music career, which consisted of my mom signing me up for the school band to play the bass clarinet, an instrument that resembles a giant, erect phallus. If she was trying to get me bullied, she miraculously didn't succeed. The reason I ended up quitting the same year I joined had nothing to do with harassment by peers and everything to do with my inability to wake up early to go to band practice.
Whatever it is, my attempts to entice the a cappella world have gone about as well as Penny Lane's attempts to land a member of Stillwater.
Tinder has served as a major component of my "Almost Famous" act. It's on that app that I've talked to Bruin Harmony and Deviant Voices A Capella members alike and later complained about their loss to my roommate Megann. At this point, she just buys me cheese fries from Fat Sal's instead of giving me a pep talk.
I decided I needed a change from the usual musical blues I catch on Tinder and made a Bumble account hoping for fresh faces or at least the chance to develop dating problems with a new extracurricular group.
Bumble, the feminist answer to Tinder where only women can message men first, sounds great in theory yet in practice is just soul deadening in different ways.
For the non-heterosexually oriented, the same rules of Tinder apply, so once you match either party can message first. However, unlike Tinder, where the vast majority of the population seems virtually approachable and has subpar bios about wanting to cuddle or going on an adventure, more than a few of Bumble's denizens consist of biologically superior Harvard graduates with professional headshots and bios ghost-written by Tina Fey.
I found myself praying to find someone with a profile rife with awkward selfies in low-light settings with a generic "500 Days of Summer" quote to stroke my ego – and could not find it.
Another anxiety-producing aspect of the app comes from the 24-hour rule for conversation, at which point if no messaging happens, the match goes away.
Bumble creates a sense of tension by providing a countdown of how many hours remain to talk, politely informing me if no interaction occurs "they disappear forever." If the ticking time bomb isn't enough, the wording of "disappear forever" makes it sound like I'm murdering my match if I don't mingle. Want to feel like a fledgling killer? Bumble may be for you.
The shortcomings I found with the app ultimately overshadowed my grievances with Tinder, but I did eventually find someone I enjoyed. He had cool glasses. Also he had a lot of confusion about what a cronut was and was hot in a dorky, not overwhelming way. We didn't end up meeting.
I should have known I had fallen back into my music k-hole when I read he went to the California Institute of the Arts. Initial excitement over my connection with the 24-year-old singer faded when he promptly told me he was leaving Los Angeles for Chicago the next day. I wanted to feel upset, but I couldn't sustain my anger after his SoundCloud song became my favorite for the week.
The worst part about interacting with the musically inclined is that they are thoughtful, intelligent and creative in other ways. It makes holding grudges feel petty. I just want someone to hate.