Vegan Ventures: Thai Vegan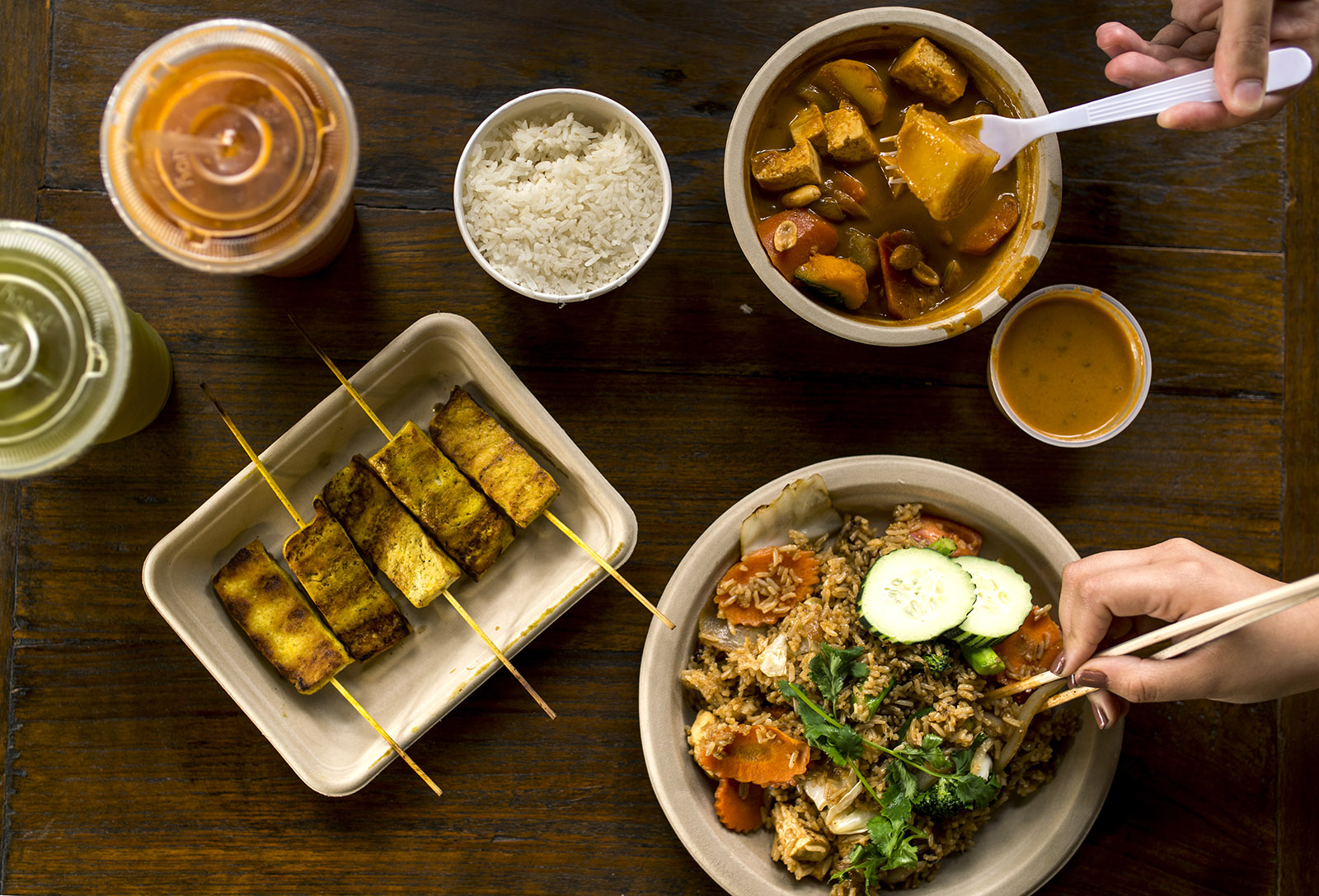 Thai Vegan in Santa Monica exceeded expectations with its massaman curry, fresh vegetable tofu rolls and pad thai with tofu. The consistency of the tofu and the texture of the kabocha squash was such that the dishes would have, in fact, been ruined by the addition of meat. (Angie Wang/Daily Bruin senior staff)
April 10, 2016 11:23 p.m.
To highlight the delicious perks of her vegan lifestyle, Daily Bruin staffer Alejandra Reyes-Velarde showcases 10 diverse vegan restaurants in the West Los Angeles area. She will be joined by Daily Bruin staffer William Thorne to bring a meat-eating perspective to vegan cuisine. They will alternate reviewing a restaurant each week.
Before embarking on this vegan venture with Alejandra, I must admit we are two very different adventurers.
I would liken Alejandra to Indiana Jones: daring, confident and resolute in her veganism. Meanwhile I am more like Russell from Disney-Pixar's "Up" – naive and excitable, yet cautious to come along for the ride.
I grew up in the United Kingdom with a French mother who cooks delicious, meaty meals. Every Sunday, she would cook a traditional English roast of beef, chicken or pork, with potatoes, vegetables and all the trimmings, which we would wash down with a gin and tonic or a couple glasses of wine. I followed my mother's example of ordering my steak rare and asking for my pork with extra applesauce.

Eating a vegan meal was something I had never considered until I came to California in 2014. In the U.K., dishes labelled with a green "v" are usually considered inferior additions which the chef has slapped on the menu to appease the rare vegetarian customer. My trip to Thai Vegan restaurant in Santa Monica felt as wacky to me as attaching hundreds of balloons to my house and floating off to a mystical land.

However, I shouldn't have worried. Eating lunch at Thai Vegan was in fact a source of great relief.

My last experience with Thai food, on a trip to Southeast Asia in 2013, had ended with a trip to a hospital in Bangkok with acute food poisoning.

Before slurping down the pho I had purchased from a street food vendor, I inspected the almost translucent meatballs mixed in with the soup. Was it pork, beef, chicken or something else? I couldn't tell. All I know is three days later I was trying to mime throwing up to a Thai nurse.
I told myself I would never eat pad thai or massaman curry again.
Thai Vegan, however, allowed me to turn over a new kaffir lime leaf.
The menu was crammed with the same classic dishes I had sworn to avoid, but obviously without any meat. I ordered the vegetable dumplings and the massaman tofu curry, while Alejandra opted for the fresh vegetable tofu roll and the pad thai with tofu.
We sat on low wooden chairs among potted plants and Buddha statues, and our food arrived almost instantly.

From the first mouthful of soft, chewy dumpling I knew my fears of a trip to Ronald Reagan were unfounded.

Thai Vegan reminded me why Thai cooking is among the most revered cuisines. The massaman curry brought together sweet coconut milk, spicy curry paste and the umami in the peanuts and tofu for a multilayered flavor combination. I was left desperately scraping the bowl for remnants and resorted to mopping up what was left with my side of sticky rice.
Unlike the smaller vegan dishes I've eaten at Bruin Plate, at no point in the meal did I feel that meat was missing or that having a non-vegan product would enhance any of the dishes. In fact, the gelatinous tofu and the crunchy consistency of the kabocha squash in the curry made me feel that throwing some stringy meat into the concoction would spoil the dish.
The pad thai tasted identical to the street food dish I had eaten almost daily on my journey around Thailand. Its familiar sloppiness and sweetness transported me back to the bustling streets of Bangkok, where I was greeted by the shouts of eager, smiling street vendors selling a mountain of pad thai for $1.50. If only the dish was as cheap at Thai Vegan, but $8 felt reasonable for the quantity, which was just as big.

My only reservations were the vegetable tofu roll which, although refreshing, lacked flavor, and the size of the restaurant, which seats 20 eaters maximum.

It's tragic that Thai Vegan feels like an unnoticed, hidden gem. If the restaurant were bigger and more attractive from the outside, it might draw in larger vegan crowds and even the odd meat-eating straggler like me, cautious to try something new.

— William Thorne
Thorne was the prime director. He was previously the assistant A&E editor for the Theater | Film | Television beat.
Thorne was the prime director. He was previously the assistant A&E editor for the Theater | Film | Television beat.