Dancer explores race, masculinity in final UCLA show 'ONDA'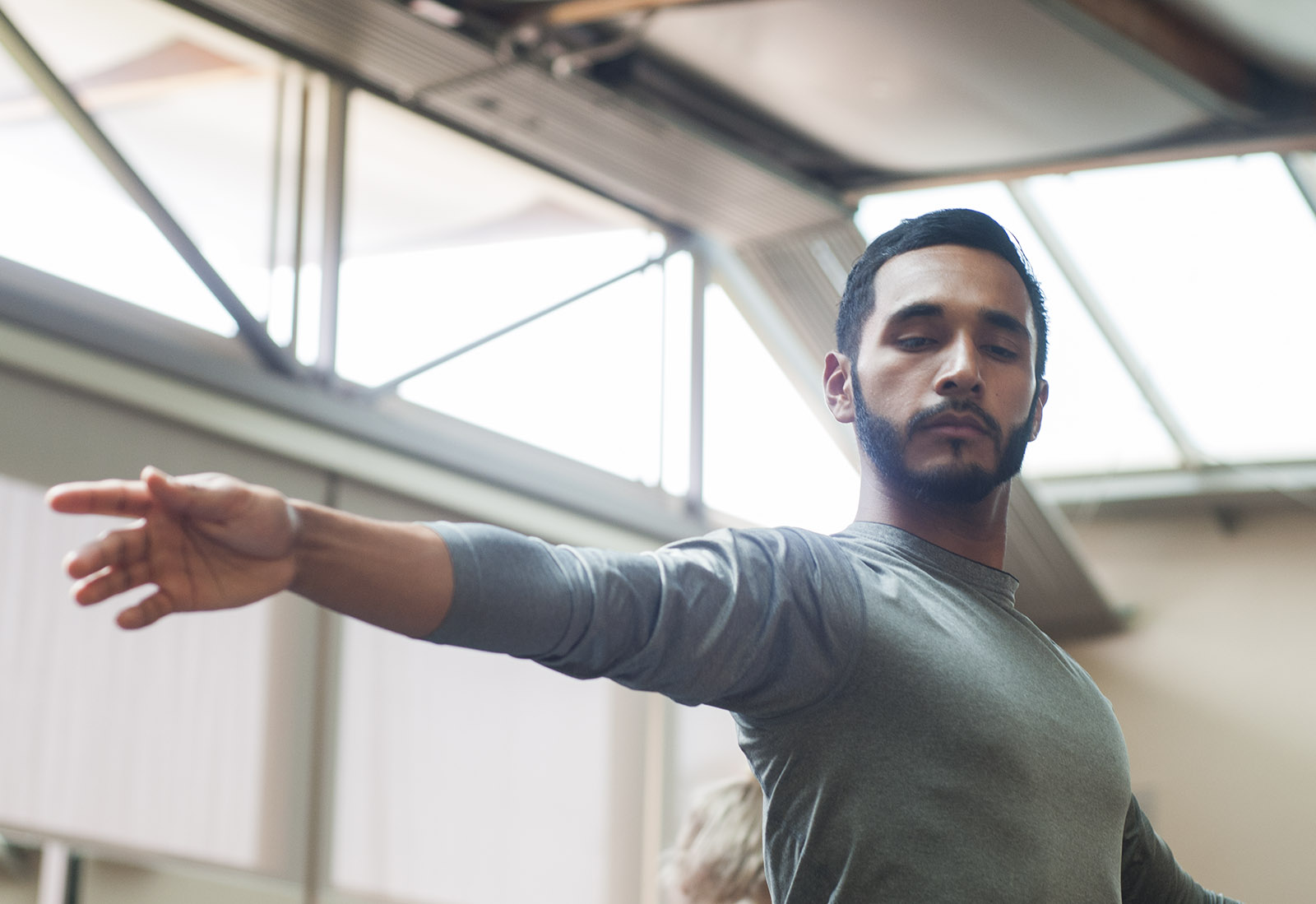 Graduate student Julio Medina performed his final UCLA show, "ONDA," Friday and Saturday. The performance explores themes of race and masculinity through the medium of hip-hop and break dance. (Pinkie Su/Daily Bruin)
Julio Ulises Medina woke up to the sound of the Colombian cumbia and Dominican merengue every morning playing on his home radio. He danced salsa and punta with girls at quinceañeras. He grooved to hip-hop and reggaeton during middle school dances.
Now Medina is interested in how dance portrays race and masculinity. The graduate student in dance explored these notions through hip-hop and break dance – two genres Medina said are often depicted by the media as male-dominated and misogynistic – in his final UCLA show, "ONDA," Friday and Saturday.
The title means an ocean wave and musical groove, but the term is also part of a popular Mexican expression, "¿Que onda?," which translates to "What's up?" The dual meaning reflects Medina's dual character, he said, defined by a combination of his passion for dance and his Mexican-American identity.
Medina grew up in South Central Los Angeles, where he was surrounded by break dancing and hip-hop in school and on the streets. He would meet his high school friends, most of them Latino or black, up to one hour before and after class to break dance, and the group would gravitate towards the smooth and shiny floor of the second story to dance on.
PHOTO GALLERY: Challenging the Groove
At home, Medina snuck out of his room and into his driveway late at night to krump, a raw and aggressive street dance style. The dance was a way for him to channel the frustration he faced growing up in a poor neighborhood.
"If you're not directing the anger towards another person, then you're directing it to the universe, to God," Medina said. "(Dance) let me release my tensions."
Medina danced with his shadow, formed by the dim light the lamppost cast onto him, as his only partner. He only ever krumped in the late hours of the night, by himself.
He and his two high school best friends, however, formed the perfect trio. Coming from similar labor backgrounds, Medina said they frequently shared music and rapped together.
"The fact that most of us were low-income resonated with what hip-hop is in itself: a resistance to oppression," Medina said.
Medina was the first in his family to attend college. His determination to study dance initially worried his parents, who were afraid he would not capitalize on his academic potential.
"We were very scared at first," said Griselda Lopez, Medina's mother. "But we always supported his decisions."
Once he started college at Emory University in 2009, he was the odd one out, since most of his peers were white and Jewish. He started off as a business student but graduated with a degree in dance, and earned the reputation as "the dancer" from his Alpha Tau Omega fraternity brothers.
From junior high to college, Medina always noticed the different dynamics between genders in his social life. He always felt more comfortable expressing his emotions around women than men, and has always had more female friends than male. To translate his observations to dance, he began thinking about his own masculinity and how it fit into the typically male-dominated hip-hop genre.
Medina performed a duet in his latest show, "ONDA," with UCLA alumna Amanda Sanchez. They have worked together since 2014, when they choreographed "Mandy Leon," a piece featured in UCLA's master's of fine arts show "What" last year.
This year's duet, "Enough For Now," focuses on race and gender, incorporating Latin American social dances like salsa and meringue with modern moves. They inverted stereotypical gender costumes: Sanchez wore men's boxers, and Medina wore tightly fitted sweatpants. They wanted to make the audience reflect on the notion of gender, Medina said.
"I've loved working with (Medina)," Sanchez said. "He's a very open-minded choreographer, and I can always weigh in and give my opinion."
Sanchez and Medina started preparing for this year's show in October but lacked inspiration. They recorded a 17-minute conversation, discussing their upbringings and experiences with race and gender. The final dance, Sanchez said, was born from that recording.
Kaufman Hall 200's first row was filled with Medina's family Friday night. Medina's parents, sister and girlfriend discreetly snuck balloons and flowers under their seats as they cheered and encouraged him with their smiles.
Medina's 10-year-old sister, Andrea, said she is extremely proud of her brother. She loves taking the hip-hop and ballet classes he teaches at St. Agnes Church in downtown LA, and wants to be a dancer like him when she grows up.
"We never really watched dance shows before," Medina's father, Julio Medina, said. "But ever since (Julio Ulises Medina) started, we are at every show and we love it."