UCLA student actors make puppets from Daily Bruin newspapers for show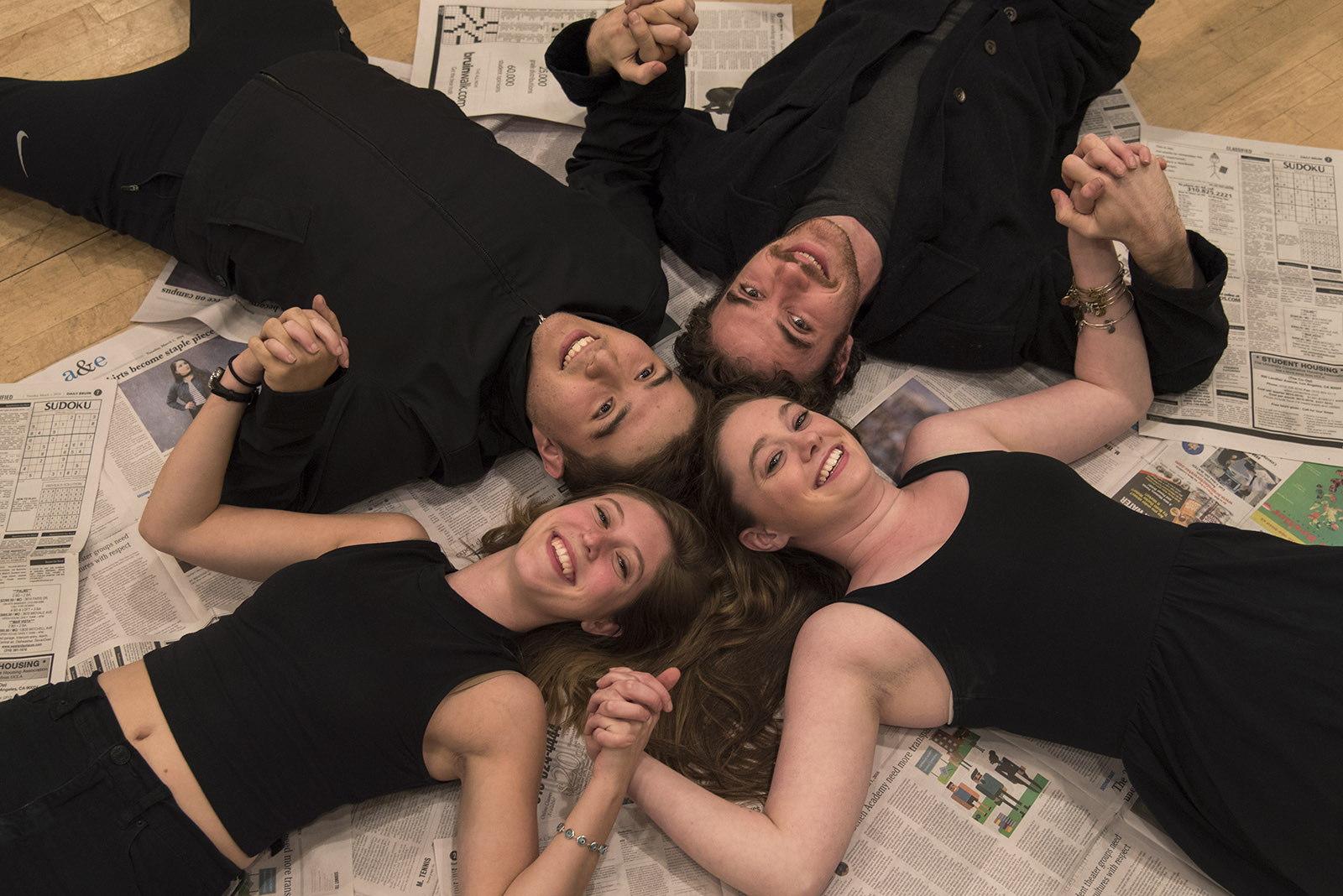 Four UCLA students spent six weeks preparing for "Devised Puppetry Project," which has no props or dialogue. The actors made the puppets themselves out of Daily Bruin newspapers. (Mackenzie Possee/Daily Bruin)
"Devised Puppetry Project" Pacific Resident Theater March 4, 5 and 12 $15
Mark Royston's number one rule for "Devised Puppetry Project" was "Don't read the newspaper." The articles tended to distract the actors as they built their puppets out of leftover Daily Bruin newspapers.
"Devised Puppetry Project" is a 45-minute original puppetry show featuring four UCLA student actors and will be performed eight times at the Pacific Resident Theatre in Venice Feb. 28 through March 12, Saturdays at 3 p.m. and 7 p.m.
The project was created in April 2015 when Royston, a fourth-year theater student, was selected to participate in UCLA's Theaterfest, an undergraduate theater festival. The puppetry show premiered at Macgowan Hall in May 2015.
"We had no idea what people were going to think before the first night," said Jodi Wofford, a fourth-year theater student and puppeteer. "But it was so successful that we ended up adding a fourth encore performance."
"Devised Puppetry Project" is entirely based on the audience's interpretations, Royston said. There are no props or dialogue and the mood changes throughout the show. Spooky scenes where the room is pitch black and filled with scary laughs follow humorous puppets dancing on front-row audience members' laps.
"You can just let it take you where it does, without overthinking anything," Royston said.
One of the puppets featured in the show is a washed-up burlesque dancer named Dorothy, a character that came out of an improvisation exercise where the actors made puppets out of their own objects. Dorothy was originally a coonskin cap in a feather boa, said Gareth Marsh, a third-year theater student.
Marsh said they came up with stories for each of the puppets, which helped to animate them. When Wofford is animating Dorothy's body, she puts herself in the puppet's shoes and imagines how she would move and dance. The six-foot puppet is handled by all four actors, each manipulating a part of her body and synchronizing to make her move to the rhythm of the music.
Royston said the group only had a one-month notice in late January to start working again on a show they had not performed in over nine months.
"The less time you have, the more creative you have to be," Royston said. "You're forced to come up with creative solutions fast."
Royston got into puppetry two years ago, realizing it is a much deeper art form than people think.
"Even with no dialogue, puppets can be emotionally engaging and take the audience to a space that human actors can't," Royston said.
In 2015, the group had six weeks to prepare for the show. The first four weeks were used for improvisation exercises, during which the director would bring props or ideas and have the actors play around with them. Royston said he once told the actors to bring objects from their rooms and make puppets out of them.
Katie Emery, a second-year theater student and ensemble member, said she used to prefer being instructed while performing because she was not comfortable with improvising. By the third week of rehearsals, she had changed her approach and was creating murderous puppets that killed everyone. She had really evolved, said Marco Rivera, a second-year theater student and puppeteer.
One day Royston randomly brought a stack of leftover Daily Bruin newspapers to rehearsal and the members began making puppets out of them. Marsh said he came to rehearsals late and found the others had taped the newspapers together, creating an enormous tarp that they were now experimenting with.
"I just thought that was the coolest thing," Marsh said. "We usually know we're being creative when one of the members loses it and starts exclaiming how awesome something is."
The final show was created by combining the experiments from the first weeks of rehearsal, with the newspaper puppets and tarp, among others. Marco Rivera, a second-year theater student, played around with one of the lamps in the room one day during a five-minute break. The others joined in, creating effects with the shadows and other lights which became an entire scene of the show.
It is important for the actors to be collaborative and attentive during their shows, Emery said. During their first performance last May, the tarp fell onto the stage and without saying a word, the actors naturally skipped to a later scene.
They adapted the mise-en-scène of the old show to the new theater space in Venice, but kept most of the vignettes. Rivera said the show is transportable; they could perform it anywhere from Royce Hall to a random classroom.
"Thirty years from now we could totally be doing it again," Emery said. "I just don't think it's ever going to die."
Email Boisbouvier here at [email protected]