Tattoos relate mental health stories in art exhibition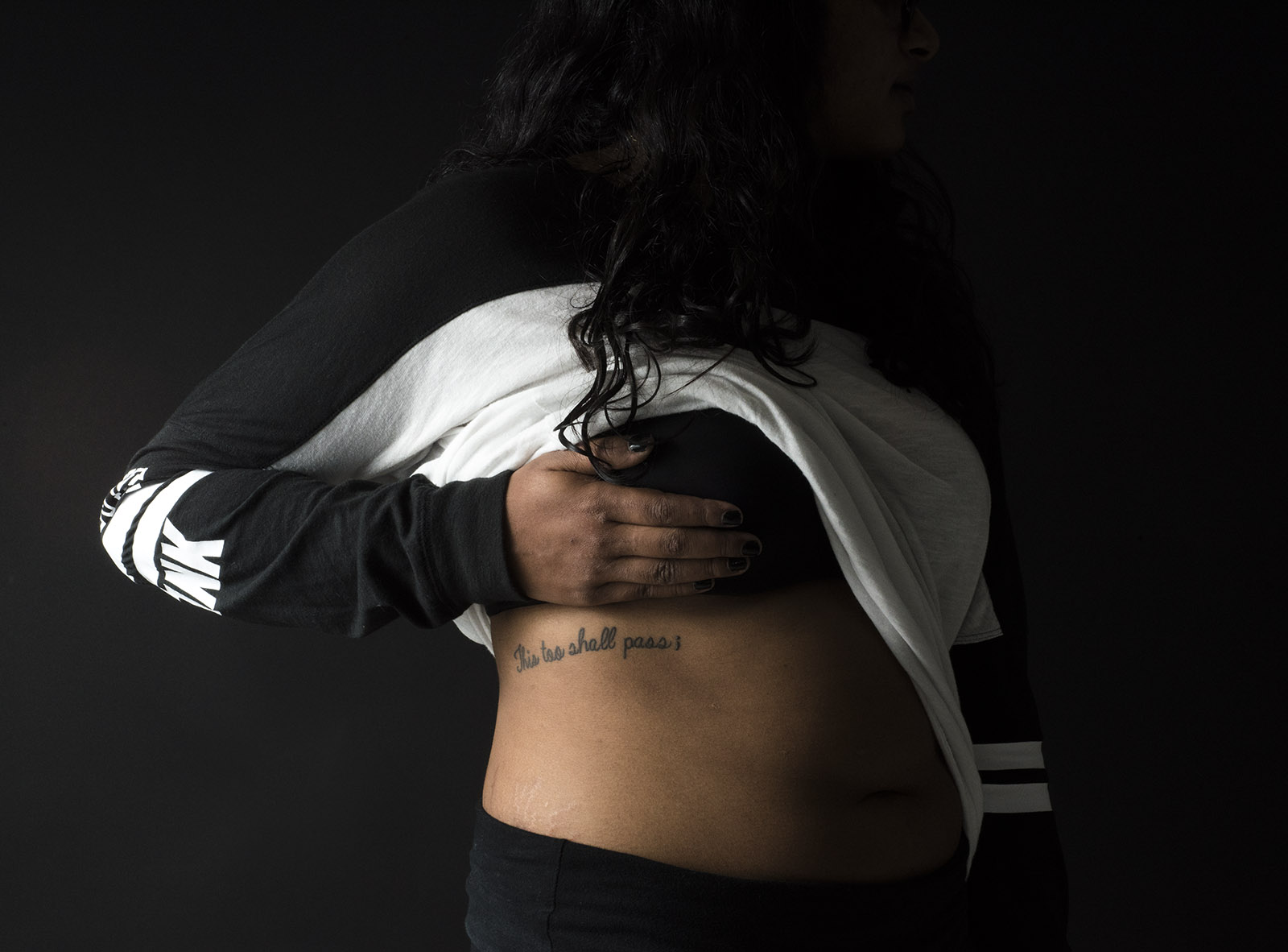 Fourth-year psychobiology student Katie Patel's tattoo was inspired by a phrase a police officer said to her after Patel's first attempt at suicide. The semicolon at the end of the phrase is inspired by the Semicolon Project. (Daniel Alcazar/Daily Bruin senior staff)
Angela Nguyen has a tattoo of a colorful butterfly conspicuously etched on her right ankle. Less conspicuous, however, are the scars that lie underneath the tattoo – the permanent and colorless marks of self-harm.
Nguyen, a third-year psychology student, is organizing an art project called the Mental Health Tattoo Art Exhibition in the Powell Library rotunda from Monday through Thursday. The exhibition features photographs of tattoos related to mental illnesses that were submitted by students.
Nguyen said she and her co-host Sarit Kashanian, a fourth-year English student, wanted to draw attention to the intersection between mental health and tattoos. She hopes that through the exhibition, those with mental health issues can see the UCLA campus as a safer space to uncover their tattoos and express their stories.
There is a double stigma that stalls the conversations about mental illnesses and tattoos, Nguyen said. For instance, many people seeking jobs hide their tattoos, for fear that they would be branded as unprofessional. Mental health issues share the same stigma – they too are hidden, considered inappropriate at work and generally misunderstood.
Tattoos are not always fads or markers of teenage rebellion. While some consider their tattoos an attempt to retake ownership of their bodies, Nguyen said some may incorporate their scars into tattoos, and others may view tattoos as a process of recovery.
Her tattoo is not meant to conceal her scars from the public, Nguyen said. The scars and the tattoo stay together to signify her ongoing process of recovery from depression.
Nestled in between the butterfly wings in her tattoo is an orange and yellow ribbon, two colors that represent the awareness and prevention of self-harm and of suicide, respectively. The butterfly derives meaning from The Butterfly Project, a project that seeks to support people with self-harm tendencies.
As part of the project, she drew a butterfly on a part of her body she considers vulnerable to self-hurt. The butterfly reminds Nguyen that self-harm would mean injuring or killing the butterfly, a symbol of life and rebirth. The butterfly is a living being, and so is she; the butterfly deserves care, and so does she.
"The goal is to keep the butterfly alive as long as possible," Nguyen said.
Nguyen's butterfly has been alive and kicking for seven months now.
The connection between body art and mental health issues is psychological, said Katie Patel, a fourth-year psychobiology student who submitted a photograph of her tattoo to the exhibition.
Patel sees her tattoo as a way of self-care against self-harm tendencies that she has endured since she was 10 years old.
A lot of police officers and paramedics do not know how to properly deal with people struggling with mental illnesses, Patel said. However, in the emergency room after her first attempt at suicide two years ago, she met an exceptional officer – empathetic and not aloof.
After taking her information down, she said the officer tried to comfort her when she was scared and confused. The last thing he said to her later materialized as a tattoo on her right rib cage: "This too shall pass;"
Patel said the semicolon at the end of the quote was inspired by Project Semicolon, a movement dedicated to supporting those struggling with addiction, depression, suicide and self-injury. The semicolon embodies a new beginning and the decision to surge forward.
Patel finds strength in her tattoo. The phrase energized her through five months of intensive treatment for bipolar disorder, and she decided to solidify the fleeting notion of recovery into tangible and visual permanence. A tattoo can be a release, Patel said.
"Because of the amount of scars I have on my body, the wrists, the legs, I wanted something else to know that it was not all about the bad times," Patel said.
Yoshi Chiang, a fourth-year communication studies student and another participant in the exhibition, said she hopes her submission can motivate people to take ownership of their struggles with mental illnesses, like she did with her anxiety and obsessive compulsive disorder.
She inked the words "thou mayest" on the nape of her neck, inspired by her favorite book, "East of Eden" by John Steinbeck.
The phrase reminds her that the decision to choose her path in life is her own – a thought she said is liberating to someone who does not feel comfortable in her own skin.
Nguyen and Kashanian are organizing the exhibition as part of their final project for an Honors Collegium course. The History of Art as Social and Political Commentary is taught by Paul Von Blum, a senior communications studies lecturer emeritus.
"Intellectually, (the arts) get people to reflect on the issues themselves, but they also carry an emotional wallop," Von Blum said.
Kashanian's orthodox Jewish religion imposes a restriction on body art. But through the exhibition, she said she has recognized that tattoos may sometimes be beautiful and perpetual reminders of resilience.
At the exhibition, Kashanian stopped her friend and second-year business economics and political science student, Rafael Sands to view the tattoos. Sands, a former Daily Bruin contributor, said a tattoo had never before evoked a thoughtful reaction in him. However, a public exhibition of tattoos may create the awareness that tattoos are the messages people have for their minds.
"People wear their experiences on their bodies," said Emily Haider, a third-year mathematics student. The exhibition shows how common these experiences are and that it is normal to face these emotions, she said.
Robert Schilling, professor of social welfare at UCLA and viewer at the exhibition, said the exhibition perhaps helps others as much as it helps those who shared their stories. Directly naming mental illnesses contributes to the reduction of the stigma surrounding mental health issues as well as shows one's acceptance of their condition.
Nguyen said she does not think anybody ever stops struggling with mental health issues.
"(The tattoo) is never going to go away, just like your experiences with mental illnesses," Nguyen said. "You're never going to forget them; they are never going to go away."