UCLA alumna, voice actress takes on new role as Hello Barbie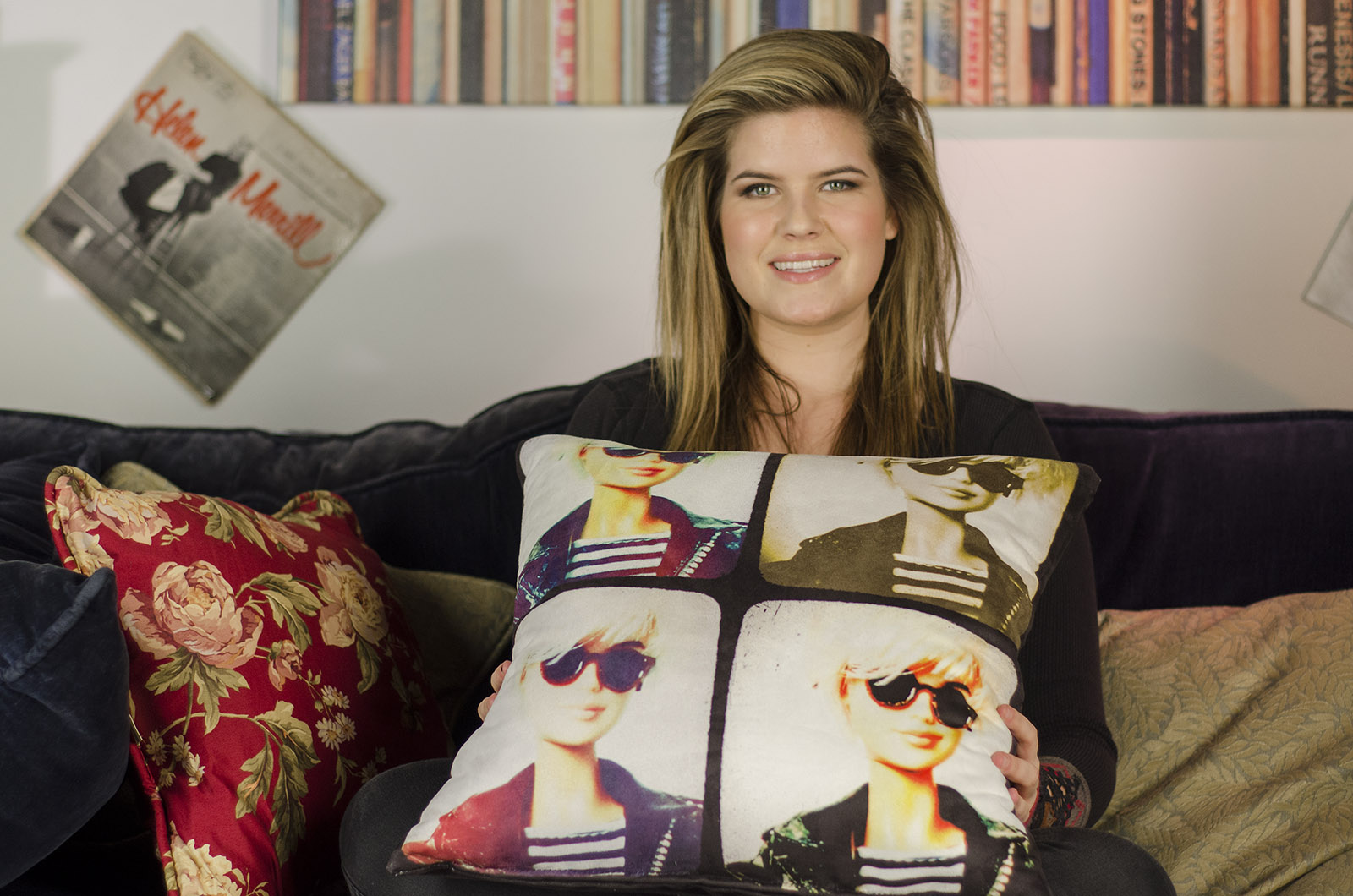 Alumna Erica Lindbeck was chosen by Mattel to be the voice of Hello Barbie. Lindbeck competed against voice actors from around the country, but was eventually accepted for her girl-next-door portrayal of the doll. (Miriam Bribiesca/Daily Bruin senior staff)
Barbie seems to have it all – a perfectly pink Malibu dollhouse, glamorous wardrobe, squad of best friends and a loving boyfriend.
However, until now, she was missing a way to express herself.
Erica Lindbeck, a UCLA School of Theater, Film and Television alumna, landed a job with toy manufacturing company Mattel as the voice of this year's Hello Barbie doll, beating voice actors from across the country for the part.
Slipping into the recording booth for a preliminary audition, Lindbeck thought she was being considered for the voices of Skipper and Teresa, two of Barbie's friends. But a week later, she was called back to read for the role of the iconic doll herself. As it turned out, she said her untraditional take on Barbie's voice was what earned her the part.
"Barbie's always been really polished and presentational, but I think what (Mattel) liked about me is that I have a pretty natural read," Lindbeck said. "They didn't want this two-dimensional doll anymore. They wanted her to be a girl, a real girl."
Lindbeck said Barbie's new image is built on authenticity and approachability, and she feels honored to be the voice for a confidence-building Barbie generation.
Collette Sunderman, the dialogue director for Erica's recording sessions, said Mattel's goal for Hello Barbie was to create a supportive figure for children.
"Hello Barbie is trying to be somebody children can share their experiences with and who can be their cheerleader," Sunderman said. "She's always happy and upbeat, so the children can feel comfortable and feel like they can have a conversation in a really safe place."
Growing up with a collection of the dolls herself, Lindbeck always viewed Barbie as a role model. Having always been very driven and career-oriented herself, she said the most important quality she has in common with the iconic toy is Barbie's lasting ambition.
"I think people forget that Barbie was created because – Ruth Handler, Barbie's creator – wanted to make a career woman for her daughter to play with, not just another baby doll," Lindbeck said.
The new Hello Barbie has over 8,000 cheerful responses that Lindbeck spent nearly 200 hours articulating in Mattel's main studio in El Segundo. Lindbeck said she recorded most of the lines in tattered jeans and a messy bun, with a giant mug of soothing herbal Chinese tea in hand, to keep her voice at its best.
"I looked like a grandma," Lindbeck said. "It wasn't very glamorous, but voice acting is a really cool niche that doesn't require you to look a certain way – I can play so many different characters regardless of the way I look."
Lindbeck began to consider voice acting a viable career path in her fourth year at UCLA after a master class with voice-over actor Richard Tatum. She auditioned for and ultimately signed with voice-over company Atlas Talent Agency, crediting her years of intensive voice and speech study at UCLA for her early success.
Having taught Lindbeck during her fourth year in acting class, Joseph Olivieri, the head of the undergraduate acting program at the UCLA School of Theater, Film and Television, said he was amazed at the variety of characters Lindbeck could conjure up with just her voice. Her versatility, range and work ethic, Olivieri said, are the qualities that lead to a successful commercial acting career.
A self-professed "theater kid" since growing up in North Carolina, Lindbeck said the transition from being in the spotlight on stage to voice recording in a booth has forced her to expand on the vocal skills she first started honing at UCLA.
"With voice-over, you don't have anything distracting from the acting," Lindbeck said. "You have to do a good job or everyone's going to know, everyone's going to hear it."
In addition to her role as Hello Barbie, Lindbeck has worked on radio and television advertisements for 15 different companies like Old Navy and iTunes. She also voices characters in anime shows like Sword Art Online on Cartoon Network as well as parts in Japanese and American video games.
"It's funny because I'm Barbie, but I'm also voicing battle scenes and flinging grenades for things like 'Call of Duty,'" Lindbeck said.
Whether taking on the voice of glitzy childhood icon, larger-than-life animation character or pedestrian product narrator, Lindbeck said she has found real artistic fulfillment in her voice-over work.
"I just really love performing, and whatever allows me to play is the best thing I could possibly be doing," Lindbeck said. "I just love breathing life into all these characters."
McCormick was the 2017-2018 Digital Managing Editor for the Daily Bruin. She was previously an assistant editor of the A&E section, overseeing the Music | Arts beat.
McCormick was the 2017-2018 Digital Managing Editor for the Daily Bruin. She was previously an assistant editor of the A&E section, overseeing the Music | Arts beat.