Student finds voice through radio show hosting, radio-charity program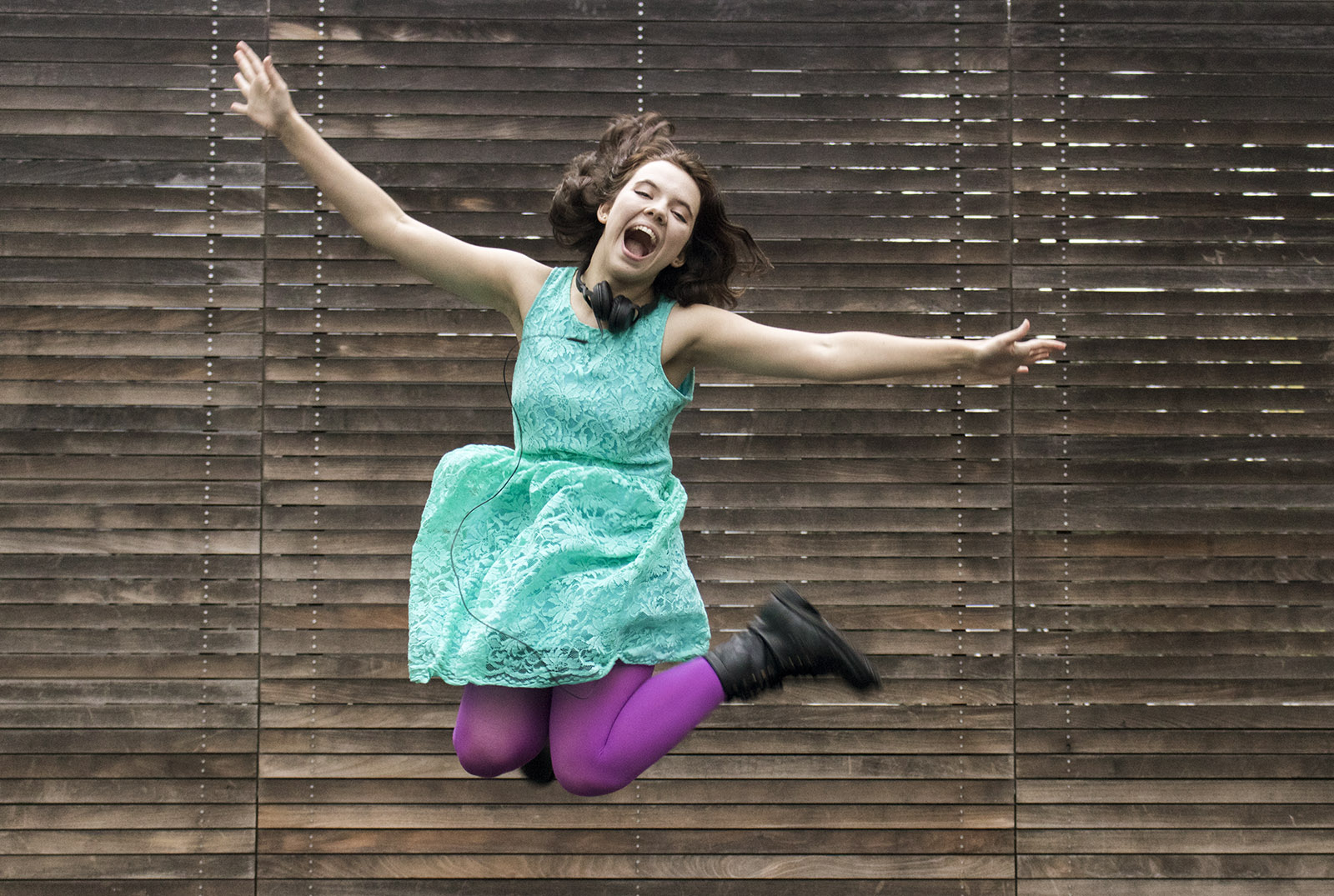 Student Samantha Stewart turned her dorm room into a makeshift studio to record her 24/7 radio station. (Zoe Hessler/Daily Bruin)
Samantha Stewart returns to her dorm room at the end of the day, picks out one of the four blankets laying on her bed, then proceeds to her desk.
With her microphone plugged into her laptop, the third-year psychology student opens a recording software and throws the blanket over her head and computer screen to create a makeshift sound booth.
After a couple vocal warm-ups, Stewart hits "record" and becomes the radio personality, Jennifer Smart, for her 24/7 radio station, JENNiRADIO. The station integrates Smart's movie and website reviews with kid and family friendly music.
Before coming to UCLA, Smart managed her radio station at home in a studio equipped with microphones, mic processors and automation.
Today, in addition to juggling her studies, Smart dedicates about three hours each week to recording in the makeshift studio of her owl-themed dorm room.
"I do a decent job of balancing my radio work with being a full time student, but the hardest part is being away from the actual station," Smart said. "When I first came to UCLA, I had to figure out how to prioritize and make sure that I was putting full effort into all of the things that I do."
Smart was only six years old when she began her radio career. She said she would always look forward to weekly recordings and going to red carpet movie premieres to interview celebrities, like Will Ferrell, Taylor Lautner and Selena Gomez for JENNiRADIO.
Smart said that if there is a red carpet event the night before a test, she would forgo attendance to the event.
"My academics always come first, and there will always be more red carpets," she said, "I'm at UCLA for a reason. I am here to learn and grow."
In 2005, Smart developed JENNiRADIO, which plays a variety of music for kids and parents alike. The music ranges from top-40 hits like "Alive" by Sia to '80s classics like "Wake Me Up Before You Go-Go" by Wham!.
"When I first met Jennifer, one word popped into my head, and that was 'precocious,'" said David Lawrence XVII, an actor, voice talent and Smart's mentor. "She was a natural on the air."
Lawrence said he had watched talented children be pushed by their parents to perform, but Smart's parents did not have to force her into a radio career. Lawrence said she ultimately made the decision to record and report.
"Once I started interacting with the callers and doing red carpets, I was hooked," Smart said.
For her radio station, Smart has attended over 100 red carpet movie premieres, interviewed over 300 celebrities, traveled on a 10-month radio tour across 48 U.S. states and appears on her own television show, JenTV, in Albuquerque, N.M.
Smart interviewed Miley Cyrus at the Radio Disney Totally 10 Birthday Concert in 2006. Smart's father, Max Smart, said that hearing Cyrus explain her double life resonated with Jennifer Smart.
Jennifer Smart said now that she is an adult, using a stage name is more about consistent branding than fear of Internet predators. While she keeps a low profile at school regarding her life in entertainment, she wants to start opening up to the UCLA community about her radio-charity project.
In 2011, Jennifer Smart began the Find Your Voice program center in Albuquerque. The program allows homeless, healthy, hospitalized and disadvantaged children to share their stories and ideas on air via JENNiRADIO.
"People always say, 'Kids are our future,' but kids don't always have the opportunity to share their thoughts," Jennifer Smart said, "The Find Your Voice program provides them with that opportunity."
Jennifer Smart's mother, Meredith Stewart, said the program serves to help the children express themselves by improving their communication skills and articulation, so they can share their respective messages in a way that will cause others to actively listen, learn and take action to help out.
After college, Jennifer Smart said she sees herself working in education and continuing to expand her program by building multiple centers across the globe.
Jennifer Smart said she wanted children and their experiences to be heard, as she had the opportunity to be heard when she was a little girl via her radio career.
"I want to give kids a voice and expose it to a broader audience to make a positive change," Jennifer Smart said.