Love | Hate: Are Obama's television appearances helping or hurting his legacy?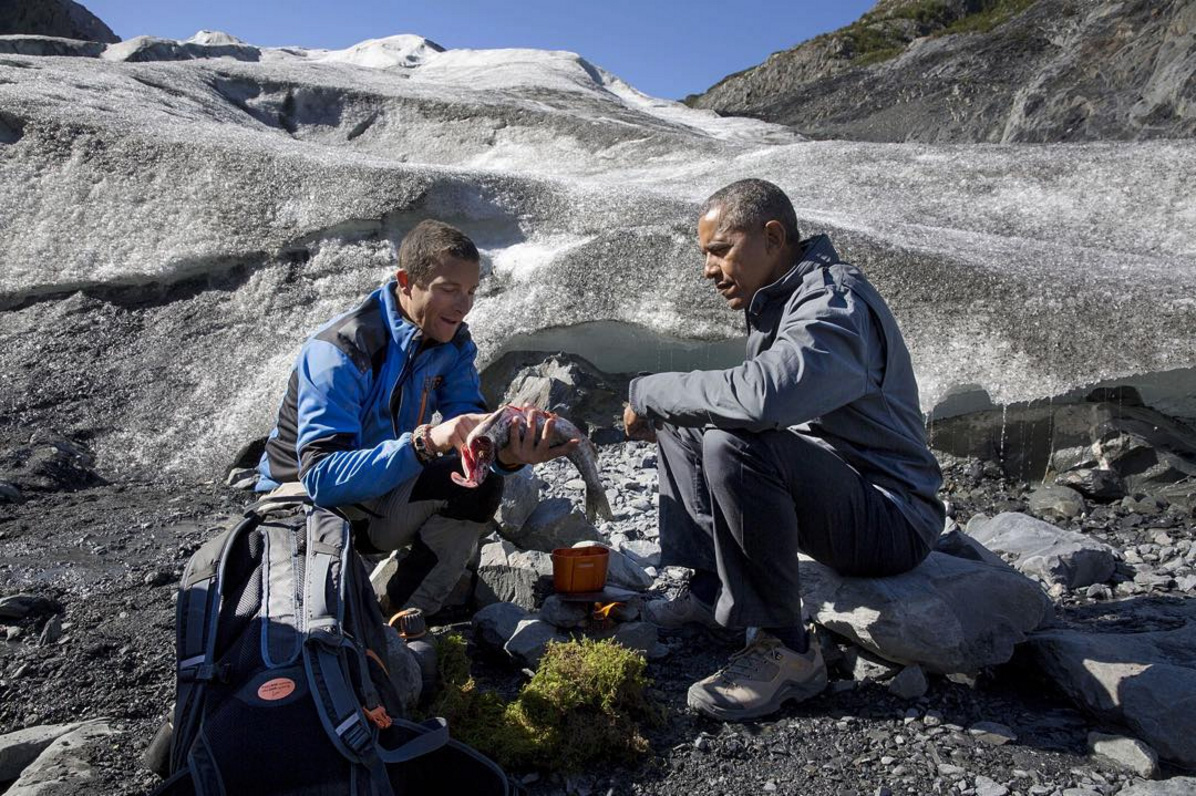 President Barack Obama watches as celebrity adventurer Bear Grylls cleans a salmon. Obama appeared as a guest on Grylls' show "Running Wild with Bear Grylls" Dec. 17, sparking debate about the role of the president in popular culture. (Courtesy of @whitehouse via Instagram)
With the return of A&E's "Love | Hate" column, two writers will declare their love or hate for recent pop culture events.
In 2009, Barack Obama made history as the first sitting president to ever appear on a late night talk show. Since then, he's expanded to more niche productions, including an appearance on "Running Wild with Bear Grylls" last year, and a recent guest spot on "Comedians in Cars Getting Coffee" with Jerry Seinfeld.
A&E senior staffers Sebastian Torrelio and William Thorne take sides on the president's television appearances and what legacy he might leave behind.
Love
Not only can President Obama's history of campy media appearances be traced back to 2007, a year or so before he was elected to the White House, but so can his unwavering charisma on the public American screen.
Take, for example, his youthful appearance on "The Ellen DeGeneres Show" in October 2007. As Beyoncé's "Crazy in Love" plays, Obama does a little jig on his way up to the stage, hits a punching bag, knocks his wristwatch off, goes to pick it up then continues to dance with Ellen DeGeneres while the crowd cheers wildly.
Now that all may be symbolic of the YouTube/smartphone era, but has any president, or prospective president, ever been recorded having that much fun on TV? Perhaps Bill Clinton, whose 1992 appearance on "The Arsenio Hall Show" is now the stuff of legend, but even Clinton stopped with the silliness once he took office.
The millennial-friendly public image that Obama has left us has grown far beyond the reaches of what anyone expected it to look like. In many ways, Obama's presence in pop culture has become surreal.
My personal favorite of these instances was his "Beyond Two Ferns" episode in 2014. Besides Internet-crazed young adults, who in America even knows what "Beyond Two Ferns" is, and how did our president end up on it? Obama took a weird, otherwise insignificant opportunity to poke fun at Zach Galifianakis and turned it into a way of pushing the Obamacare program to a new audience.
I don't necessarily endorse everything Obama has done during his term, on talk shows or politically otherwise, but it's more important to me that he left an impression. His glee and confidence on television translate to passion for his job and for those who watch him on screen.
By creating such a perception of himself for the public to judge, Obama has molded himself into a man that I'm unsure any current presidential candidates can match. We'll just need to appreciate him while we can.
– Sebastian Torrelio
Hate

As I watched President Obama and celebrity adventurer Bear Grylls sit down to cook wild salmon half-eaten by a bear over a small campfire, I thought, why does this show exist?
Is it to make the president come across as an average Joe who enjoys the outdoors just like you and me? Yes.
Is it to not-so-subtly plug his new climate change agenda with which he's trying to secure his legacy? Yes.
Is it so Grylls can bring back a signed Obama bottle opener for his wife and a cute presidential selfie to show his friends? The answer is, again, yes.
In "Running Wild with Bear Grylls," alongside the throwaway banter about family, bear fornication and drinking your own urine, a fawning Grylls regularly praises the president and asks him leading questions about his new climate change policy. Obama duly obliges, saying that his success in reducing pollution and greenhouse gases could well be his most proud achievement as the "leader of the free world."
It was at this point in the show that I felt like burying my face in my hands.
Watching Barack and Bear roast s'mores while casually chatting about climate change reinforced my view that the world of television is no place for politicians.
I am all for the president having fun, maybe not wasteful$3-million-golf-trip fun, but fun nonetheless. However, appearing on TV shows that frame him as being just like everybody else alongside popular celebrities is where I draw the line. The president would do better to stick to more serious political appearances rather than throwing away his image with cringe-worthy TV appearances.
It saddens me that American politics has reached a stage where using television as a political tool has become essential. When the president appears on "Running Wild with Bear Grylls" or on "Comedians in Cars Getting Coffee", he is effectively engaging in a public relations exercise.
The president should not need to appear beside a celebrity explorer in a staged TV show to show us that he is human and that his tough stance on climate change can make a difference. The climate accord in Paris and his speech afterward spoke far louder than eating wild salmon in front of a glacier ever could.
– William Thorne
What do you think of President Obama's television appearances? Email Torrelio at [email protected] and Thorne at [email protected]
Thorne was the prime director. He was previously the assistant A&E editor for the Theater | Film | Television beat.
Thorne was the prime director. He was previously the assistant A&E editor for the Theater | Film | Television beat.