A Wee Adventure: The Loch Ness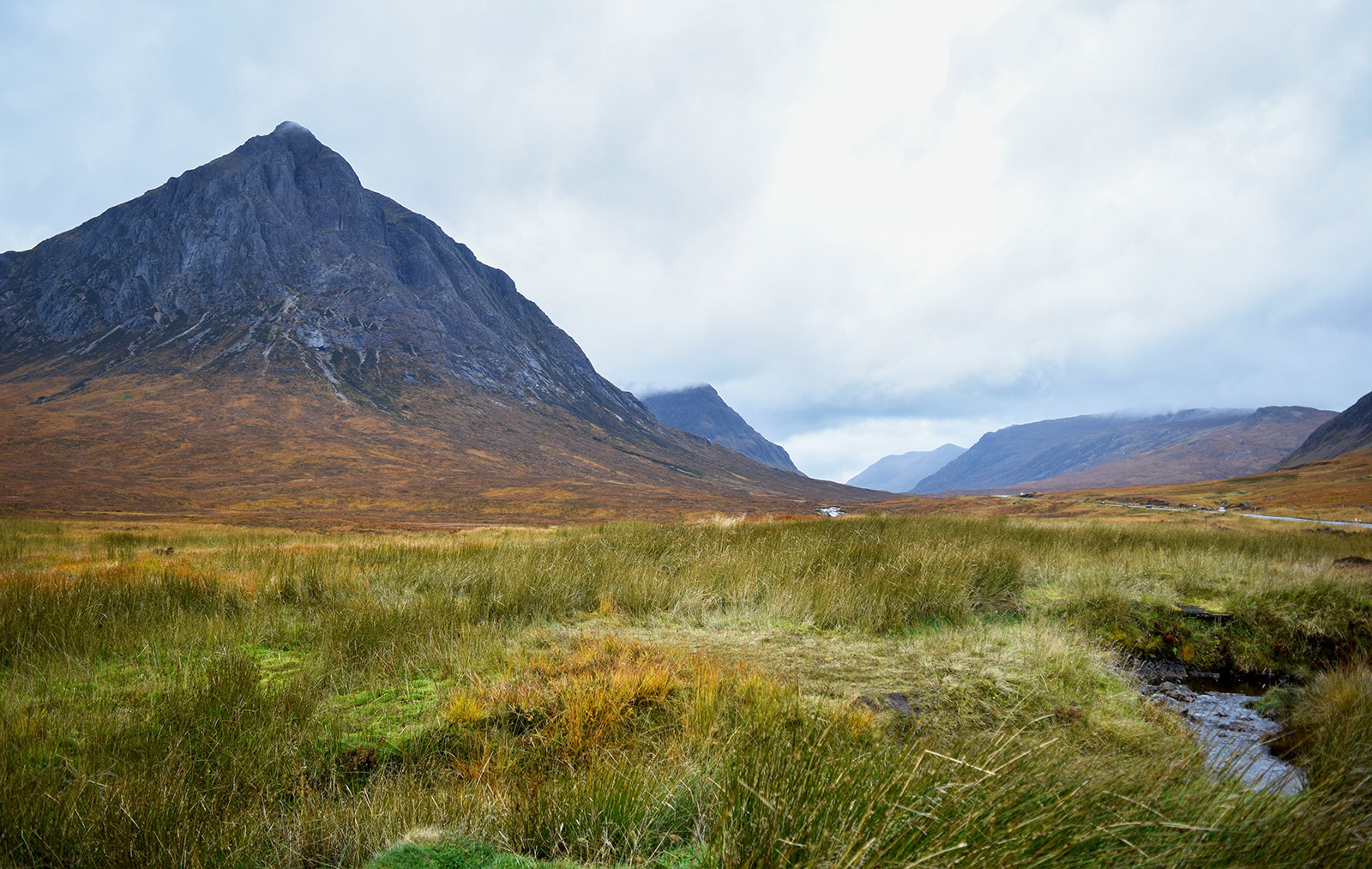 The Scottish Highlands is in Scotland's mountainous northern region. Scotland's northern landscape includes Loch Ness, a lake. (Maryrose Kulick/Daily Bruin senior staff)
When traveling to a foreign country for the first time, the opportunities for exploration and discovery are seemingly endless. This quarter, A&E columnist Maryrose Kulick stepped off American soil to study abroad in Edinburgh, Scotland. Every other week, Kulick will highlight a different destination from across the United Kingdom – follow along and get a taste of a new culture.
Autumn colors – reds, oranges, yellows and browns – blurred together as we drove through scenic mountain avenues dotted with farm animals and whiskey distilleries alike.
I knew by the end of the weekend that a trip to Scotland is never complete without a gander through the Highlands, the country's mountainous northern region.
I disembarked on a two-day journey through Scotland's northern landscape with tour company Haggis Adventures. Throughout the trip, we packed in an unbelievable amount of landmarks.
It started with a stop near Dunkeld, where we took a colorful walk through a forest that followed the rapid River Tay and led us to a gushing waterfall. Mist sprayed my face and I beamed, happy for a moment to have escaped water-deprived California.
Next, our bus driver and guide took us for a "wee dram" at the Tomatin Distillery, where we were each served a free taste of whiskey. The caramel liquid was peaty, bitter and aged for upward of 15 years – the majority of my life span. If the tasting taught me anything, it was that whiskey isn't for everyone, myself included.
We then walked through the Clava Cairns, remnants of an ancient burial ground said to be 4,000 years old. We took a stroll in the Culloden battlefield where, in 1746, the Jacobites fought to reinstate the House of Stuart.
We ended the day in Inverness, the highland capital of Scotland, at a pub called Hootananny. Among a stifling crowd of people, we clapped along to the lively folk music, and then later sang "Happy Birthday" to a member of the band.
"Inver" in Inverness comes from the Gaelic word "inbhir," which means "at the mouth of the river." Inverness lies at the mouth of the River Ness, and day two took us to Loch Ness – Scotland's largest lake by volume – where we all hoped to catch a glimpse of its famed monster.
Along our drive around the vast expanse of glistening, silver water and past Urquhart Castle that sits on its banks, our driver told us the legends of Nessie, whose existence has only really been recorded primarily according to anecdotes. Perhaps the monster's most famed "sighting" is represented in "The Surgeon's Photo," a blurry black and white image of what appears to be a monster's head poking out of the water.
Many sightings such as this have proven to be bluffs, but I stand firm in the belief that the Loch Ness Monster is real. In fact, I saw it.
Surprisingly, my photo of it appears to resemble a poorly illustrated Snapchat drawing.
Back on the road, we made our way to Glencoe, a stunning piece of rugged land where scenes from "Harry Potter" and "Skyfall" were filmed. On one stop, we were allowed to climb a ways up a hill to get a better view of the valley below us.
By then the wind and rain had picked up, preventing us from getting too far, but it only made the landscape all the more dramatic. I laughed as the wind blew my hair chaotically in every direction – this was Scotland.
Mildly soaked from the wet weather and little tired from our journey, we got back on the bus prepared to go home, but we made one more stop before leaving the Highlands.
At the Trossachs Woollen Mill, we found Hamish and Honey, the fuzzy highland cows who – the perfect tourist traps that they were – greeted us with mouthfuls of hay.
With the addition of some of the cutest pictures we'll ever take added to our memory cards, the Highlands trip was complete, and back toward Edinburgh we went.
I wish we could have spent a week exploring the Highlands instead of just two days, which is ultimately characteristic of studying abroad as a whole.
One would expect that in a country as small as Scotland, you'd be able to see it all in three months. But that's not even remotely possible.
Even though I'm scraping the edges of the semester for a little more time, I wouldn't change any part of what I've experienced so far. Sure, I may not have been able to hike to the top of Ben Nevis, the United Kingdom's highest peak, or take in the literary history of England's Lake District, but it's been a whirlwind of an adventure nonetheless. I've seen and lived in an incredible country, and the best part is the rest of the world is still waiting.
– Maryrose Kulick
Where have you always wanted to go in the United Kingdom? Email Kulick at [email protected]