Halftime Signatures: Drum line leader looks forward to enjoying last rivalry game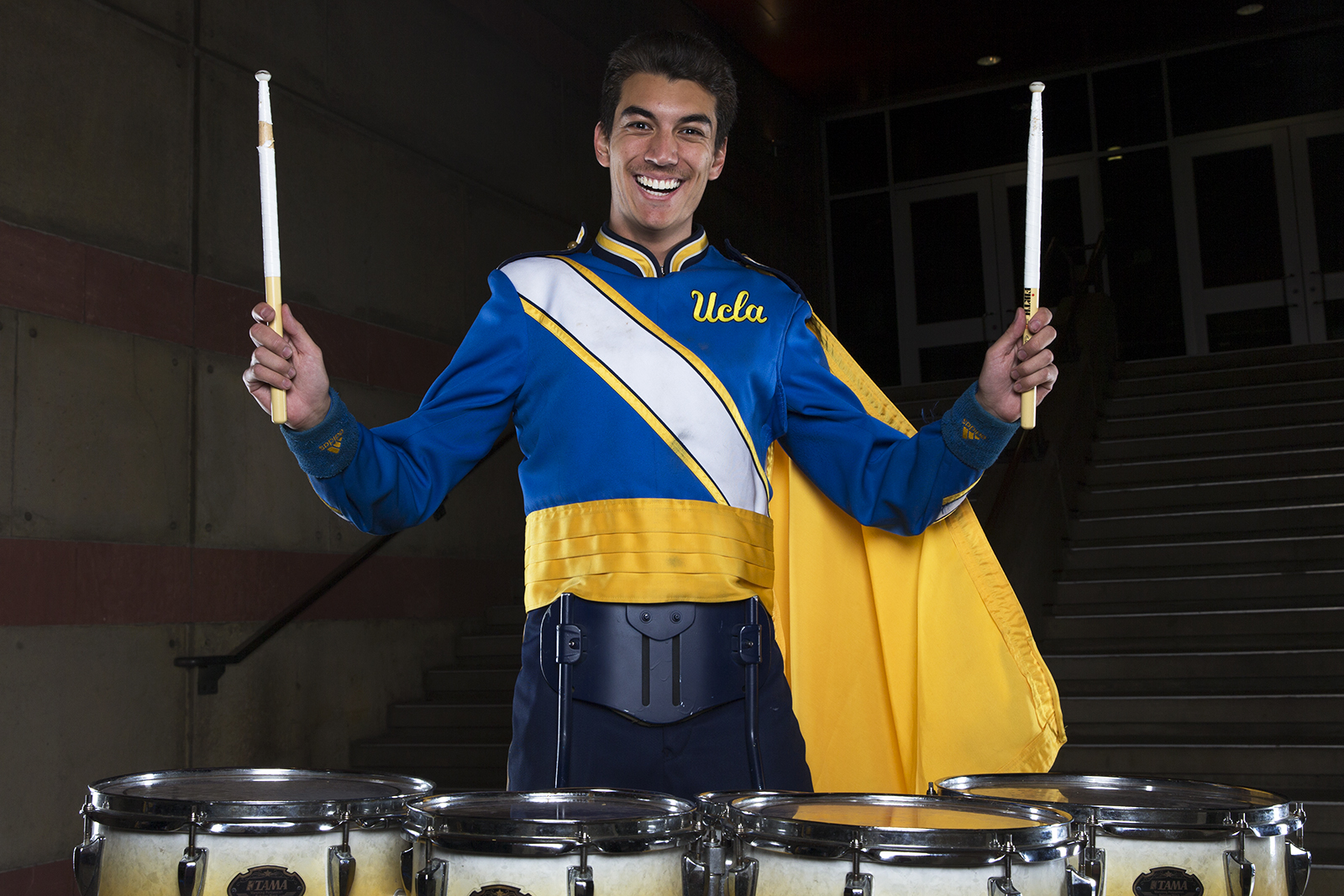 Fourth-year physiological science student Scott Ewy leads the quads section of the UCLA marching band drum line.
(Keila Mayberry/Daily Bruin Bruin staff)
In anticipation of the UCLA-USC football matchup Thanksgiving weekend, Daily Bruin A&E features members of the UCLA Bruin Marching Band. Today's installment profiles Scott Ewy, a fourth-year physiological science student and leader of the quads section of the drum line.
Eleven-year-old Scott Ewy went to a UC Berkeley football game to watch his father play saxophone with the Cal marching band in an alumni band game.
Ewy said he was inspired to join marching band as he watched his father in awe. Now, the fourth-year physiological science student leads the quads section in the UCLA marching band drum line, coming full circle and following in his father's footsteps.
"It was just something I saw that seemed interesting and fun because you get to use your hands and hit stuff," Ewy said.
As the leader for the quads section of the drum line, Ewy said his job is to help everyone learn their music and practice their exercises as well as make sure his section is performing well and appropriately handling its duties.
As the drum line is responsible for tempo, Ewy said, the section has been practicing a lot with the metronome to make sure it is consistent with the tempos of the songs it's playing.
"It can be hard, especially when we're at a football game where there's a lot of energy – we have a tendency to rush," Ewy said. "It comes down to being able to communicate with each other and adapt."
The one thing Ewy never stops doing is smiling, said Western Kramer, a fourth-year biology student and drum captain. However, there was one performance for the 2012 football game against USC in which they had to play in the rain – Kramer said that was the one instance he saw Ewy not smiling.
"It was just funny that the second it started pouring, (Ewy) turned around and was just like 'Oh no' – (that serious, genuine face of terror) was just so different for him," Kramer said. "It was a really funny change of character."
Ewy likes performing at away games because there is more energy. He said the crowd's heckling and booing makes him feel more hyped and proud. In particular, one of his favorite parts of playing at football games is marching into the stadium and making a lot of noise.
After four years and about 25 games, the upcoming USC game will be the last football game Ewy will share with the other members of the marching band and drum line.
"Over the past four years, I have learned a lot about how important it is to be able to work well together in a group and to be able to communicate," Ewy said. "And it's fun at the same time, so I've also learned that you can still have fun while being serious."
Ewy said one of the best parts of performing at football games is knowing that he is contributing to the energy and music of the game.
"It's a cool feeling to be a part of the environment of the football game, especially when it's against USC," Ewy said. "There's so much energy and competition, and I'm excited to see how much we can serve the crowd."
Compiled by Ruhee Patel, A&E contributor.