A Wee Adventure: London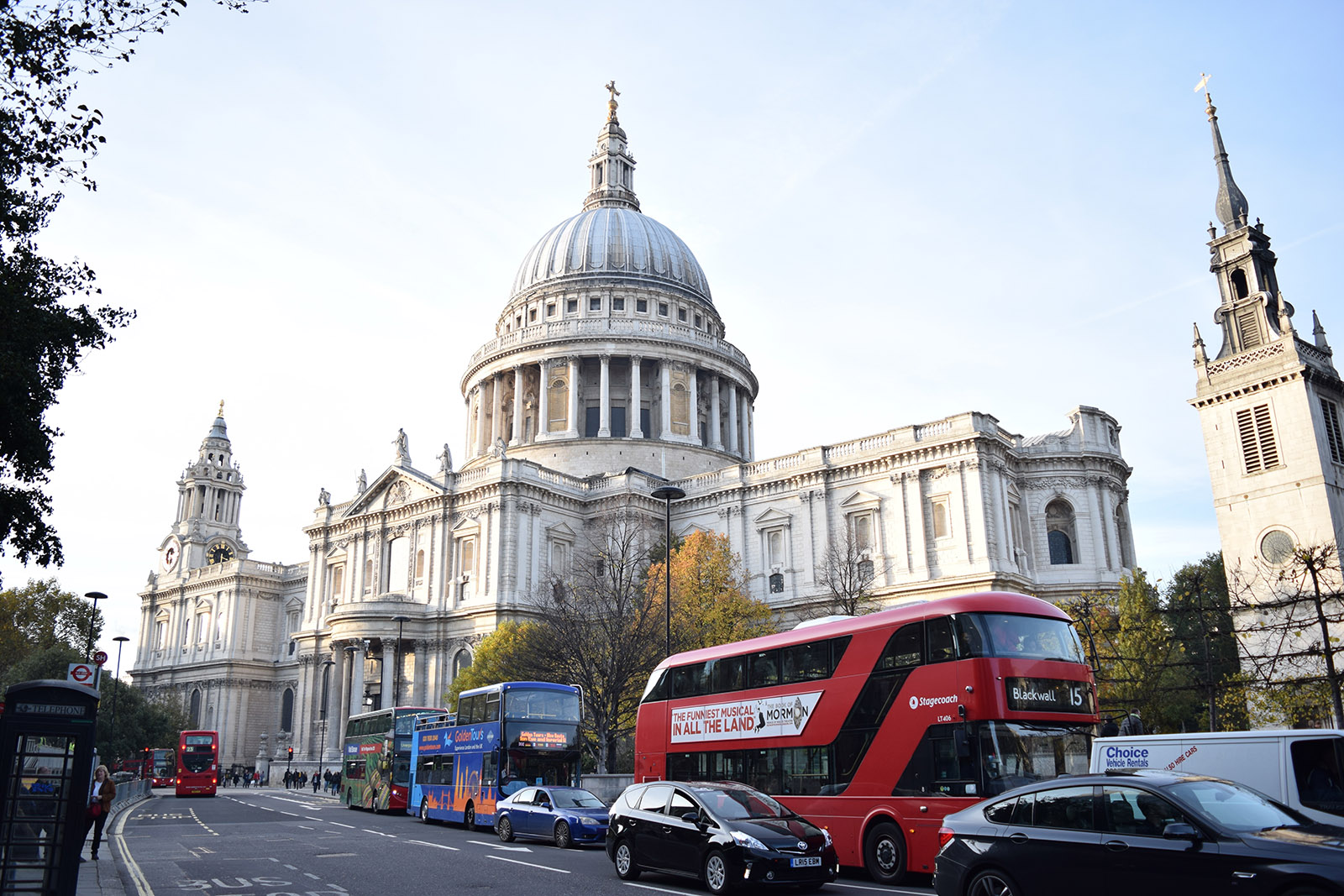 A trip to London offered glimpses of street performers, flower markets and historical sites, such as William Shakespeare's Globe Theatre and St Paul's Cathedral (pictured).
(Maryrose Kulick/Daily Bruin senior staff)
When traveling to a foreign country for the first time, the opportunities for exploration and discovery are seemingly endless. This quarter, A&E columnist Maryrose Kulick stepped off American soil to study abroad in Edinburgh, Scotland. Every other week, Kulick will highlight a different destination from across the United Kingdom – follow along and get a taste of a new culture.
A man plays the accordion alongside the River Thames with a grand smile on his face. Various passersby drop coins into a hat near his feet.
It was a small yet pleasant bit of humanity to witness in the maze-like and overwhelming city that is London.
I had been to the United Kingdom capital with my parents when I was in the sixth grade. Back then we hit all the basics – Buckingham Palace, Westminster Abbey, Big Ben, the whole shebang. But without direct parental guidance this time, I was able to explore the city on my own, in new light and for the most part away from the stereotypical landmarks.
The man playing the accordion was my window into the literary, artistic and musical culture that encompasses the very heart and soul of London.
Throughout the train tunnels of the underground metro system, my two travel companions and I found more musicians – singers, guitarists and saxophonists. Their sounds seemed to lead us across the Thames towards the accordion man who sat right outside William Shakespeare's Globe Theatre.
We took a tour of the theater, which, to the delight of my nerdy English major background, is designed to be as historically accurate as possible. Equipped with everything from an open thatched roof to trapdoors onstage, the new Globe still performs Shakespeare originals today. We unfortunately came during the offseason, but had there been a show that evening, I would have definitely purchased a standing ticket, rain or shine.
From there, our top destinations consisted of some of London's most well-known shopping scenes. At Borough Market, just a few blocks from the Globe, we tasted fresh apple and pomegranate juice, and supped on a spicy venison pie.
The next day we weaved our way through the clothing stalls of Camden Market and bantered with persistent bargaining merchants.
My favorite shopping gander, however, was in the Columbia Road Flower Market. There, we were swallowed up by a mass of people pushing their way through the street with stunning arrays of flowers on either side. The display was a work of art on its own.
Merchants shouted out their best deals – "Three bunches for a fiver." Some customers struggled to carry 4-foot-tall houseplants. I found succulents, roses, peonies – all I wanted was a house and a vase to bring them home to.
At the end of the street we were greeted by a guitarist, cellist and French horn player, who serenaded the crowd and the flowers with their folk-style music.
Our true London adventure didn't really start, however, until we decided to ditch the maps and wander around aimlessly. By the early evening of our last day in London, we found ourselves in the bustling Piccadilly Circus, an area similar to New York's Times Square, which was already decorated with Christmas lights.
We took a left down a random street and located Chinatown by accident. Orange lanterns were strung between the buildings, and the aromas from surrounding restaurants were alluring. In one shop window, a woman was making fresh cream-filled pastries shaped like little fish – we purchased four of them.
Afterwards, we decided to approach one of the many theater booths to see which performances still had tickets available.
Plainly, we asked what the least expensive show available was, and the ticket seller quickly told us, "The Commitments," a comedic musical about an Irish band of working-class amateur musicians. He loved it, he said. His favorite of the bunch.
We decided to take him up on the offer.
Not one hour later, we found ourselves clapping along to "I Heard It Through The Grapevine" and "River Deep, Mountain High." The performance we saw was also the very last of its two-year runtime, leaving us in a whirlwind of farewell-induced emotions for a play we had never even heard of before.
London thus established itself as a place of artful spontaneity. Next time, I'm sure I'll find a new light to explore it in, as it's a place to be experienced more than once or even twice.
Where have you always wanted to go in the United Kingdom? Email Kulick at [email protected]