A Wee Adventure: On the Isle of Skye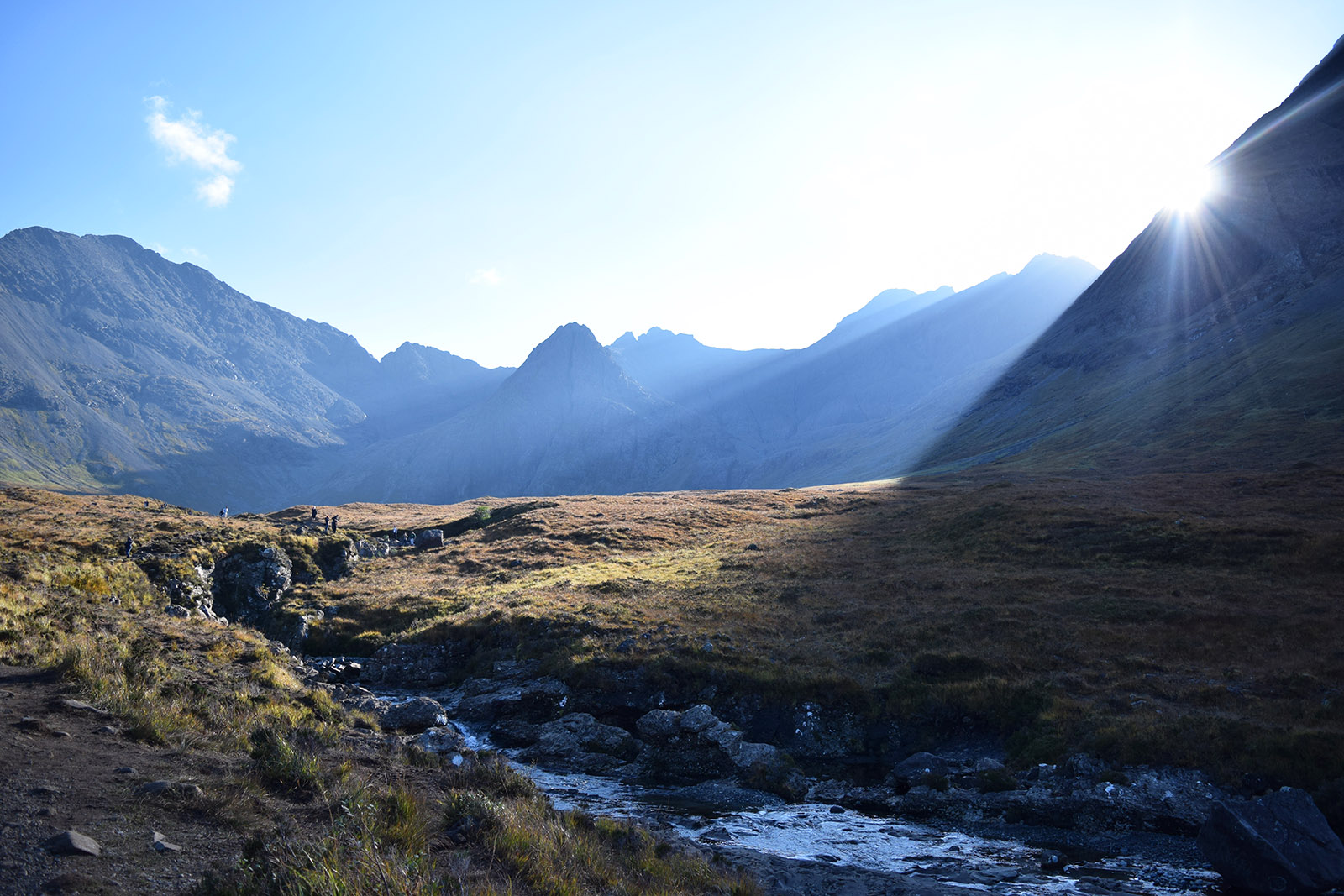 The Fairy Pools are one of Skye's most popular attractions. A river cuts through the landscape making crystalline pools deep enough to swim in. (Maryrose Kulick/Daily Bruin senior staff)
When traveling to a foreign country for the first time, the opportunities for exploration and discovery are seemingly endless. This quarter, A&E columnist Maryrose Kulick stepped off American soil to study abroad in Edinburgh, Scotland. Every other week, Kulick will highlight a different destination from across the United Kingdom – follow along and get a taste of a new culture.
Going to the Isle of Skye is like walking into a fairytale.
Only I had to do a little more than walking to get there.
On a Friday morning, I woke up at 5:30 a.m. to catch the train out of Edinburgh to Glasgow, where we then caught our train connection to Mallaig. From there it was only a ferry ride to Skye, one of many islands near Scotland's western highlands, known for rugged landscapes and charming villages.
We had every intention to read, do homework and be generally productive on our five-hour train ride, but that quickly proved to be impossible.
I spent the whole five hours staring out the window.
Featured in the "Harry Potter" films, the views throughout the western ScotRail line had me squealing and vigorously trying to take pictures without window glare as we weaved our way through countless lochs and mountains.
Once on Skye, our bus ride through the island landscape to our hostel in Portree was just as picturesque. Road signs were written in both English and Gaelic; sheep and chickens crossing the road encompassed most of the traffic.
One other thing Skye is known for is its folklore, and as we were interested in the subject, we decided to book the Fairy Dust Trail Tour with local tour company, Tour Skye.
Bright and early on Saturday morning, our guide pulled up to our pickup spot in Portree, stepped out of his van clad in a black Scottish kilt saying, "So you are my two fairies?"
Fortuitously, we were the only people signed up, and with that, we set off on our private tour of all things fairy on the Isle of Skye.
We left Portree while the morning mist still shrouded the surrounding mountains. Celtic music played on the radio, while our guide raved about the uncharacteristically good October weather.
We drove south of Portree behind the Black Cuillin Mountains to our first mythical destination – the Fairy Pools.
There, a river cuts through a barren valley, creating small canyons filled with pockets of crystalline blue pools and waterfalls. Our kilted companion told us stories of people jumping off the cliffs into the icy cold water, rain or shine, and how he would laugh at people who took a stumble on the slippery landscape with the same mischievous attitude as the fairies from the local legends – we were not quite so adventurous or so clumsy, luckily.
Back at the van, we took off again, winding through one-way roads. With only two of us on the tour, we were often able to divert from the established itinerary.
One such side trip was Neist Point, an area of dramatic landscape, where a lighthouse sits on the tip of a small peninsula. Along the way, honesty boxes filled with fresh eggs were set out for sale for two pounds. Road signs warned drivers of not only sheep, but also elderly people crossing the road.
Back on our fairy hunt, we stopped at the Fairy Bridge. Our guide said this was where Chief MacLeod, a member of one the Scottish clans hailing from Skye, had parted with his fairy wife after only a year's marriage, so she could return to her people.
Finally, our journey took us to the Fairy Glen, which, as our guide explained, is the fairies' playground on Skye. The landscape featured lush green hills with idyllic valleys in between. Rocks were laid out in the shape of spirals.
Our guide told us that if you follow the path to the center of the spiral, leave a gift for the fairies, make a wish and then exit on the same path while walking backwards, the fairies will grant your wish.
I plucked a small flower from the grass and laid it down among pennies, twigs and other knickknacks. Then I made a dizzying attempt to walk backwards in circles.
On the final drive to our hostel, we made one more stop along the road to watch the Black Cuillin Mountains turn red with the setting sun – the perfect ending to our fairytale day.
– Maryrose Kulick
Where have you always wanted to go in the United Kingdom? Email Kulick at [email protected]