Movie Review: 'Ricki and the Flash'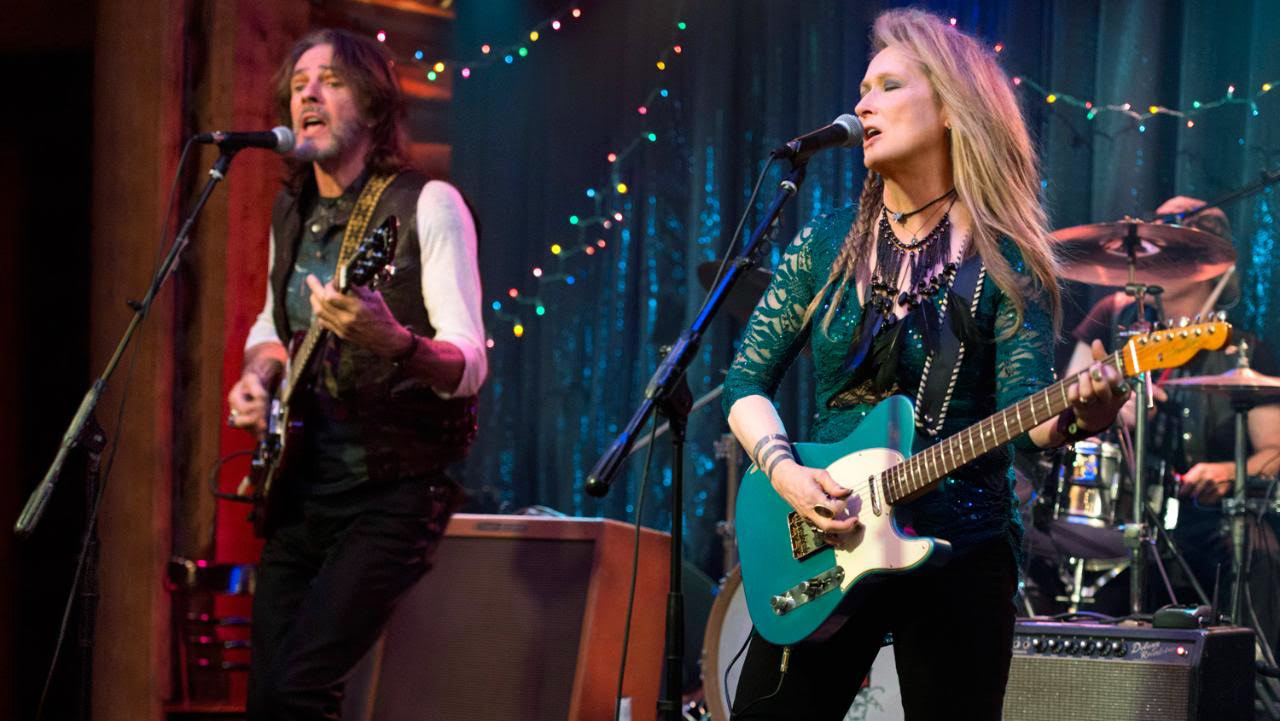 "Ricki and the Flash" Directed by Jonathan Demme TriStar Pictures
Meryl Streep went the extra mile for "Ricki and the Flash."
A large part of the film's promotional campaign highlighted the time it took her to learn how to play guitar, although the coaching from guitar master Neil Young must have helped a bit.
Because of her unwavering commitment to the material at hand, Streep is the biggest highlight of "Ricki and the Flash," a movie that otherwise has extreme difficulty keeping its focus on one plot development long enough for it to be impactful. No other movie released this year manages to restrict so much potential by splintering its talent across the board, despite the brief moments of emotional joy that remain visible after being cast off into the distance.
The titular Ricki Rendazzo (Streep) is a woman caught up in the absence of both her youth and the world's reluctance to understand her. She's a rocker at heart, clad in a leather jacket, boots and other clothes an optimistic Californian musician 40 years younger than her might wear. By her side, the likes of Parliament-Funkadelic keyboardist Bernie Worrell, bassist Rick Rosas and Rick Springfield as her boyfriend Greg – the talent is all there for the taking.
Ricki gets an urgent call from her ex-husband Pete (Kevin Kline) who wants her to fly out to Indiana to care for her estranged daughter Julie, played by Streep's actual daughter Mamie Gummer. With Julie's stepmother (Audra McDonald) out of town, Pete can't single-handedly care for Julie's emotional breakdowns, which range from screaming to suicidal tendencies. Ricki takes the opportunity to reconnect with Julie, as well as her two locally residing sons (Nick Westrate and Sebastian Stan).
"Ricki and the Flash" is half jukebox musical, half family drama, and has the required manpower to back each half up. Screenwriter Diablo Cody does what she does best – make characters as misunderstood by their peers as possible without having them grow excessively annoying. Like Cody's work on cute, humanistic films like "Juno" and "Young Adult," "Ricki and the Flash" doesn't really have any antagonists, just people who are displaced enough in society to create their own problems.
Director Jonathan Demme, on the other hand, has experience in the themes that surround many of the film's central storylines – Ricki's son's upcoming marriage to a distasteful bride harkens back to Demme's relatable stride into family conflict in "Rachel Getting Married."
All the pieces "Ricki and the Flash" could possibly need are there, even gathering some support from Gummer's spot-on portrayal of a woman suffering from severe depression. But at no point in "Ricki and the Flash" does it all click into something truly meaningful. Later in the film, Ricki heads back to California to embrace the troubled relationship she has with Greg, a plot transition that makes her extensive screen time with Julie seem pointless, a secondary thought to Ricki's returning efforts as a hopeful rock 'n' roll icon.
The one moment that drives home what the movie's whole image is aiming for comes at the very end during a group dance scene at Ricki's son's wedding, where Ricki performs with her backing band. It's a heartwarming, sweet, cheesy scene in a movie full of them – the kind of scene that makes the audience smile whether or not they were paying attention to the previous 90 minutes.
"Ricki and the Flash" stumbles far more times than it should, but manages to pick itself back up well enough when it does. Ricki's character is interesting enough, but Streep is an actress who can handle greater, more compelling roles that it makes Ricki look like a caricature – and the same goes for everyone involved with the film.
Teetering on the edge of good and bad, "Ricki and the Flash" strives for more than it achieves. Everyone and everything has flaws, and "Ricki" is a big, lame hug in response to that – not the kind anyone wants, but the kind that's enjoyable anyway.
– Sebastian Torrelio